Terra Nitrogen Co. LP (NYSE:TNH) powered to a new all time high over the past two days. Some investors must be wondering, how high is high?
TNH closed today at $210.50, up $8.70, after reaching $213.24, on 76,000 units, which was near the 200 day average.
The old TNH high was just shy of $200, reached last September.
Click to enlarge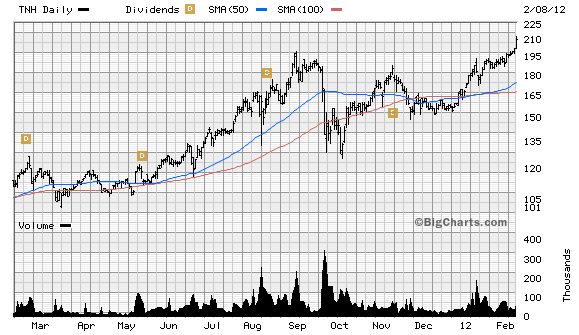 I wrote about TNH and its peer - CVR Partners (NYSE:UAN) - back in November here.
TNH has appreciated 36% and CVR Partners is up 34.3% since then. What a performance.
The question is, how long can it last? Is it time to sell?
Here are a few salient facts:
TNH must declare its Q4 2011 distribution by Friday to make payment within 60 days of quarter end, per the partnership agreement.
TNH will report its Q4 2011 results in conjunction with majority owner CF Industries Holdings (NYSE:CF), on February 15, after the market closes.
Another big nitrogen producer, Agrium (AGU), reported excellent nitrogen margins today in its Q4 earnings release. Agrium expects U.S. nitrogen fertilizer sales to be robust during the spring application season, which is approaching.
On the other hand, we know that ammonia, urea and UAN prices have been stuck in limbo at Tampa and the Gulf, respectively.
We know that TNH likes to pre-book fertilizer orders and that the Q4 earnings will partly reflect strong agricultural orders achieved back in early fall when corn prices were in the $7.50 area.
We also know that TNH likes to lock in margins by buying natural gas derivatives. These derivatives will be marked to market (down) a little in Q4, reflecting weakening natural gas prices. This should cost reported earnings a little, but not much.
My best guess is that TNH's results will be excellent. I expect the Q4 distribution, which is derived after the general partners share is taken out and CAPEX spending is removed, to come in at about $4.00/unit.
What about valuation? Many people must be wondering how expensive these MLPs have become?
My $12.58 estimate for total TNH distribution per common unit for 2012 (starting with the Q1 payout in May) hasn't changed much because I see a softening in ammonia prices come summer due to plant start-ups. I also know TNH must begin to set aside funds to pay for a major turnaround in later in the year.
At today's closing price, TNH is valued at 16.7 times my cash distribution estimate. The yield is 5.98% based on that number rather than 7.6% if casual viewers annualize the Q4 distribution we expect.
There are reasons why the the MLPs have a tendency to trend higher without taking a breath. There isn't much of a float, and there isn't much of a short position.
In particular, I believe U.S. retail investors do not like to sell the MLPs and thus incur taxes. It also requires more complex tax filing to the IRS. Who wants that?
The bottom line is, when they go down, these MLPs really go down.
My guess is, the approaching restart of the Potash (POT) ammonia plant in Geismar, La., should put another dent in nitrogen prices as soon as the spring application season is over.
I would start to take profits on TNH as it goes much higher and especially right after the distribution "ex" date.
As all farmers know, there's a time to sow, but there's also a time to reap.
Disclosure: I am long CF.