Introduction
Argonaut Gold (OTCPK:ARNGF) has kept its word and has released an updated economic study on its Magino gold project in Canada. In this article I will explain what changed, but also why I'm not particularly overwhelmed by the update.
Argonaut had to update the economic study at the Magino mine
Argonaut has been under pressure to realize its growth plans. Just 2-3 years, Argonaut had a pretty convincing plan to increase its gold production and corresponding cash flow, but the lower gold price and permitting issues have spoiled these plans.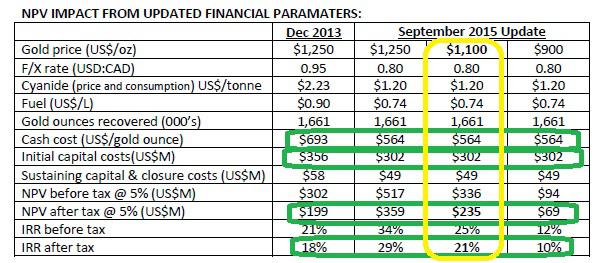 Source: press release
Using a gold price of $1100/oz, the project now has an after-tax NPV5% of $235M and an after-tax internal rate of return of 21%. That's better than the first pre-feasibility study as even though the gold price is lower in USD, the gold price in CAD won't have changed much as the weaker Canadian Dollar increases the CAD-gold price and reduces the capital and operating costs.
The capex has dropped from $356M to $302M whilst the cash cost was reduced from $693/oz to $564/oz and this is the main reason why the NPV at $1100 gold is now higher than the NPV at $1250/oz in the previous pre-feasibility study. Fortunately the company has also provided a sensitivity analysis and even at a gold price of $900/oz the NPV is positive (and remains positive as long as the gold price is in excess of $825/oz).
But will financiers be impressed?
At first sight you would think the updated PFS is a major step forward. The previous PFS was based on a gold price of $1250/oz and this resulted in an after-tax NPV5% of $199M, just over half of the initial capital expenditures. This was underwhelming and in the current gold climate where gold is trading at just $1100/oz, this bird definitely wouldn't fly.
Back to the drawing table, and the new pre-feasibility study seems to be pretty impressive as the base case scenario using a gold price of $1100/oz yielded a higher after-tax NPV than the $1250/oz scenario in the previous PFS. That's great and you'd think this would make the external financiers more keen to provide financing (because even though Argonaut's balance sheet looks okay-ish, it will need external help (in the form of debt) to cover the total initial capital expenditure of $302M.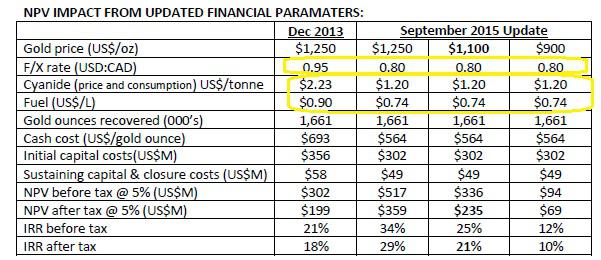 Source: press release
I'm sure the increased NPV and Internal Rate of Return will seduce some people, but when I started to dig a little bit deeper into the updated PFS and started to focus on other things (see the previous image), the more I double-checked, the less impressed I got. First of all, the updated PFS uses an USD/CAD exchange rate of 1.25 versus 1.05 in the original PFS. On top of that, the fuel cost drops by almost 20% to 74 cents per liter. As the project is located in Canada, the weaker currency will have a very positive impact on the capital expenditures and the operating expenses as a large part of the expenses will be expressed in Canadian dollar [fellow Canadian developer Pretium Resources (NYSE:PVG) explicitly warned for this], so I dare to say the majority of the improved economics are due to the positive fluctuations in the exchange rate, fuel cost and cyanide cost, and NOT by fundamental changes.
Investment thesis
Sure, the updated pre-feasibility looks much better, but I'm unsure what percentage of the improvement has been made on a fundamental level as I dare to say at least three quarters of this improvement was caused by external factors, and a higher fuel cost and stronger Canadian dollar would completely reverse the improvement. Only a minority of the improvement was caused by a cheaper mining fleet and a lower cyanide consumption.
I don't want to sound too negative here, because an improvement (due to whatever reason) is an improvement and a step forward. Magino definitely has a chance to be developed (and Argonaut deserves a break), but on the condition the Canadian dollar and fuel costs remain weak.
Disclosure: I/we have no positions in any stocks mentioned, and no plans to initiate any positions within the next 72 hours.
I wrote this article myself, and it expresses my own opinions. I am not receiving compensation for it (other than from Seeking Alpha). I have no business relationship with any company whose stock is mentioned in this article.
Editor's Note: This article discusses one or more securities that do not trade on a major U.S. exchange. Please be aware of the risks associated with these stocks.