In the previous month, we took a look at COMEX gold inventories which have been reaching lower and lower levels. This week, we continue to see these gold inventories drop to extremely low levels, as registered gold inventories (gold available for delivery) again reached new all-time lows.
We do believe that keeping track of COMEX inventories is something that is recommended for all serious investors who own physical gold and gold ETFs (the SPDR Gold Trust ETF (NYSEARCA:GLD), the Sprott Physical Gold Trust (NYSEARCA:PHYS), the Central Fund of Canada (NYSEARCA:CEF), etc.) because any abnormal inventory declines or increases may signify extraordinary events behind the scenes that would ultimately affect the gold price. Investors should remember that the gold market is surprisingly opaque for a market that is one of the largest in the world - any data that provides insight into this market should be monitored by serious precious metals investors.
Now, let's take a look at where COMEX gold inventories stand and what investors can learn from them.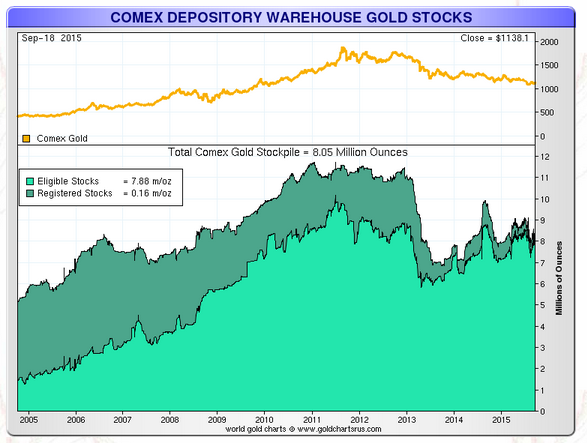 Source: ShareLynx
We will take a closer look at these numbers but let us first explain the COMEX a little more for investors who are unfamiliar with it.
Introduction to COMEX Warehousing
COMEX is an exchange that offers metal warehousing and storage options for its clients. The list of their silver warehouses can be found here and their gold warehouses can be found here. In the case of silver and gold, the metal is stored at these official warehouses on behalf of banks and their clients and can be used to settle futures contracts, transferred between clients, or withdrawn from the warehouse. This offers large holders of precious metals a convenient way to store their metal with minimal storage fees - very convenient indeed if you hold large amounts of gold or silver and you don't want to store them in your basement.
Silver and gold stored in these warehouses can fall into two categories: Eligible and Registered.
Eligible metals are those that conform to the exchange's requirements of size (1,000-ounce bars for silver and 100-ounce bars for gold), purity, and refined by an exchange approved refiner. Eligible metals are stored at COMEX warehouses on behalf of banks or private parties, but are not available for delivery for a futures contract.
Registered metals are similar to eligible metals except that these metals are also available for delivery to settle a futures contract. COMEX issues a daily report on gold, silver, copper, platinum, and palladium stocks, which lists all the metal that is currently stored in COMEX warehouses and how much eligible and registered metal is present.
This information allows investors insight into how much metal is currently backing COMEX futures contracts, what large gold and silver owners are doing with their metals, and how many clients are requesting delivery of their metals.
Catching Up with Changes in COMEX Gold Inventories
Let us now take a deeper look at the gold drawdowns being seen in the COMEX warehouses.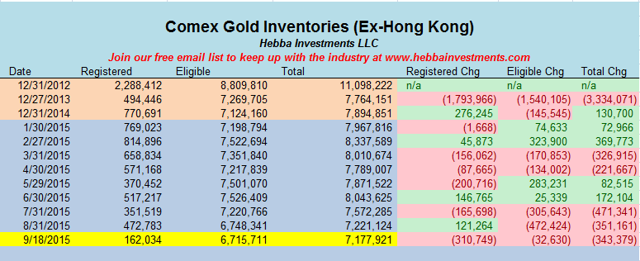 One thing to note here is that this data excludes the newly published Hong Kong warehouse data which we are still looking to incorporate. The Hong Kong stocks add up to a little over 1.1 million ounces, and that is the difference between the 7.18 million total ounces in the table above and the little more than 8 million ounces seen in the earlier graph. Finally, while the Hong Kong stocks increase the total number of ounces held in the COMEX warehouses, none of these stocks are eligible ounces and thus the 162,034 registered ounces above represent all registered ounces available for delivery at the COMEX warehouses.
As investors can see in the chart above, we've seen a major drawdown in COMEX inventories over the past few months, which has accelerated in the first few weeks of September. The 162,034 registered ounces of gold is the lowest that we've seen at the COMEX since our records started. Investors need to remember that registered gold is the only gold available for delivery unless someone moves eligible gold into the registered category - that is very little gold backing a huge amount of open contracts!
COMEX Gold Open Interest and Registered Gold Owners per Ounce
Finally, let us take a look at possibly the most important number when it comes to COMEX gold inventories - the registered gold cover ratio. We've discussed this in-depth in a previous article so please refer to that article for details, but in a nutshell, it is the number of investors owning a claim to each registered gold ounce (i.e. owner per registered gold ounce).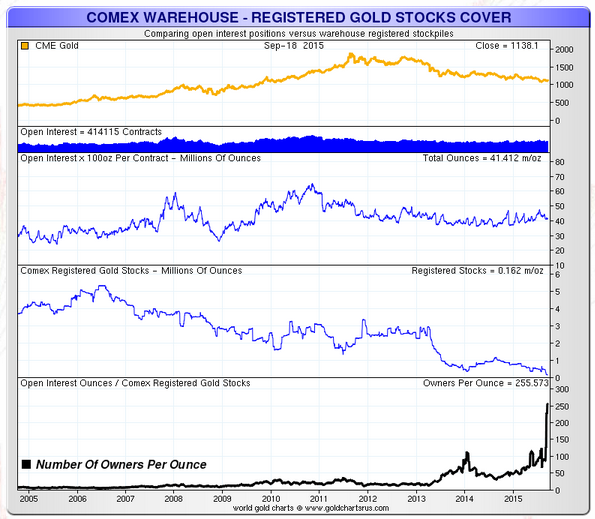 Source: Sharelynx
As investors can see in the graph above, registered gold stocks have dropped to levels where only 1 ounce of registered gold is backing 255.6 claims on that ounce - the highest levels we've ever witnessed. That is a BIG spike over the past few weeks as the ratios are going parabolic.
This is something that gold bulls should love to see as high owners-per-registered-ounce ratios mean fewer physical ounces per contract ounce - a definite positive. In fact, before 2013 we had never been at even 40 owners per registered ounce - so we're truly entering uncharted territory.
Do COMEX Registered Gold Inventories Matter?
With registered gold inventories dropping to new lows, we have been seeing some "experts" in the gold analyst world remarking there is nothing to worry about. Jeffrey Christian of the CPM Group champions this view as he believes it's a "non-issue" because most of COMEX inventories are cash-settled and very little is actually delivered to contract-holders at expiration. In a nutshell, it's a paper market and very few people really need the physical gold.
To us that's a bit of a weak argument especially considering that it ignores the fact that registered gold reserves are declining at a faster pace - suggesting there are a number of parties that are removing gold from the market.
Historically, when it comes to the gold market, there's always been a call for calm during times of great stress. When the London Gold Pool collapsed in the late 1960s, government and gold market officials were telling participants everything was okay and that there was plenty of gold to supply demand - in reality, the United States was airlifting gold to London to satisfy demand and prevent a gold market failure. It didn't work and soon the London Gold Pool would collapse.
We are not suggesting that the COMEX gold market will collapse, but when pundits like Mr. Christian say all is okay in the gold market but ignore the actual data, it shouldn't give investors any comfort. Gold blogger "Jesse" of Americain Café says it best:
What if something that is not completely normal and expected happens? What if, instead of 2% of the contracts asking for delivery, a delivery short squeeze in London prompts 4 or 5 percent of the contract holders to attempt to exercise their contracts to receive physical bullion to cover their obligations elsewhere?

The fragility of such an arrangement is bothersome to anyone from outside who looks at it from a systems engineering perspective.
With registered gold inventories around a mere 5 tonnes of gold, it wouldn't take much to cause a bit of a run on the COMEX (if we haven't already been seeing it). What would happen if an entity wanted to take delivery on a mere $200 million worth of gold to satisfy demand elsewhere? Without COMEX participants transferring eligible to registered inventories, the market wouldn't be able to satisfy this request.
Even with a light stress test like this, the COMEX gold market is not prepared to pass. Those are questions that Mr. Christian hasn't addressed and the "it hasn't happened" argument doesn't cut it for us.
Conclusion for Gold Investors
Maybe the COMEX is changing and everything truly is okay in the gold warehouses, but we have yet to hear a good reason why registered gold inventories continue to plummet - other than strong physical demand is taking out these accessible physical gold stocks.
While we are not calling for a COMEX default (though we don't rule out that possibility either), we think the takeaway for investors is that non-committed physical sources of gold are relatively tight. That means that we think the doomsday calls for sub-$1,000 gold are unlikely as we think if physical demand at $1,100 gold is wiping out these available gold inventories, then sub-$1,000 gold will simply overwhelm gold supplies. This also ignores the fact that major miners' gold reserves have plummeted and at current prices, the future for gold production looks bleak.
We're very bullish on gold as we think it is one of the safest investments that can be made for an investor with a time horizon of 3-5 years. That is why we think that investors should consider keeping a large exposure to gold with positions in physical gold and the gold ETFs (SPDR Gold Trust, PHYS, CEF). Additionally, the miners that have been underperforming gold over the last few months may offer investors considerable leverage to any rise in the gold price. Investors looking for this leverage may want to consider evaluating gold miners such as Goldcorp (NYSE:GG), Agnico-Eagle (NYSE:AEM), Newmont (NYSE:NEM), or even some of the explorers and silver miners such as Tahoe Resources (NYSE:TAHO) (we're not suggesting these companies specifically - only suggesting them for further investor research).
Disclosure: I am/we are long SGOL, TAHO. I wrote this article myself, and it expresses my own opinions. I am not receiving compensation for it (other than from Seeking Alpha). I have no business relationship with any company whose stock is mentioned in this article.