Last month, Japan restarted its first nuclear power plant since shutting down all the reactors in 2013 in the wake of the Fukushima disaster in 2011. Despite protests, a number of power plants have applied to be restarted. Uranium prices have also seen an uptick since the start of this month. Indeed, the fundamentals have been getting better even though long-term contracting activity is still subdued.
The chart below shows the recent uptick in uranium prices. The price increase has been driven by a rise in spot market activity. According to TradeTech, the first week of September saw seven transactions in the spot market. The transactions totaled 1.1 million pounds. Interestingly, the majority was bought by traders rather than utilities, according to TradeTech.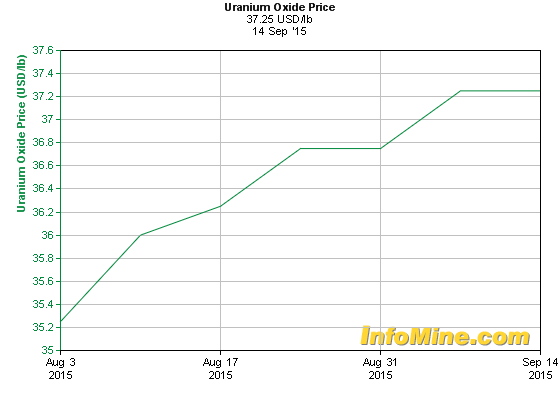 Source: InfoMine.com.
Traders buying in the spot market suggests that they are anticipating a pickup in demand in the short to medium term. As I have noted in earlier articles here on Seeking Alpha, utilities have remained on the sidelines when it comes to long-term contracting activity as they expect a further price decline. This is why prices have failed to pick up despite an improving long-term outlook. However, the majority of the long-term contracts signed by utilities were in 2006-07 period. Most contracts run over a period of eight to 10 years, which means most of the contracts signed by utilities are about to end or have ended. Despite this, utilities have stayed out of the long-term contracting activity.
I have noted before that utilities' move to sit out of the market could backfire if prices in the spot market picked up. And it seems we are about to reach that moment. According to TradeTech, three utilities are already assessing offers of 6.5 million pounds for delivery periods starting in 2017. TradeTech further notes in its report that while the demand in the term market is robust right now, it is heavily concentrated in the mid-term delivery period. Long-term demand is still not at the levels miners would like it to be, but the pickup in spot market activity is a good sign.
I continue to expect long-term contracting activity to pick up by the end of this year. My top play in the uranium sector remains Cameco Corporation (NYSE:CCJ). The Canadian miner is the best placed to capitalize on a rebound in prices. The company has commitments until 2018, and therefore it is in a position to sit back and wait for utilities to return to the market. This essentially would translate to higher realized prices for uranium. CCJ shares did see a short rally earlier this year, but have since seen a pullback and have been trading sideways since July.
I have made bullish calls on CCJ for the past few months and have had a long position in the stock since 2014. CCJ has failed to take off in spite of the improving fundamentals in the uranium market. Despite this, I believe that sitting on the sidelines is not the best strategy as the recovery in uranium prices -- and thus CCJ's share price -- could be swift.
Disclosure: I am/we are long CCJ.
I wrote this article myself, and it expresses my own opinions. I am not receiving compensation for it (other than from Seeking Alpha). I have no business relationship with any company whose stock is mentioned in this article.