While most equity investors' attention over the past month has been understandably on the volatile price action in the stock market, analyst estimates have quietly declined to historically low levels.
Over the past six months, only 49% of US stocks have experienced a positive EPS estimate revision. If we go back to 2000, we are currently sitting at a negative extreme for this series outside of when the US falls into a recession.
The current reading is the lowest since September 2012 and is far below the 15-year average of 65%. It will be interesting to see if the next 12 months EPS growth estimates increase back into a previously well-defined historical range.
At the beginning of this year, the median EPS growth estimate for the next 12 months fell to just 5%. This is well below the 10-17% EPS estimate range that has been persistent (excluding the financial crisis) since 2000. The silver lining is that median EPS growth estimates have recently increased to 8%.
Positive sales revisions are even worse than positive EPS revisions. Only 37% of US stocks have experienced a positive sales estimate revision over the past six months. This is the fewest number of stocks since 2009 and the current level is nearly as bad as the nadir during the tech bust. Since 2000, 2/3 of US stocks tend to experience a positive sales revision over any six-month period.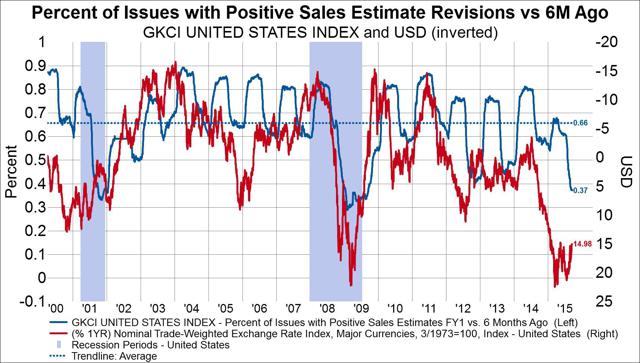 Similar to EPS growth estimates, sales growth estimates have fallen below a previously historical support line. Median sales growth estimates for the next 12 months is currently just 4%. The average growth estimate over the past 15 years has been 7%.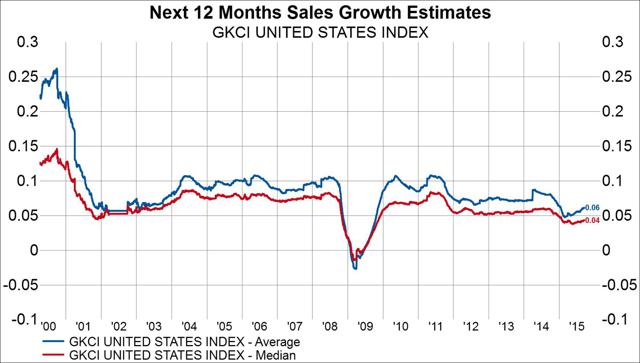 The good news for investors, however, is that many times these levels of extreme pessimism from analysts mark a turning point in the equity markets. In the chart below, we once again chart the percent of issues with positives sales estimate revisions over the past six months against the year-over-year change in the S&P 500 (NYSEARCA:SPY).
If declining estimate revisions have found a bottom, which should be the case unless the US economy has fallen into a recession, then the equity market could be set up for a nice rally.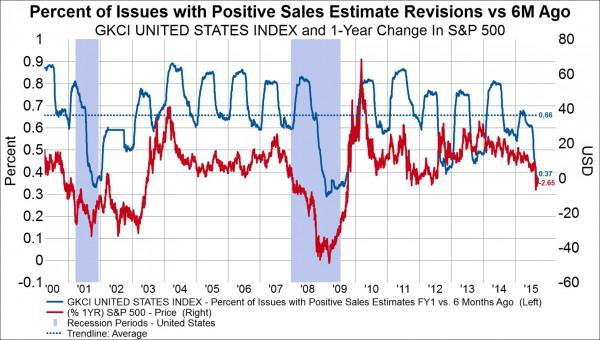 The original posting of this article can be found here.
All data was created by the author and sourced from Gavekal Capital and FactSet.
Disclosure: I/we have no positions in any stocks mentioned, and no plans to initiate any positions within the next 72 hours.
I wrote this article myself, and it expresses my own opinions. I am not receiving compensation for it. I have no business relationship with any company whose stock is mentioned in this article.