A semiconductor fabrication plant (also known as a fab) is where integrated circuits are built. Since its beginnings several decades ago, this industry has remained capital-intensive and risky in nature. The modern fab takes billions of dollars (and sometimes tens of billions) to build, and at least two years from the time a shovel hits the ground to the first wafer being produced from this new facility. Despite the large cash and time investment, there are far from any guarantees of success. Technology can change quickly, and the market can change even faster. Building a new fab is one of the easiest ways for a semiconductor company to go bankrupt. The history of the industry is scattered with the carcasses of victims in Japan, the United States and all over the world that fell to Intel (NASDAQ: INTC), Taiwan Semiconductor (NYSE: TSM), Samsung (OTCPK:SSNLF), Micron (NASDAQ: MU), Toshiba (OTCPK:TOSBF) and the modern fab giants.
There are two main types of fab owners. There are foundries like Taiwan Semiconductor that receive business from fabless semiconductor companies. Fabless semiconductor companies design chips using sophisticated software and send those "chip blueprints" to a foundry like Taiwan Semiconductor to manufacture for them. There are fab owners like Intel, who take control of the entire semiconductor design, manufacturing process and sale of the finished chip. Samsung is sandwiched in the middle in this paradigm, as it receives business from fabless semiconductor companies, while also designing and manufacturing chips of its own.
The basic foundry business model is quite simple. The most common way to get capital for a project is to issue debt. After acquiring financing, the foundry must build a very expensive state-of-the-art fab. I'll use the current Samsung fab that is slated to produce its first wafers in 2017 as a reference point. This fab is expected to cost $23 billion, and will take roughly three years from the beginning of construction to the first wafer getting shipped. After the fab is completed, it can start producing wafers of memory, logic or whatever fancy chips you want. Typically, a well-run fab should create large operating cash flows after it starts production. There are costs associated with node shrinks and maintenance over the years, but these costs are only a fraction of what it cost to build the fab initially. However, new capacity is eventually needed, or very old fabs need to get replaced. By this time, a good foundry should have generated enough free cash flow to have paid off the debts associated with building the previous fab (and hopefully enough left over to create large profits too). The foundry will need to issue a large amount of debt again. Another enormous capital expenditure occurs to build the next state-of-the-art fab that will cost significantly more than a fab of a similar size cost the last time you needed to build new wafer capacity. The cycle begins all over again. That's how the industry is supposed to operate, in a nutshell, in a healthy economic environment.
Changes in technology and the economy can occur swiftly. When building a fab, a foundry must anticipate the technological needs of its customers several years down the road and make predictions on the economy and the demand for its services in the distant future. When a foundry makes a large misstep in its technology or anticipates significant demand that ends up not being there, a foundry will find itself in significant trouble. It will be saddled with a large amount of debt and no way to generate enough cash to pay off this debt. If the fab is lucky, it may get acquired by a competitor. If it's not so lucky, it will get repurposed for something else. In the worst-case scenario, it'll close down and remain idle indefinitely. From 2009 to 2014, at least 83 fabs closed around the world. The foundry business is tough. Not even IBM Corp. (IBM) was able to find success in its fabs.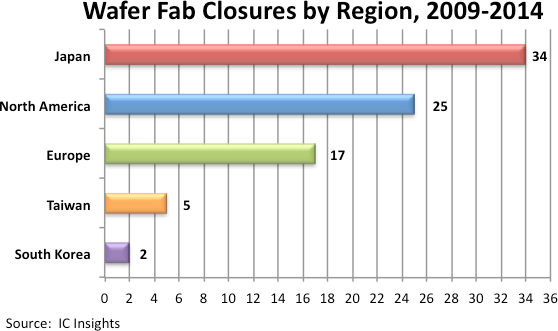 Then, there is the curious case of Tower Semiconductor (NASDAQ: NASDAQ:TSEM). When producing wafers used for digital logic and memory, it is virtually impossible to be cost-competitive without using state-of-the-art fabs that require aggressive and expensive node shrinks throughout the life of the fab. Tower Semiconductor manufactures analog and mixed-signal ICs (Integrated Circuits). The competition in the analog segment of the semiconductor industry is significantly less intense, as the superpowers of semiconductors (Intel, Samsung, Taiwan Semiconductor) are not focused on competing in this relatively small market.
It's not necessary for the vast majority of analog and mixed-signal ICs to be fabricated on the smallest process node technology to be cost-competitive. Without going into the technical details, there are many cases where utilizing expensive smaller geometries does not produce a better-performing or more cost-efficient product relative to old cheap technology in the world of analog ICs. In total, 83 fabs were closed between 2009 and 2014. Numerous others are currently in a perilous condition. Most of these closed and underperforming fabs are relatively old and behind the technology curve. Fortunately for Tower, some of these fabs are suitable for the manufacturing of analog and mixed-signal ICs.
Tower Semiconductor formed a joint venture with Panasonic (OTCPK:PCRFY) known as TPSCo. Panasonic contributed three fabs to TPSCo, along with $40 million of cash for working capital. These fabs, at full utilization, have enough capacity to produce well over $800 million of revenue annually. The book value of these three fabs in Japan is in excess of $300 million. The true value is likely more, as they are likely to be used well past the time the value of the equipment in the fabs is depreciated to zero. Tower contributed $8 million of cash and engineering talent. Most intelligent people not familiar with Tower would imagine that Panasonic would own the lion's share of this joint venture. That's just logical and fair. Tower Semiconductor owns 51% of this joint venture.
After hearing that Tower owns 51% of this joint venture, it's natural to assume that it's highly unlikely that the three fabs will ever be close to fully utilized. Currently, the largest customer by far is Panasonic, which contributes between $90 million and $105 million of revenue per quarter, according to the most recent conference call. Tower CEO Russell Ellwanger said, "we're qualifying TowerJazz Panasonic Semiconductor Company with additional specialty platforms such as our tower management to enable offloading between our world-wide factories." The reason that the company is taking this step is that future demand at Tower's other fabs will exceed their capacity. In the first half of 2015, 11,240 masks entered Tower, compared to 9,281 during the same period in the prior year. Demand is growing, and it's likely to continue for many more years. Sometime during the 2017-2018 time frame, Ellwanger suggested that non-Panasonic revenue would make up close to half of TPSCo's revenue.
Ellwanger has suggested that the company's goal is to achieve 40% non-GAAP gross margin by Q4. With the assumption that gross margins at TPSCo are 40% and annual revenue at a conservatively estimated $600 million in 2018 (which is below the low-end estimate that Ellwanger suggested), that would be $240 million of gross profit for the joint venture. Tower's share of the gross profit of TPSCo would be over $120 million. It's safe to assume that the gross profit margin the joint venture realizes on revenue from Panasonic is lower than the average gross profit margin achieved when selling capacity to other firms. Operating expenses, taxes and interest also needed to be subtracted from TPSCo's gross profit to arrive at net profit. Assigning any reasonable range of values to these numbers will yield a net profit on Tower's share of the joint venture in the tens of millions per year by 2018. This profit all comes from an investment of a mere $8 million.
This brings up the important concept of ROIC (Return on Invested Capital). I will define ROIC as net operating profit after taxes/invested capital. To determine whether entering a new deal would add value to the firm, all you have to do is compare the ROIC to the WACC (weighted average cost of capital) of the deal. If the ROIC is greater than the WACC, entering this business creates value for the firm. Tower's invested capital in TPSCo is around $8 million. The NOPAT will be in the tens of millions annually, once the capacity reaches close to full utilization. That's a triple-digit ROIC. It's pretty clear the WACC of Tower in this deal is much less than the ROIC by a wide margin. That makes the TPSCo investment incredibly accretive to the value of Tower Semiconductor. The ability to acquire capacity at such a low cost, with a built-in customer base is the dream of every fab in the world, and Tower is one of a very few who have achieved it.
The TPSCo joint venture is the ideal way every semiconductor foundry would like to do business. Tower's chances of finding more deals like this one is a very real possibility. Jaret Wilson posted another great idea of what potentially lies in the company's future. Maxim (MXIM) has three fabs that are not being fully utilized. Currently, these three fabs are used to produce only its own semiconductor designs, and do not serve as foundries for others. Having a large amount of capacity that remains permanently unused is highly inefficient. With Tower taking over these fabs outright or in a joint venture with Maxim (similar to the one it has with Panasonic), the company will be able to fill that unused capacity with the surging demand from fabless semiconductors.
Taking over unwanted fabs or forming joint ventures with built-in demand at prices significantly below fair market value is a great way to run this business going forward. However, there are going to be situations where this old capacity will not be well suited for some new analog and mixed-signal IC designs. When this happens, one would surmise that Tower would have to follow the basic foundry model of issuing debt and building a new state-of-the-art fab, and pray that demand is there a few years down the road when the fab is complete. Yet again, Tower Semiconductor looks like it will be able to escape the high-risk traditional foundry model.
In the last conference call, Ellwanger stated, "we have implemented a special model of customer funded capacity which is based on prepayment and capacity reservation agreements in order to enable our customers to secure capacity for the longer term need." This can be rephrased to show how great this is. When Tower Semiconductor needs to build new capacity, a customer will partially fund that capital expenditure up-front. When that new capacity goes on-line, the customer will then have the right to pay Tower to use that capacity going forward. This is no different from a customer offering a zero interest loan to the company, Tower returns the money to the customer when the new or expanded fab is complete and the customer then starts paying Tower to use that precious capacity. I had my doubts on how often this scenario would play out.
Five weeks after that conference call, Tower Semiconductor announced that one customer has agreed to prepay $30 million to the company in the type of deal described in the above paragraph. It gets even better. In the conference call, Ellwanger stated, "We do have major customers that are moving forward toward reserving capacity, and that is against advanced payments to make sure that a certain capacity would be set aside for them. When customers are willing to do that they certainly believe that they'll need to use the capacity. So, that would be reservations for a specific period of time and if the capacity is not used during that period of time, the reservation fee is then not refunded." In the vast majority of cases, a company that is prepaying for capacity is going to use that capacity and be a customer of Tower Semiconductor for a long time, as switching to another foundry has an added cost. In the unlikely event that the prepaying customer can't use that new capacity, it seems that Tower might just get to keep that money free and clear without having to deliver any products (but at the expense of having to potentially leave that capacity temporarily unused).
The biggest concern I have had about Tower Semiconductor is calculating an appropriate value for its shares. The number of shares outstanding has risen rapidly over the last few years. Accepting prepayment for new capacity will create value. Creating TPSCo-type joint ventures or acquiring fabs that are treated as nearly worthless will create tremendously more value. The potential venture with IBM in India may create some very high-margin business. By tinkering with some assumptions of the inputs in a discounted cash flow model for Tower Semiconductor, the reasonable range for the company's valuation is very wide. I have arrived at numbers ranging from about $16/share to well over $40/share for its appropriate value today. At under $14/share, I believe, long term, Tower Semiconductor shareholders will see their shares rise over 200% during the next few years.
In summary, Tower Semiconductor and all other successful foundries will generate strong free cash flows when they are not building new fabs. (Of course, some of the best fabs maintain diminished, but still very large, free cash flow while building a fab.) Because the company will likely continue to acquire fabs or create joint ventures with fabs at a small fraction of the cost of building a new one of the same capacity, this company is uniquely positioned to realize incremental ROIC higher than virtually all other major semiconductor foundries in the market today. This ability to break out of the traditional foundry model that requires rapidly increasing capital expenditures over time to fuel growth means that Tower "can have its cake and eat it too."