The water purifying and preserving industry is one of my favorite industries with a focus on the future. I've handled this subject before in Investing In Water Is Investing In The Future (Part 2) and Part 1. In these articles, I've covered the water ETFs (NASDAQ:PHO) and (NYSEARCA:FIW). In this last part, I cover (NASDAQ:PIO), the PowerShares Global Water Portfolio ETF.
Water Scarcity: A worldwide problem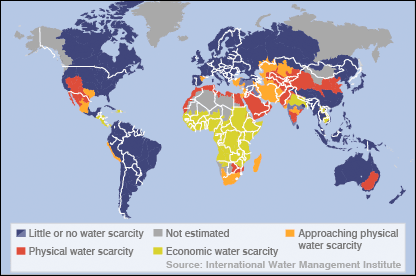 Urbanization is expected to rise to 70% by 2050 making water scarcity a worldwide problem for today and the hereafter. For example, in one of the largest cities in China, Shenzhen, demand for water is expected to outstrip supply by 2020.
Furthermore, the amount of rivers in China dropped from 50,000 in 1950 to 23,000 in 2013 and got very polluted by the chemical industry. These are life-threatening troubles and will be addressed eventually as no one can be without water. Financial investment in water (and everything related to preserving and purifying water) is expected to increase significantly.
Global Water Portfolio Overview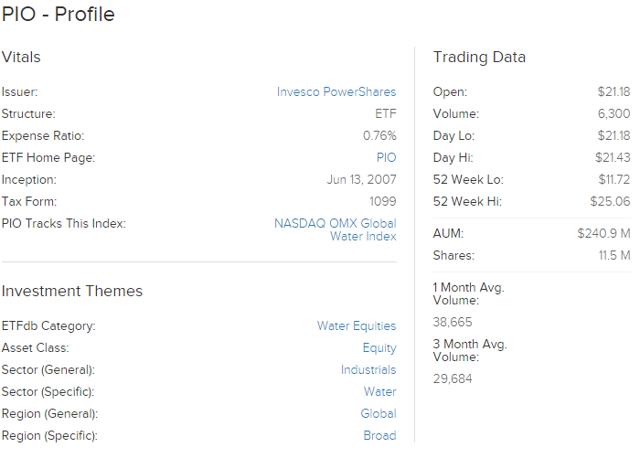 Source: ETFDB.
The issuer of this ETF is Invesco, a large independent investment management company incorporated in Bermuda. The expense ratio of 0.76% is a reasonable number even though it is a little bit more expensive in comparison to other water ETFs. With 240 million assets under management, it's not a large ETF. They are currently trading 16% under its year high and almost 100% above its year low.
The PowerShares Global Water Portfolio is loosely based on the NASDAQ OMX Global Water Index. The fund normally invests at least 90% of its total assets in companies listed on a global exchange that create products designed to conserve and purify water for homes and businesses.
Water ETF: Fund Characteristics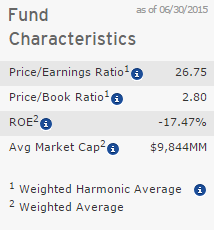 Source: Invesco
With a P/E ratio of 26, it finds itself similarly valued as PHO and FIW.
Water ETF: Top Holdings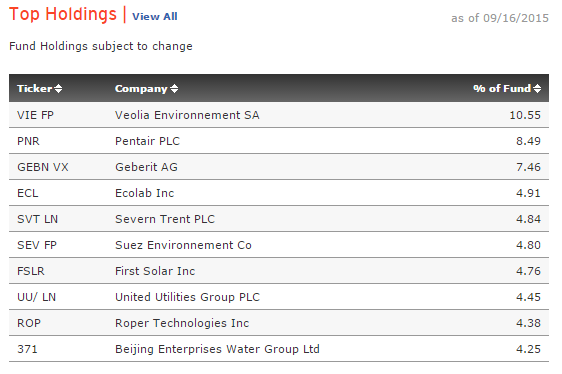 Source: Invesco
The main holdings of PIO are Veolia (OTC:VEOEF), Pentair (NYSE:PNR) and Geberit (OTCPK:GBERY). These 3 holdings accumulate to about 26% of the total portfolio.
Veolia is a French conglomerate focused on water management, waste management and energy services. Its water division is one of the largest in the world. It has a strong emphasis on the durability and sustainability of preserving water: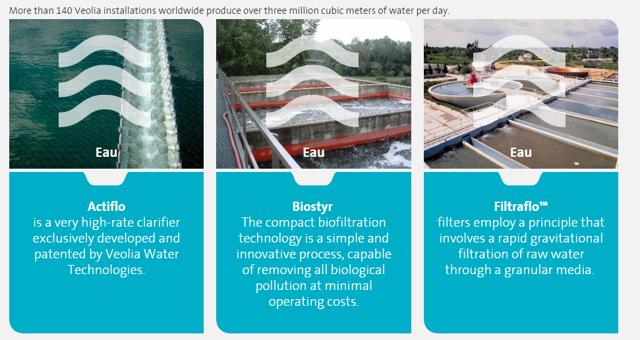 Source: Veolia
Pentair is an industrial company headquartered in Manchester delivering a variety of water, fluid and technical solutions. Their water technology is found in swimming pools, spas, all the way up to sanitarian systems. The firm is presently not performing well as it is drifting only a few cents above a year low.
Geberit is a Switzerland-based multinational group specialized in manufacturing and supplying sanitary parts and related systems. It has a strong geographical focus on Europe and is well known for its sanitary systems: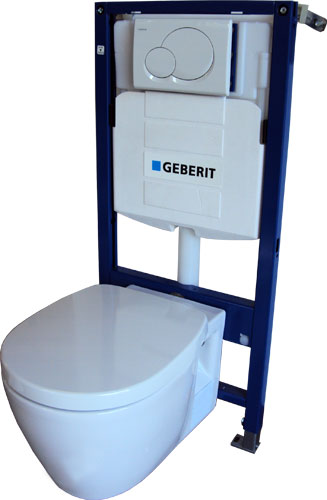 Source: Geberit
As the firm is a Swiss organization, it has been hit significantly hard due to the drop of the Swiss currency and is currently riding close to a 52wk low.
Holding comparison to other water ETFs
The holdings in FIW have slightly changed over the last month due to the addition of Danaher Corporation (NYSE:DHR). As a large conglomerate, Danaher is active in a variety of fields, but also has a significant emphasis in the segment of water supply.

Source: ftpportfolio
The holdings in PHO have also slightly changed over the last month:

Source: Invesco
The holdings in these 3 ETFs differ, but only slightly.
Overview Performance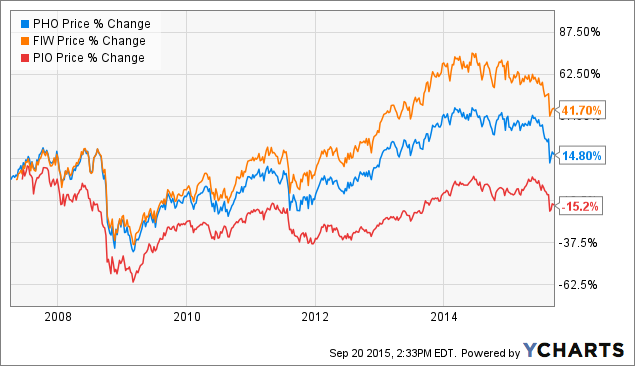 Source: Ycharts
As I've discussed before, PHO and FIW have performed relatively above average from a return perspective since the height of the last crisis. However, PIO has bled significantly and has yet to reach back to the same level it had before the crash in 2008.
Considering the strong variety of outstanding stocks in PIO , I believe this ETF has significant potential to break even in the future and obtain returns similar to the other 2 water ETFs: PHO and FIW.
Conclusion
Water scarcity is a problem of the future. Still, it's something, which should not be ridiculed or underestimated. Water issues will become massive (and maybe even potentially dangerous) and eventually (as with every costly industry), investments will prosper and the industry as a whole will succeed with stellar profits. Yet, as it's difficult to cherry pick which water segment related firm will profit the most out of the water scarcity issues, it builds a case to invest in a bucket of shares.
These ETFs offer a great front seat when it comes to investing in the future. All 3 water-industry ETFs have something specific to offer for anyone interested in investing in the water industry.
FIW has a strong emphasis towards treatment of wastewater while the other two ETFs are mostly related to purifying water. I consider all 3 ETFs worthy of having a very small position in a diversified portfolio.
Disclosure: I am/we are long PIO, FIW, PHO.
I wrote this article myself, and it expresses my own opinions. I am not receiving compensation for it (other than from Seeking Alpha). I have no business relationship with any company whose stock is mentioned in this article.
Editor's Note: This article discusses one or more securities that do not trade on a major U.S. exchange. Please be aware of the risks associated with these stocks.