Later this week, we will be releasing our Automotive/Recreational Vehicle EquityAnalytics report, covering Arctic Cat Inc. (NASDAQ:ACAT), Drew Industries Inc. (DW), Ford Motor Co. (NYSE:F), General Motors Co. (NYSE:GM), Honda Motor Co. (NYSE:HMC), Harley-Davidson, Inc. (NYSE:HOG), Polaris Industries Inc. (NYSE:PII), Thor Industries, Inc. (NYSE:THO), Toyota Motor Corp. (NYSE:TM), Tesla Motors Inc. (NASDAQ:TSLA), Tata Motors (NYSE:TTM), and Winnebago Industries Inc. (NYSE:WGO).
Since our EquityAnalytic reports contain long-term ratings for each company, we decided to take a historical look at each company's performance between February and April over the past fifteen years. This information will give us a good idea how these stocks may perform over the next three months.
At the release of our report we will be able to couple the long-term ratings with the historical performance of each company over this period to have a great idea how these stocks will perform early this spring and which ones we may want to add to our Extended Value Portfolio.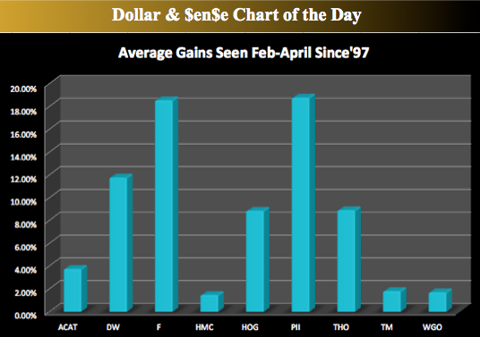 *Note: GM, TSLA, and TTM have been omitted since historical data for each company does not span enough years to be significant.

The first graph depicts the average gains seen between February and April over the past fifteen years. Every company has seen positive average gains over this period, but many of these companies have seen huge volatility with one or two huge periods accounting for the positive gains. In order for us to enter an investment in any of these companies, average gains are not enough. The next two charts will give us much greater insight into the performances of each company over these next three months.
One of the most important historical data points is the consistency with which these companies have performed over the past fifteen years. This next graph shows the percentage of February-April periods that each company has seen positive gains for since 1997.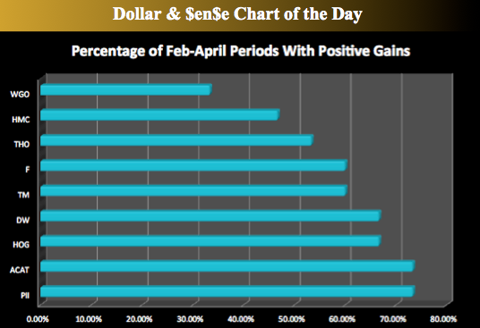 F has seen gains less than 60% of the time, yet averaged gains over 18% over these periods. The reason for this is the huge swings F has seen during the early spring. In 2009 between Feb-April F rallied 188%. This huge swing to the upside can negate the -20%, -12%, and -8% in the average gains seen since 2001.
PII and ACAT are the best performing over this period (both snowmobile producers) with gains 73% of the time.
The worst performers are WGO and HMC, who both experience gains less than 50% of the time during this period.
The final piece of data to analyze is how large the swings have been for each company. This will allow us get a feel for the amount of risk and volatility each company has performed with over this period historically.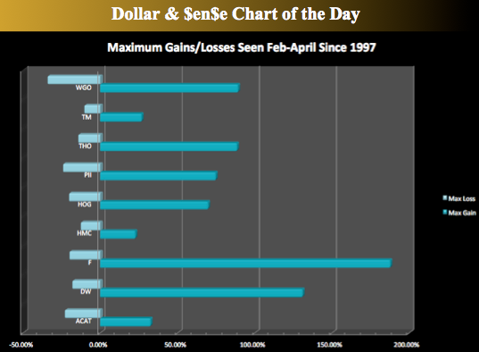 F and DW have seen huge gains over 100% during this period in 2009 (188% and 131%, respectively)
Each company has had larger max gains than max losses over this period
WGO, PII, and ACAT each have losses greater than -20%
The least volatile stocks during this period are TM and HMC, each holding within a 37% range.
As previously stated, this data is meant to complement our long-term ratings released later this week. But even without the ratings we can pull out some strong trade ideas.
PII and ACAT perform well in the late winter-early spring (ACAT is up 11+% and PII is up 6% so far this month).
WGO typically performs poorly in the next three months. WGO has been on a huge upward trend since early December and may be approaching a topping point.
Between February and March Ford has only been down twice (2003+2004) for 22% average gains, with gains of 170% in March in 2009.
Keep in mind the maximum gains/losses to play April options.
Disclosure: I have no positions in any stocks mentioned, and no plans to initiate any positions within the next 72 hours.