Introduction
In my past study on Apple (AAPL) and how its stock price reacts to Apple events (such as new product announcement), I found a statistical connection: Apple stock declines on the day of and the days after an Apple event. One of my readers applied the strategy and turned a profit:

"Retired One" summarizes the meaning of such studies well: While Seeking Alpha is a community of investors, sometimes applying what seems to be short-term trading strategies to long-term investments can pay off. Many of us implicitly know this but don't admit it when we apply dollar cost averaging to our investments. In dollar cost averaging, we dedicate a fixed amount of capital to a fixed investment at a fixed time.
But I've been saying for a while that, while dollar cost averaging is a statistically accurate method of ensuring that you buy most of your shares at a discount, using cyclical data (what Retired One calls "history repeating itself") to define your entry points can prove to be more optimal than dollar cost averaging.
In my last study, many people commented. I am taking two of these comments into consideration for a new study. One comment was a request to repeat the study on Disney's (NYSE:DIS) stock and movie releases:

Another comment was asking about the expected returns based on my strategy. In this current study, I will take both of these comments into account.
The Study
Disney movie releases number too many for me to perform the data entry in a timely fashion. See the list of releases here.
Thus, I have limited the list to fulfill two criteria:
The movie was released in the past 10 years.
The movie is an animated film (not live action or documentary, etc.)
In anticipation of a new animated Disney release, "The Good Dinosaur," on November 25, this study is a timely one. Below is the list of movies included in this study:
| | |
| --- | --- |
| Movie | Release date |
| My Neighbor Totoro | October 23, 2005 |
| Chicken Little | November 4, 2005 |
| The Wild | April 14, 2006 |
| Cars | June 9, 2006 |
| The Nightmare before Christmas 3D | October 27, 2006 |
| Meet the Robinsons | March 30, 2007 |
| Ratatouille | June 29, 2007 |
| WALL-E | June 27, 2008 |
| Roadside Romeo | October 24, 2008 |
| Bolt | November 21, 2008 |
| Up | May 29, 2009 |
| Ponyo | August 14, 2009 |
| A Christmas Carol | November 6, 2009 |
| The Princess and the Frog | December 11, 2009 |
| Toy Story 3 | June 18, 2010 |
| Tales from Earthsea | August 13, 2010 |
| Tangled | November 24, 2010 |
| Mars Needs Moms | March 11, 2011 |
| Cars 2 | June 24, 2011 |
| Winnie the Pooh | July 15, 2011 |
| The Secret World of Arrietty | February 17, 2012 |
| Arjun | May 25, 2012 |
| Brave | June 22, 2012 |
| Frankenweenie | October 5, 2012 |
| Wreck-It Ralph | November 2, 2012 |
| Monsters University | June 21, 2013 |
| Planes | August 9, 2013 |
| Frozen | November 27, 2013 |
| Planes 2 | July 19, 2014 |
| Big Hero 6 | November 7, 2014 |
| Inside Out | June 19, 2015 |
The main idea of this study is to find any consistent changes in the stock price of Disney around the time of animated movie releases. If we can find such consistent changes, we can better position our investments in DIS. For example, if we should find that DIS rises before a movie release and falls afterwards, we can sell our shares before the release and buy them back afterward, as Retired One did with AAPL stock.
The hypotheses for this study, as per the request, follow:
H0: DIS presents no statistically consistent changes before or after an animated movie releases
HA: DIS presents at least one statistically consistent change before or after an animated movie release
To test these hypotheses, I am including DIS stock price at five dates:
One month before the release
Five days before the release
The day of or after the release (many movies are released on the weekend)
Five days after the release
One month after the release
The Results
I ran paired t-tests on DIS stock price changes, using the release date as a benchmark. The results follow:
The results follow:
| | |
| --- | --- |
| Period | p-value |
| 1 month before the event | 0.7267 |
| 5 days before the event | 0.4989 |
| 5 days after the event | 0.3424 |
| 1 month after the event | 0.0762 |
Interpreting the Results for Trading Strategies
At a 5% alpha level, none of the results were statistically significant. However, the p-value for 1 month after the event was close to 5%. Some studies use alpha levels of 10%, which would make this a statistically significant result. I wondered if the inclusion of the movies released during the 2007-2009 bear market was inflating the p-value for the 1-month-after stock price, so I removed those movies and re-ran the analysis. However, the p-value remained roughly the same, at around 7%. Removing the bear-market releases, however, did unveil another period with a close-to-alpha p-value: The 1-month-before-a-release value had a p-value of 0.0599.
Taking these factors into account, I decided to do a follow-up study on this period to see how you would fare should you space trades around Disney animated movie releases. Thus, I looked at the returns for such a strategy. The strategy is as follows:
Buying DIS one month before an animated film release. Sell one month after.
The results of this strategy follow:
Overall, including the bear market, you would have gained an average of 1.9% ROI per trade. For individual trades, your max loss would have been 30% (during the bear market) while your max gain would be 22%, making this a risky strategy with more downside than upside but overall statistically sound if repeated as per dollar cost averaging.
However, if you were to avoid the bear market entirely, your results would be much better. On average, you would gain 3.6% per trade. Your max loss would be 13% while your max gain would be 22%. Now the upside is looking much better.
Using This Info For Investing In DIS
Assuming we don't hit another bear market soon, applying the dollar cost averaging method to DIS with a "twist" should bring hefty yields. DIS released 18 animated movies in 2015 (one is set for November, yet to be released). Eighteen is not much larger than 12, which is the number of months in a year. If your dollar cost averaging strategy is to buy DIS once per month, you might want to reconsider.
Instead, divide your yearly planned investment capital for DIS by 18. If you plan on investing $10,000 in DIS per year, for example, that gives you $555.56. Let this be your investment money for the company. Invest this capital in Disney 30 days before an animated film release and expect a 3.6% return after 2 months, giving you $575.56 worth of stock for your $555.56, on average. And remember, this will be compounded as DIS releases more movies (all things being equal).
This isn't "buying the dip." Indeed, DIS doesn't really dip. In the past 10 years, the only "dips" have been during the bear market of 2007-2009 and September 11: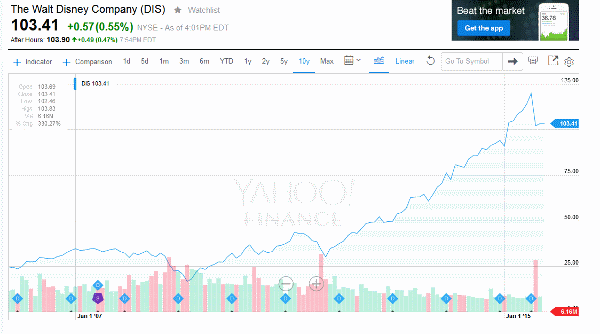 Instead, what we are doing here is finding the best time to perform dollar cost averaging, which is a statistically reliable investment strategy. But rather than arbitrarily setting our investment time at a date on a calendar, we are using statistical information to find better buying points. In DIS's case, that buying point is 30 days before an animated film release.
And right now we stand one month ahead of a new DIS animated release. Will you be buying DIS?
Request a Statistical Study
If you would like for me to run a statistical study on a specific aspect of a specific stock, commodity, or market, just request so in the comments section below. Alternatively, message me or email me with your request.