INTRODUCTION:
As a Dividend Growth investor, I have to admit that I love Coca-Cola (NYSE:KO). The love affair began back in 1984 when I started working for the company.
As part of our 401k plan, we had the option of purchasing shares in KO. As an "insider" that seemed like a great opportunity. You see, at the time, Coca-Cola owned only three bottling companies. They owned a Division in Boston, one in Los Angeles, and one in the San Francisco Bay Area, where I worked as a Branch Manager.
What I discovered while working there is that Coca-Cola did not like to own bottling operations, directly. Instead while the company had a strong desire to create a bottling network for better marketing efficiency, they planned to do that by creating a new company which would be called Coca-Cola Enterprises.
WHAT I KNOW:
In my Retirement Portfolio for DIY's, the investment vehicle of my three children, we own Coca-Cola . In managing that portfolio, my son asked me a very interesting question. He asked me why investors just wouldn't purchase shares in the companies that they wanted and do that at the beginning of each year.
I thought it was a pretty good question for a number of reasons. First, we all know about the strategy of income averaging. Second, sometimes we can get really bogged down in the initial purchase price of a stock that we want to own. And third, the question just flat-out interested me. So, I did a few spreadsheets and here's what I found.
I am sure that you could do this exercise with any DG company and I wouldn't be surprised if you had similar results. But, I thought I'd take the time to share what I found with you.
HERE'S WHAT YOU SHOULD KNOW:
In our model, we decided that we would purchase $1000 worth of KO stock during the first week of the investing year, starting in 2001 and working through 2011. The first spreadsheet shows what happened when we did that. I set a purchase at the first day of trading in the new year and used the closing price for that day.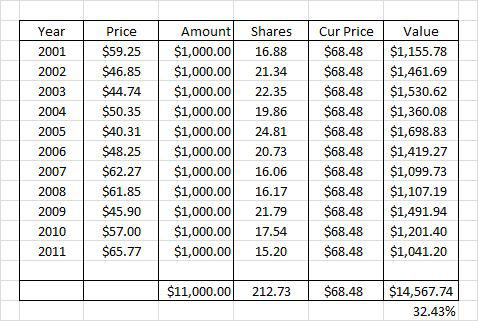 As you can see, each year, we made a fresh investment in KO and I have shown the amount of shares that were purchased and at what price. The column that is identified as the "Current Price" is the price that KO was selling for when I wrote this article, earlier today.
The total amount invested in KO was $11,000 and as of today, the value of the purchases are $14,567.74 which is a gain of 32.43%. Not too bad.
DG investors, however, usually reinvest the dividends that they receive from their purchases. So, in the next spreadsheet, I show how the dividend payments worked out each year.
HOW DIVIDENDS IMPACT THE INVESTMENT:
Every year, for the last 49 years, Coca-Cola has raised the dividend. As you can see here, the dividends that KO paid began at .72 a share and are currently at $1.88 a share.
In the column "New Shares" I am showing the amount of shares that the dividend income would purchase via a reinvestment policy. In the column "Total Shares" I show the number of shares that the position would have at the end of the year.
While our $1000 investment each year bought 212.73 shares of KO stock, the reinvestment of dividends purchased an additional 35.41 shares. Our total holdings grew, then, to 248.14 shares.
The actual dividend income received was $1927.10, but the $11000 total investment grew to $16992.63 with those dividends reinvested. That increased our gain to 54.48%.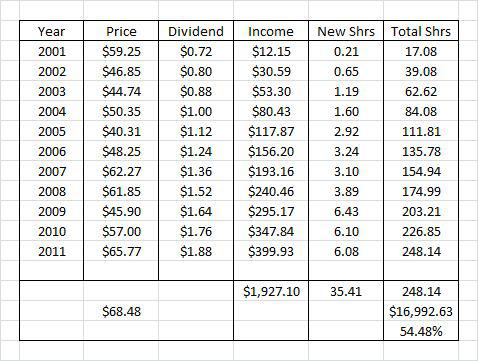 BUT IT GETS EVEN BETTER:
Again, Coca-Cola is one of those Dividend Champions. The company keeps raising those dividends on an annual basis. As a result of the dividend growth, married to the reinvestment of those additional 35 shares gives us an interesting result.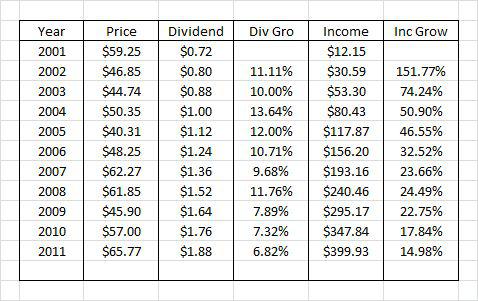 In the column identified as "Income" I show the amount of the dividends received for each year. While Coca-Cola raised the dividend amount each year, the income grew at a faster rate than the actual dividend growth.
This effect is the result of "compounding." Rising dividends, reinvested for more shares, and the addition of shares from new purchases made, accelerate the impact of the income growth.
Even if we were to stop investing in KO at this point, the dividend growth rate and the number of shares that we currently own, will continue to provide us an increasing income stream year over year, as long as KO continues to raise their dividends.
CONCLUSION:
I don't know that I will begin purchasing new positions during the first week of every calendar year moving forward, but there is room for discussion.
I know this. During the time period of this study, there were plenty of opportunities to load up on KO stock at lower prices than our initial $59 purchase in 2001. There were plently of opportunities to sell at a higher price than that $59 purchase price as well.
The power of DG investing, however, would seem to vindicate the notion of buying and allowing the dividends to do their magic. As some have suggested, why would you even consider selling a stock that continues to send you more money year after year?
Disclosure: I am long KO.