Oil prices moved sharply lower on September 23rd after news broke that oil inventories for the prior week dropped much more than analysts anticipated. Based on the news provided, investors should be optimistic moving forward but it seems Mr. Market is unhappy because of rising gasoline stocks and because the drop in inventories was much less than what the API (American Petroleum Institute) expected. As a result of this move lower, companies such as Linn Energy (LINE) / Linn Co (LNCO), Approach Resources (AREX), and Transocean (RIG), moved much lower, as did the United States Oil ETF (USO). Given all of this, should investors lament over the news or should they rejoice at more positive signs that the energy market is poised to correct itself?
Inventories dropped
According to the EIA (Energy Information Administration), inventories for the prior week fell to 454 million barrels. This represents a 1.9 million barrel falloff compared to the 455.9 million barrels the organization reported a week earlier. There is no doubt that this is positive news for investors especially because the drop is far larger than the 0.53 million barrel decline market participants had hoped for. Even though the drop was better than expected, however, it's much lower than the 3.7 million barrel falloff the API reported a day earlier.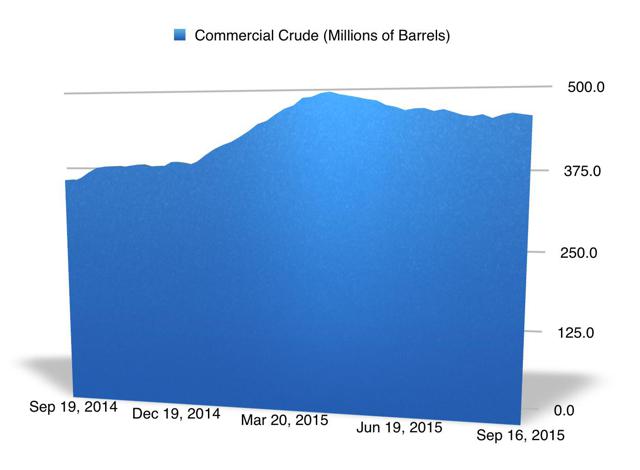 In the graph above, you can see what the trend has been like for crude supplies over the past year. Since the end of April of this year, the general trend has been toward less crude being held in storage, driven by a combination of falling imports and lower production levels. Using the methodology of a previous article I wrote regarding the topic, I can conclude that inventory levels are probably about 94.2 million barrels oversupplied compared to their historic average. While this is certainly bearish, it means that we've eaten away at 28.1% of the 131.1 million barrel glut we had in April.
Perhaps the only thing driving oil prices lower today is the fact that gasoline inventories rose to 218.8 million, up from the 217.4 million barrels reported a week earlier. This, in and of itself, isn't material but what is material is that gasoline inventories stood at just 210.3 million barrels the same week a year ago, which suggests that levels are about 4% higher than last year's levels. Fortunately, though, there is some good news here. Based on the data provided, gasoline consumption came in at 9.215 million barrels per day, up from 8.983 million barrels per day a week earlier and about 4.9% above the 8.781 million barrels per day seen the same time last year.
As a result of this decrease in crude inventories, total product stocks fell for the week, dropping from 1.2977 billion barrels (excluding SPR inventories) to 1.3006 billion barrels. This is great and shows that the EIA's projects could turn out to be, more or less, accurate. According to the organization, total product stocks should peak at around 1.295 billion barrels during this year's third quarter before plummeting to 1.242 billion barrels by the end of the fourth quarter. If the group's projections are correct, total domestic product stocks should fall to 1.211 billion barrels by the end of 2016.
Production rose but not by much
For the week, the EIA reported that domestic crude production came in around 9.136 million barrels per day. This represents a modest uptick from the 9.117 million barrels per day reported a week earlier (a total increase of 133 thousand barrels week-over-week). This may worry some investors who, like myself, are banking on a big drop in output, but I don't think this is much to be concerned over. As you can see in the graph below, this is the lowest production point (excluding the past two weeks) that we've seen since the week ending January 2nd of this year.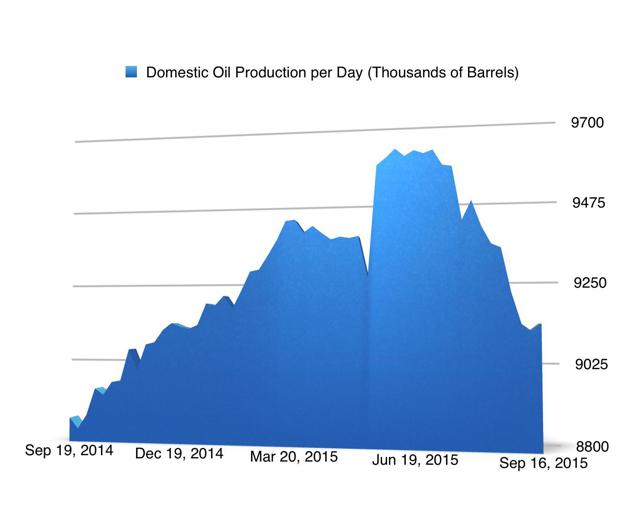 Over the past 11 weeks now, we've seen production decline in nine of those periods, driven largely by a big drop in rig count over the past year, a trend that has since resumed after reporting a few consecutive weeks of rig count upticks. During this time frame, the weekly drop in oil production has averaged 42.5 thousand barrels per day. Should this trend continue, production levels could be expected to drop by 637.5 thousand barrels per day by the end of the year, bringing production down to around 8.50 million barrels of crude per day, well below the 8.96 million barrels per day anticipated by the EIA for year-end and significantly lower than the 9.61 million barrels per day seen at the peak of production earlier this year.
Takeaway
Right now, times are tough for long-oriented oil investors but the data keeps improving. Yes, production did rise modestly but it's little more than a rounding error and gasoline inventories rose but so too did gasoline consumption. Add to this the fact that imports continue to move lower and both crude and total product inventories are also dropping (and will likely continue dropping through the end of the year) and I think that any scenario where China's economy does not tank will prove bullish for oil and oil-related companies in the long run.