I run my finger down a list of dozens of investment styles that range from buying upgraded stocks to bargain value stocks to high growth rockets. Many of these systems claim to beat the market up to 30% annually over the past decade. I single out one of these top ranked systems for a closer inspection.
What is under the hood of this 'market beating system'?
The PEG ratio (using forward PE) needs to be less than 0.5
Minimum 15% revenue growth TTM
Price strength is in the top 10% over the past 13 and 52 weeks
This simple screen looks for growing stocks at a bargain with price momentum. After running the scan on December 31st 2011 only 2 stocks come up. I run the screen again on February 8th 2012 and only one lonely stock shows up. All too many systems suffer from the same problems that make following it difficult:
You cannot implement a sound trading system with a handful of stocks as volatility and individual firm risk is high.
Liquidity restraints. Many of these systems trade illiquid stocks which carry high theoretical returns but are difficult to mimic in live trading.
The strategy in question uses monthly rebalancing which translates into high transaction and slippage fees, particularly so if the stocks are illiquid.
Devising a system that invests in liquid stocks with enough publicly traded companies to choose from and low turnover is challenging. While I do not claim to have a 'system that beats all other systems', I rank the following methodology as a strong contender and worthy of your inspection.
Beat the Market With a Stick
I call this my 'Beat the Market With a Stick' strategy which only invests in the S&P 500 stock universe. The criteria for stock selection is quite simple (although I use software to help). First I use a ranking system that will remind some of Benjamin Graham:
Low trailing PE
Low price to book
Low price to tangible book
Low operating PE
High 5 year average earnings growth
Low variance of earnings
One other rule I add is that the company needs to be in the top one-third of the S&P 500 universe as regards gross margin.
All of the stocks in the S&P 500 are ranked based on the above factors and I only buy those which receive 90 out of 100 - or better. I sell when the rank falls below 85. That's it for my system - no market timing or technical analysis. I only rebalance when ranking falls and inspect the portfolio every 2 months.
Stocks Making the Cut
| | | | | | |
| --- | --- | --- | --- | --- | --- |
| Ticker | Name | Last | Rank | MktCap | GMgn%Q |
| (NYSE:CHK) | Chesapeake Energy Corporation | 22.18 | 99.6 | 14622.52 | 88.68 |
| (NASDAQ:EXPE) | Expedia Inc | 34.04 | 98 | 4544.78 | 81.62 |
| (NYSE:CSX) | CSX Corporation | 22.15 | 97.8 | 23256.46 | 62.89 |
| (NYSE:DV) | DeVry Inc. | 38.52 | 96 | 2556.85 | 53.97 |
| (NYSE:HP) | Helmerich & Payne, Inc. | 60.98 | 93.8 | 6558.38 | 46.62 |
| (TWC) | Time Warner Cable Inc. | 75.22 | 93.4 | 24003.58 | 54.28 |
| (NASDAQ:AMD) | Advanced Micro Devices, Inc. | 7.13 | 93 | 4969.06 | 45.71 |
| (NYSE:SLM) | SLM Corporation | 15.82 | 92.2 | 8048.21 | 62.15 |
| (NYSE:NEM) | Newmont Mining Corporation | 60.86 | 92 | 30017.37 | 63.27 |
| (NYSE:BMY) | Bristol Myers Squibb Co. | 32.15 | 91.4 | 54479.19 | 74.94 |
Let's look at two of these stocks for suitability:
Chesapeake Energy has a trailing PE of 11 with share prices just a hair above book value. This stock is included on the list based on some low valuations since the trailing 5 years of earnings growth are negative with some fairly volatile earnings. On another note, volume has picked up since the beginning of 2012 showing some support at the $20 - $22 range. While this isn't a slam dunk, it has a few good aspects going for it to make it a decent buy.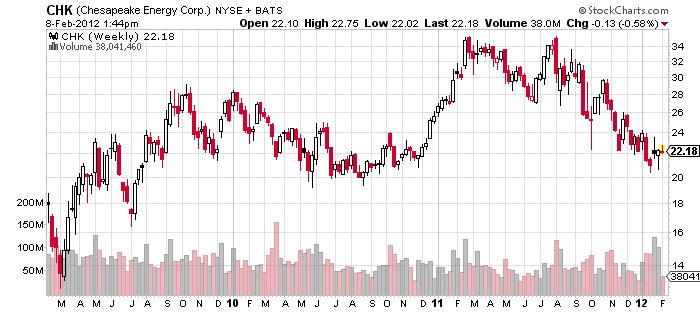 Advanced Micro Devices is another strong contender. With a sub 11 trailing PE this speaks of some value. The price to book value is much higher at 3.28 so no bargain here. The earnings growth is much better when you consider the pit it climbed out of in 2007 and 2008. The past three years since the market crash have seen stable annual earnings. Granted, shares have popped 50% over the past few months so keep that in mind before buying. Remember we are buying 10 stocks at a time which should lower our volatility.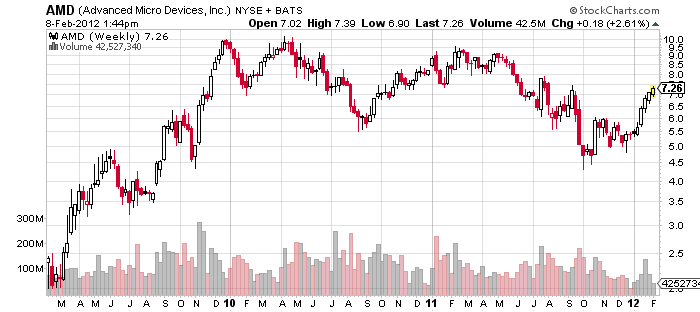 Historical Performance
How well has this strategy performed over the past 5 using the simple trading rules based on rank?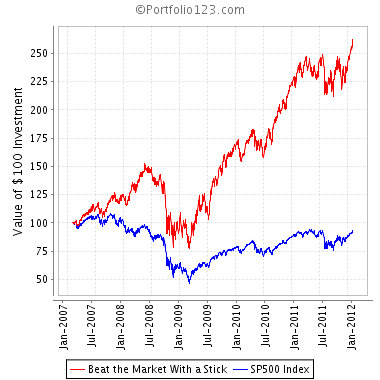 Yes, this strategy still fell by 50% in the market crash of 2008 but both before and after the fall the resilience of this system is fairly obvious.
From Feb 2007 until Feb 2012 this strategy has returned 159.84% versus the broad S&P 500 of -6.91%. This creates an annualized return of 21%.
Every two months the portfolio is re-examined to determine if any stocks fell below the ranking threshold.
The annual portfolio turnover is 127% which means every two months you would typically replace two of the ten stocks.
On average the picks return 18.31% with an average holding time of 253 days.
Over two-thirds of the stocks are winners so you are playing averages.
The average winner returns 35.92% while the average loser drops 19.83%.
Do you want to try this strategy out? I've made it freely available with customized buy and sell rules on Portfolio123. Under the 'simulations' tab, click 'search' in the sidebar and type in the name Beat the Market With a Stick to find the simulation or search that same name in the 'screener' section for current picks.
All systems have their strengths and weaknesses. If there is something about this system that you would like to comment on please do so below or share your personal 'market beating' strategy that focuses on S&P 500 stocks.
Disclosure: I have no positions in any stocks mentioned, and no plans to initiate any positions within the next 72 hours.