While hoping followers didn't miss our call that Thursday (post ECB) would mark a good entry point for gold ownership, we're reiterating today that gold is good to go higher from here. The buildup to the European Central Bank (ECB) events of this week drove the euro lower versus the dollar as expected and was a setback for gold. However, yesterday we got a hint in his testimony that Draghi would not add to the ECB's extraordinary measures this month and so gold got clearance to turn upward. The ECB factor passed and the dollar is giving way with gold gaining sharply. I'm suggesting gold goes higher from here on continued dollar decline and increasing concern about the U.S. government shutdown next week. Increasing speculation about the Fed holding off on rate action in October will also serve gold. Thus, gold is good to go higher from here.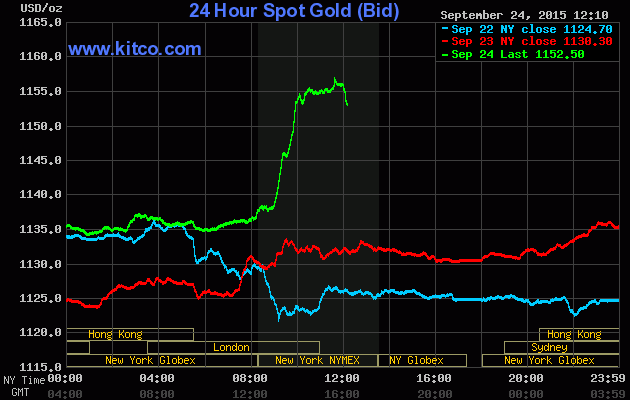 Spot Price of Gold at Kitco.com
The chart here depicts the spot price of gold. The yellow line reflects today's trading gain into midday, which has been significant. The SPDR Gold Trust (NYSE: GLD), which tracks gold prices, was up 2.3% at midday Thursday. Gold and silver securities of all sorts were significantly higher.
| | |
| --- | --- |
| Precious Metal Relative | 09-24-15 Midday |
| SPDR Gold Trust | +2.3% |
| iShares Gold Trust (NYSE: IAU) | +2.4% |
| ETFS Physical Swiss Gold Trust (NYSE: SGOL) | +2.3% |
| iShares Silver Trust (NYSE: SLV) | +2.2% |
| ETFS Physical Silver Trust (NYSE: SIVR) | +2.4% |
| Market Vectors Gold Miners (NYSE: GDX) | +6.0% |
| Market Vectors Junior Gold Miners (NYSE: GDXJ) | +4.7% |
| Direxion Daily Gold Miners Bull 3X (NYSE: NUGT) | +16.4% |
| Goldcorp (NYSE: GG) | +6.3% |
| Randgold Resources (NASDAQ: GOLD) | +5.5% |
| Barrick Gold (NYSE: ABX) | +6.6% |
| Silver Wheaton (NYSE: SLW) | +5.0% |
| Coeur Mining (NYSE: CDE) | +7.1% |
The cause, we suggest, was a shift in currency expectations. A buildup of dollar strength followed the Fed's inaction last week (after the immediate drop in the dollar), as many speculated that the European Central Bank might use the opportunity to increase its "extraordinary measures."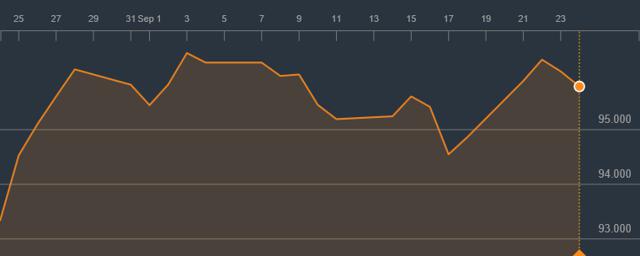 1-Month Chart of Dollar Index at Bloomberg
This one-month chart of the Dollar Index illustrates the rise of the dollar after it fell off immediately post the Fed inaction at the September FOMC monetary policy meeting. That rise post fall-off reflected in my opinion intensifying expectations for an ECB action possibly this week. It was misplaced expectation in my view, and I suggested as much in my recent report on gold that suggested a turn would most likely occur on Thursday.
Now that the ECB has not acted, the dollar can be expected to give back ground, though its downside versus the euro may be limited now by the developments around the German auto industry. I've heard reports that 1 in 7 jobs in Germany are in some manner tied to the auto sector. Given rumors surfacing about possibilities of other cheating at other automakers, there could be some ramifications to the German economy if German automakers lose consumer trust and brand appeal.
However, given that the U.S. market will be fully focused next week on developments around a possible U.S. government shutdown, I anticipate downside risk for the dollar is intensified. I foresee the politically fired issue to lead to the actual shutdown of the American government. While the real risk of this to financial markets may be overdone, I expect media and markets to make much of it (as in the past) and to drive further pressure against the U.S. dollar. If we also find increasing speculation that the U.S. Fed will not act on interest rates in October as I expect, that only further serves gold, as the dollar would lose support. Eventually I do expect the October Fed meeting to come to pass without Fed action, so I see your precious metals bets good to go from here. I cover gold and the markets closely and invite interested investors to follow my column here at Seeking Alpha.
Disclosure: I/we have no positions in any stocks mentioned, and no plans to initiate any positions within the next 72 hours.
I wrote this article myself, and it expresses my own opinions. I am not receiving compensation for it (other than from Seeking Alpha). I have no business relationship with any company whose stock is mentioned in this article.