McDermott International (MDR) is a Houston based engineering, procurement, construction, and installation (EPCI) company, specializing in offshore and deep sea energy infrastructure that has been around in some capacity since the 1920's. With business offices, engineering facilities, or fabrication yards on every continent, McDermott has the ability to serve customers like ExxonMobil and Saudi Aramco world wide.
BUSINESS DESCRIPTION & STATUS
McDermott has a fleet of 12 vessels, with another under construction, categorized as Heavy Lift (4+ 1 under construction), Flex Lay (3), Rigid Reel-Lay (1), and Construction Support/Launch Barges (4). They operate, outright or through joint ventures, fabrication yards in Mexico, Indonesia, United Arab Emirates, China, Malaysia, and Saudi Arabia.
In 2013, a struggling McDermott overhauled its management team, naming David Dickson as the new president and CEO. Dickson appears to be doing a good job of turning the company around by closing out money losing legacy projects while carefully adding attractive opportunities to its backlog and strategically partnering with other major players. McDermott announced in January of this year that it has launched "io", an oil and gas consulting venture with GE Oil & Gas.
McDermott was awarded a contract categorized as "mega" from Saudi Aramco in August, the largest contract ever awarded to McDermott's Middle East operations. The contract covers complex work on 4 brownfield projects off the cost of Saudi Arabia. Work on this contract should last through mid-2018. The exact total contract award is unknown, but Cowen analysts estimate that McDermott's year to date new awards is around $2.6 billion, "which is more than were announced in 2013 and 2014 combined." From this slide from McDermott's 8/10/2015 2Q 2015 Supplemental Information, that assessment appears to be correct. The only "mega" project outstanding is valued at over $1.5 billion.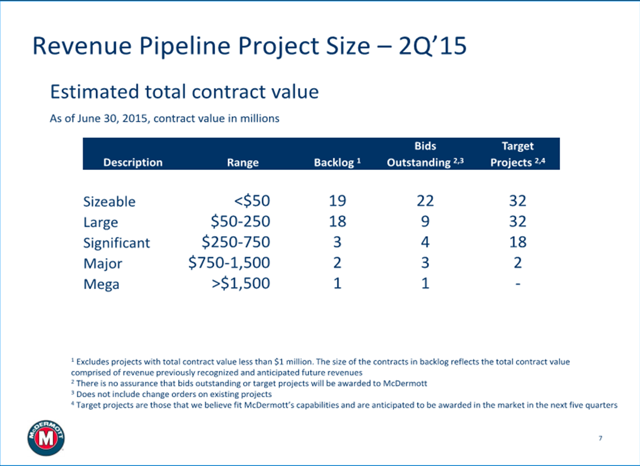 FINANCIALS
McDermott sports a relatively strong balance sheet. While it carries $854 million in debt, with $28 million due currently, $500 million in 8% senior secured notes is not due until 2021. Those notes can be redeemed as early as 2017 at 104% of principal. Another $286,500 of their term loan is due 2019, leaving minimal long term debt requirements for the next 4 years. McDermott is in a strong position to meet these financial obligations with $771 million in liquid assets ($577 million in cash and $194 million in restricted cash).
While McDermott is in no immediate cash crunch, management has nevertheless been proactive in implementing cost cutting measures, with the goal of saving $50 million in 2015 before restructuring costs, as a part of their McDermott profitability initiative. The plan will eventually save the company $100 million per annum starting in 2016. A key part of this initiative is to outsource some of its non-technical work to allow flexibility in its fixed cost structure to more accurately coincide with contract awards.
Additionally, cash flow from operations is expected to be positive according to the company's presentation at the Imperial Capital Global Opportunities Conference.
McDermott made $0.04 per diluted share in the quarter ending in June - an improvement from the loss of ($0.05) per share for the same quarter last year - and they have already revised their guidance up from earlier this year. Take a look at this slide from the same Capital Global conference: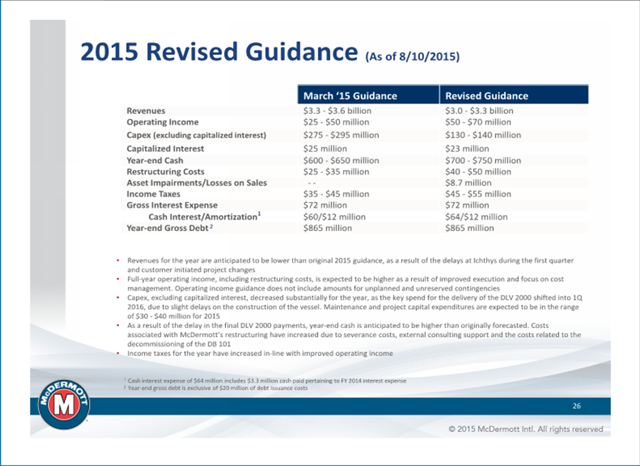 SHARE PRICE AND OUTLOOK
McDermott has moved off of December 2014/January 2015 10-year lows but, with a market cap of just over $1 billion, it still offers plenty of opportunity as the turnaround is navigated. McDermott trades with oil, and while it does not directly produce oil first hand; it is contracted by oil producing companies to engineer and build infrastructure offshore. As anyone familiar with the oil sector can attest to, anything related to oil - directly or indirectly - trades with oil. While many companies continue to struggle in this environment, McDermott is showing significant strength by improving its top and bottom lines.
Due to the volatile nature of the business, with revenues recognized inconsistently based on percent of completion billings, accrual accounting, and change order resolution, I prefer to look at the company's book value instead of earnings. More specifically, I like the metric of price-to-book vs. historical price-to-book. From Morningstar's "Valuation" tab, one can easily assess the ratio of the price that the market assigned to McDermott's book value for each of the last ten years. To be conservative, I threw out the outliers from 2005-2007, and came up with an average p/b of 1.725. This average indicates the ratio that market sentiment places on McDermott over the last 7 years.
McDermott's current p/b is around 0.76. 0.76/1.725 = 0.44 < 1.0, which means the market is currently under valuing the stock compared to historical norms. I draw the conclusion that, when normal market conditions resume, McDermott could have about a 226% upside (0.76 x 2.26 = 1.76 historical p/b). This would equate to a share price of around $10.75.
At that point, I would reassess the stock based on current market conditions and decide if it still holds potential to appreciate or if it is time to sell.
CONCLUSION
While McDermott went through a tough patch in 2013, President and CEO Dickson has done shown prowess in righting the ship in a tough environment. If McDermott can continue to show profits throughout the current energy cycle trough, it will be well primed to capitalize when public sentiment shifts and energy is back in favor. I see at least a 200% upside in McDermott's share price based on the price historically assigned to its assets. Now, all there is to do is wait!