Amgen's (NASDAQ:AMGN) purchase of Dezima Pharma was the company's first purchase in over two years, and it seems a carefully calculated purchase. Most of the company's previous acquisitions are either research related, such as the acquisition of NextCODE genetics and deCODE genetics in 2013, or complement its successful cancer care products like Onyx Pharmaceuticals and Micromet, Inc. However, Dezima is a company not renowned for its cancer care or research operations, which points to a different approach Amgen's board is now taking in its efforts to expand the company. Dezima focuses on developing a treatment for dyslipidaemia - a type of cardiovascular disease - the leading cause in global deaths.
Cardiovascular Disease
According to the World Health Organisation, cardiovascular disease [CVD] is by a significant percentage the number one cause of deaths worldwide and approximately 17.3 million of global deaths (31.5%) were attributed to CVD in 2013. Clearly, CVD is a huge global problem and the chances of an individual suffering from a cardiovascular-related illness are ominously high. Additionally, one's wealth, age and geographical location do not significantly alter one's probability of obtaining CVD.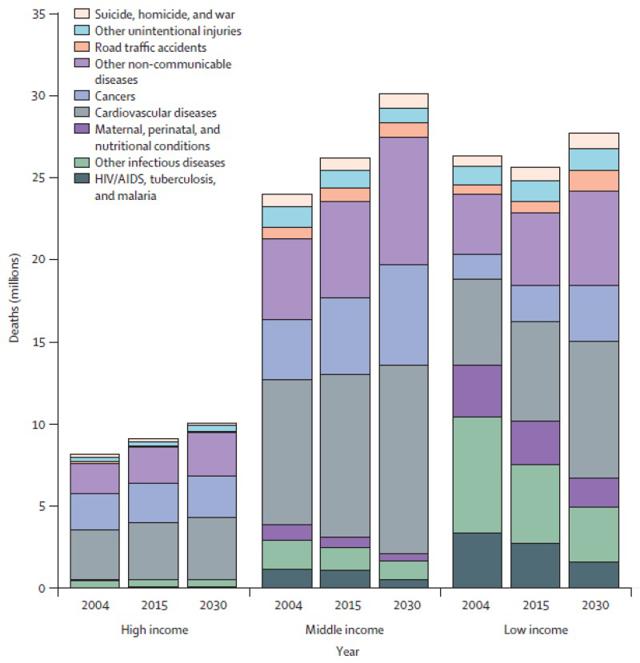 Source: Beaglehole and Bonita, 2008
Every market in the world is dependent on market forces - primarily supply and demand - and the healthcare and pharmaceutical industry is no different. Evidently, there is a huge and rapidly growing demand for CVD research, treatments and cures, which means Amgen has picked an opportune time to invest in the field.
The company has made no secret of its intentions to branch out from its traditional cancer treatments into the more in-demand cardiovascular market. Indeed, the company's chairman and chief executive officer, Robert A. Bradway, stated regarding the purchase that, "With the recent launches of RepathaTM (evolocumab) and Corlanor® (ivabradine), and today's acquisition of Dezima, Amgen is proud to be on the leading edge of an exciting new wave of treatments for cardiovascular disease, an illness impacting millions of people worldwide". Cancer care and CVD care are by and large unrelated, and the fact that the CEO mentions the "millions" of sufferers of CVD in its purchase statement reveals the company's economical intent behind its purchase.
What Does This Mean For Investors?
The sheer amount of people affected by CVD is widely acknowledged, and the quantity of pharmaceutical products sold reflects this. Rosuvastatin, a drug produced by AstraZeneca (AZN) and Shionogi (TYO:4507) (OTCPK:SGIOY), used to prevent cardiovascular disease and marketed as Crestor, came second out of the top 100 pharmaceutical products ranked by sales in the United States from April 2014 to March 2015. Interestingly enough, Levothyroxine (Synthroid), a cancer care product topped that list, which makes one wonder why would Amgen spend $1.55 billion on acquiring a company which focuses on CVD products and research rather than expand its cancer research and treatment operations which are currently more profitable.
If one analyzes the pharmaceutical sales closer, the economic reasoning behind Amgen's investment in CVD drugs becomes obvious. In the 2013 fiscal year, Crestor accrued approximately $5.2 billion in sales and was the fourth most commonly sold drug in the United States. Merely a year and a half later, from April '14 to March '15, sales totalled $21.5 billion, a substantial increase which caused Crestor to become the second most sold pharmaceutical product in the US. By contrast, Synthroid's sales are growing at a much lower rate and have even decreased by 2.5% since Q4 2013. A year from now, CVD pharmaceutical products will be the most commonly sold drugs in the US, reflecting the manner in which global cardiovascular diseases will increase exponentially in the years ahead.
Drugs treating cardiovascular disease are evidently highly lucrative and demand for them will continue to grow. By purchasing Dezima, Amgen have made inroads into this market and investors will see positive long term returns.
Conclusion
Cardiovascular diseases are the world's biggest killers; they have been for some time, and unfortunately will continue to be so in the foreseeable future. Sales of CVD treatment drugs are increasing correspondingly, and CVD drugs will soon be the most widely sold drugs in the United States, and through its purchase of Dezima, Amgen seeks to capitalise on this.
Amgen's inroads into the CVD treatment and research market have not gone unnoticed by analysts. Believing that its recent acquisition grants the company tremendous upside potential, the mean price target given by analysts had been raised to $186.08 - an increase of 26% from its current price of $147.64.
Traditionally, Amgen has focused on cancer care, but its purchase of Dezima highlights the company's intent to branch out into the cardiovascular care market, a move which has, as mentioned above, caused analysts to evaluate AMGN's stock with bullish lenses. Likewise, I Know First's algorithmic analysis paints a bullish long-term picture too, and if Amgen's acquisition and operation expansion follow through smoothly, patiently investing in AMGN will pay off considerably.