The German major index DAX is now down four percent year to date (in €), looking at the chart in $ we see that the German index has lost almost twenty percent over the last six months: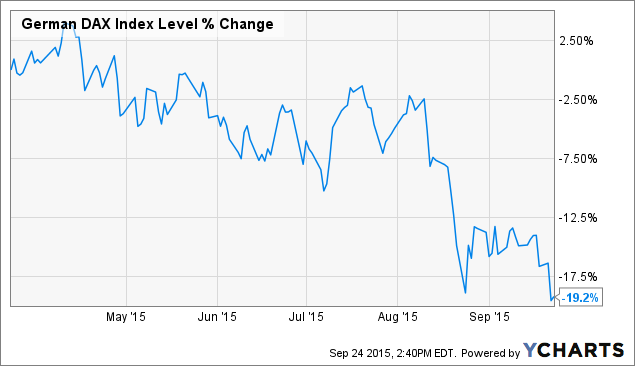 The DAX' performance over the last five years has been a lot better, as the index returned 62 percent over that time span, versus 52 percent for the Dow Jones (DJI). This weak performance over the past months made the index a lot cheaper than it was before, which could mean that there is some value in this index right now.
At today's price the DAX has a trailing price to earnings multiple of 12.5, which is a huge discount to the earnings multiple of the Dow Jones, which has a trailing PE multiple of 15.2, and this is also a lot cheaper than the S&P 500 index (NYSEARCA:SPY), which has a trailing earnings multiple of 19.5.
There are a couple of things we have to look at concerning the DAX, macro data as well as company specific data:
The Bundesbank sees Germany's GDP grow 1.7 percent in 2015 and 1.8 percent in 2016, other forecasts are around the same level of around two percent growth in each year (source). This is not an outstanding growth rate, but nevertheless a very healthy level.
Inflation rates in Germany are very low right now, with an average of 0.2 percent year to date (source). With 1.9 million people looking for a job right now, Germany's unemployment rate is at a very low 4.7 percent, the unemployment rate for people aged 24 or younger is 7.7 percent (source). Germany's exports have set a new record high in March (€ 108 billion), and lay above €105 billion in the last months (source).
All in all the macro data for Germany looks good: healthy GDP growth, low unemployment and inflation, strong exports. This should be positive for the DAX' performance over the coming years.
When we look at specific companies that are part of the index, we see that some of them do look good as well: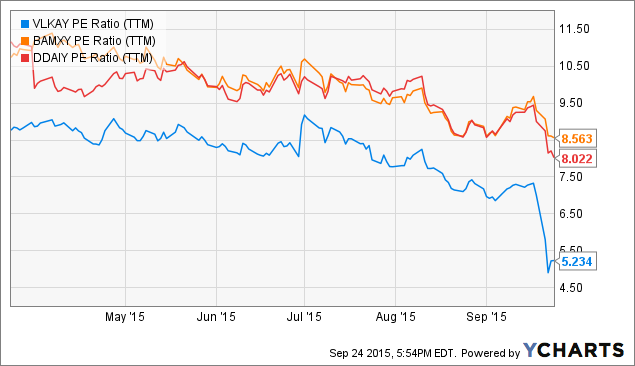 VLKAY PE Ratio (TTM) data by YCharts
German car manufacturers are very cheap in comparison to their peers, which in Volkswagen's (OTCQX:VLKAY) (OTCPK:VLKAF) case can be blamed on the company cheating exhaust tests. I wrote in several articles that I believe that Volkswagen's stock price drop was overblown (here), and that Daimler (OTCPK:DDAIF) (OTCPK:DDAIY) as well as BMW (OTCPK:BAMXY) (OTCPK:BAMXF) are attractively valued right now, as they show strong growth rates and sport low valuations (here and here).
There are also a couple of financial companies in the DAX index: Deutsche Bank (NYSE:DB), Deutsche Boerse (OTCPK:DBOEY), Commerzbank (OTCPK:CRZBY), Allianz (OTCQX:AZSEY) and Muenchener Rueck.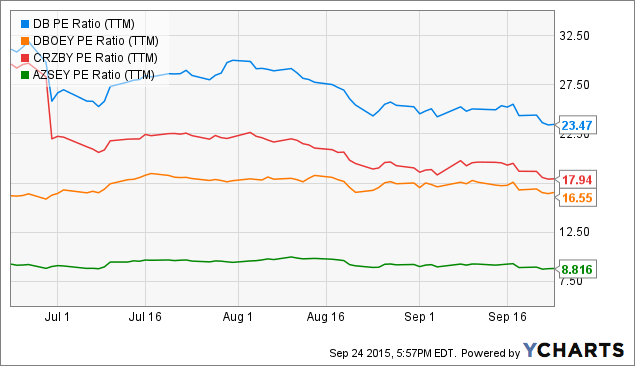 DB PE Ratio (TTM) data by YCharts
Deutsche Bank is a banking business with a global presence, but has faced difficulties in the last quarters, and had to issue 360 million new shares in 2014. Commerzbank is a smaller banking business, which has seen a weak performance since the financial crisis. Those two are, I believe, not very attractive as an investment.
Allianz is an insurance company (which does also have a strong asset management division) with a global presence and good fundamentals. Allianz has shown strong growth rates in revenues and earnings over the last years and pays an attractive dividend. At below nine times trailing earnings Allianz is also trading at a very low valuation right now.
Muenchener Rueck is a reinsurance company which is not listed in the US, but which shows attractive growth rates and fundamentals and pays an attractive dividend yield as well. Buffett's Berkshire Hathaway (NYSE:BRK.A) (NYSE:BRK.B) holds a stake in this company.
Deutsche Boerse is the operator of the stock exchange in Frankfurt (Germany's biggest) and was in the news a couple of years ago when the company wanted to merge with NYSE Euronext. The European commission blocked the merger back then. Deutsche Boerse's business is pretty stable and not too cyclical, but at 16.5 times earnings the company is not that cheap right now.
There are also a couple of consumer goods companies in the DAX: Adidas (OTCQX:ADDYY), Beiersdorf (OTCPK:BDRFY) and Henkel (OTCPK:HENKY).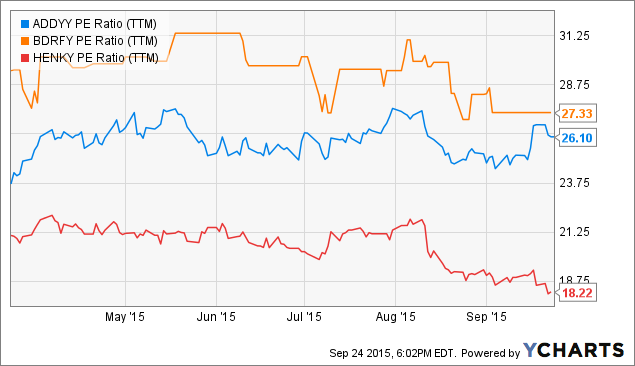 ADDYY PE Ratio (TTM) data by YCharts
Adidas is one of the biggest competitors of Nike (NYSE:NKE), and has a strong presence in the European and Asian sportswear markets. Adidas recently made news when the company signed a deal to become the official sponsor of the NHL. Albeit being smaller than Nike, Adidas has a good growth outlook in Asian and other emerging markets.
Beiersdorf produces and sells personal care products such as Labello, Nivea and other skin care products, as well as adhesive products (under its Tesa brand). The company's business is very steady and not cyclical, and with its famous brands the company is well positioned to grow in emerging markets.
Henkel produces and sells home & laundry cleaning products, as well as beauty products and adhesives. Henkel's competitors include Procter & Gamble (NYSE:PG) and Reckitt Benckiser (OTCPK:RBGPF). Due to being active in the consumer staples industry, Henkel's business is rather uncyclical and steady as well. At 18.2 times trailing earnings Henkel is cheap in comparison to Procter & Gamble's valuation of 23.5 times earnings.
Adidas is slightly more expensive than it was at the beginning of the year, but Beiersdorf as well as Henkel got cheaper.
There is one IT company in the DAX, SAP (NYSE:SAP):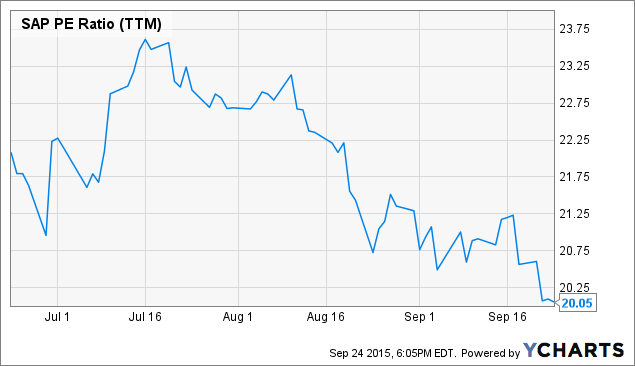 SAP develops and provides enterprise software used for production planning, controlling, purchasing, etc. SAP has a wide moat as the leading software provider in this segment and has thus seen strong growth over the last years (including the company's share price). SAP has been focusing on the cloud in recent years (SAP also did a couple of acquisitions in this area), which positions the company well to profit from this megatrend over the next years. At 20.1 times earnings SAP is not excessively cheap, but cheaper than it was a couple of months ago. The huge moat and good position justify this valuation, I believe.
Takeaway
The DAX includes a diversified set of companies, some of them look attractive business and / or valuation wise.
The macro data for Germany looks good, including healthy GDP growth, low unemployment, low inflation and high exports.
With some of the DAX members trading at attractive valuations right now and the index trading at just 12.5 times earnings I believe the DAX looks interesting for investors looking for international exposure right now. Those not inclined to buy an index might take a closer look at some of the companies that make up the index.
Disclosure: I/we have no positions in any stocks mentioned, but may initiate a long position in BAMXY, DDAIY, VLKAY over the next 72 hours. I wrote this article myself, and it expresses my own opinions. I am not receiving compensation for it (other than from Seeking Alpha). I have no business relationship with any company whose stock is mentioned in this article.
Editor's Note: This article discusses one or more securities that do not trade on a major U.S. exchange. Please be aware of the risks associated with these stocks.