Overview
We've been somewhat confused by a couple of "off-take agreements" with Tesla (NASDAQ:TSLA) announced by lithium junior miners Bacanora (OTC:BCRMF) and Pure Energy Minerals (HMGLF).
Bacanora is developing the Sonora Lithium Project in Sonora, Mexico. You'll probably see references to another company - Rare Earth Minerals [LON:REM] (OTC:RARMF) - which is a major stakeholder in Bacanora. The project has been developed to the point of a resource estimate. While there is metallurgical test work going on, we have yet to see an economic assessment of any kind (actually a reader noted that Bacanora has a PEA (requiring the least amount of detail of NI 43-101 compliant technical documents) on its La Ventana resource). Meanwhile, Pure Energy Minerals is developing the Clayton Valley Project in Nevada, which is at a similar (resource) stage in its development.
Why is Tesla making these deals when there is not only lithium production in the United States, but also when there is lithium production in Nevada near its gigafactory?
We don't know what TSLA's team is thinking at this point, but we do know that it's preparing to become among the world's largest consumers of lithium. The fact that it needs a secure supply in just a couple of years means that we find it extremely difficult to believe that Tesla considers these to be practical sources of lithium for its gigafactory.
Tesla's actions, however, should not be taken lightly, especially by its shareholders. Unlike some, we don't think that Tesla is trying to find producers of lithium willing to supply the gigafactory at below market prices: the savings are simply too small relative to the company's automobile cost-reduction goals.
Still, savings on lithium is key for Tesla, and therefore we believe it fears the long-term consequences of the recent consolidation in the industry, a consolidation that was undoubtedly carried out with the knowledge that Tesla is soon to become a major lithium consumer. With this in mind, we're inclined to entertain the possibility that TSLA's recent arrangements aren't direct endorsements of these projects, but rather they are symbolic statements against what Chris Berry is calling the lithium oligopoly.
If Tesla is operating under the theory that there is a lithium oligopoly, it could very well believe that prices are artificially high. It would follow that the EV maker would search for ways to purchase lithium from other sources using another pricing regime.
Having established that the economic motives of the lithium oligopoly and Tesla are opposed, we see evidence that an economic war is breaking out between the lithium oligopoly and TSLA, and we may have already seen its Sarajevo moment.
Things are happening quickly. Last year, shortly after the company announced its gigafactory, Rockwood Holdings purchased 49% of Talison Energy, with 51% going to a Chinese company. Shortly thereafter, Albemarle (NYSE:ALB) purchased Rockwood. This transaction left three companies controlling 90% of the world's lithium production and two options for Tesla assuming it doesn't want to source lithium from Chile. In August, TSLA announced its deal with Bacanora, and just a couple weeks later (and a day before the Pure Energy announcement) FMC (NYSE:FMC) announced that it will be raising lithium prices 15% to a record high in the midst of one of the most brutal commodity bear markets that we've seen in modern history. We suspect this last announcement also could be a response to a collapsing stock price (down from $80/share in 2014 to just $35/share today), yet don't discount FMC's obvious position of pricing power as the key factor in giving such a bold move its credibility.
In this broader context, we're better able to make light of these seemingly irrational agreements, although we are left with loose ends.
The Announcements
Bacanora and Pure Energy essentially put out the same PR if you focus only on the relevant points. I've included the meat of the Pure Energy release as a quick reference point, although readers are encouraged to read both PRs - linked above - in their entirety.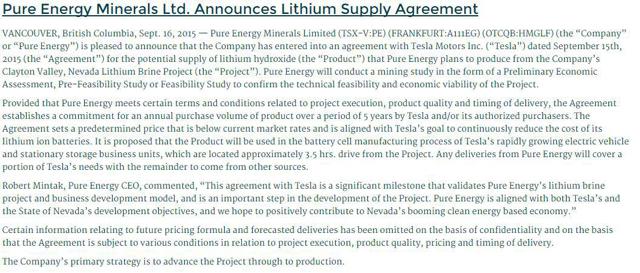 We will note three commonalities between the two announcements that serve to guide our analysis of Tesla's motivation.
Both agreements are contingent up on the projects reaching commercial production.
Both agreements have these juniors selling lithium at a discount to the "market price."
Tesla did not make its own announcement.
The last point is a cosmetic one. The first two points make for a highly unfavorable proposition from the point of view of the juniors: Tesla is essentially saying that if these two projects are able to get into production, it will buy their lithium at a discount to the market price.
Why would anybody agree to this? If a company gets into production and is selling a product that resembles other products that are going for a certain price, then there must be some motivation to sell one's product at a lower price. Furthermore, a financier looking at these terms is going to find that the project economics are somewhat (or possibly completely) compromised at the discounted price, and the risk/reward from that perspective is thereby less attractive. Finally, the market doesn't know the discount, which means there is an element of uncertainty that is extremely off-putting from an investment standpoint.
Given these observations, the reasons provided by the aforementioned companies' managements are unsatisfying.
We disagree with the reasoning provided by Bacanora Chairman Colin Orr-Ewing, who states:
"We anticipate this contract to rapidly accelerate the development of the Sonora Lithium Project, which we expect will prove to be invaluable in an increasingly lithium hungry world."
The fact that the company will be selling lithium at a lower price could actually delay the development of the project, whose IRR relative to other candidates vying for capital will be compromised.
Similarly, we disagree with Pure Energy CEO Robert Mintak's statement:
"This agreement with Tesla is a significant milestone that validates Pure Energy's lithium brine project and business development model, and is an important step in the development of the Project."
We note that the deal is not a validation of the project since the deal is contingent upon Pure Energy meeting certain milestones in a timely manner. In other words: Pure Energy must validate its project before the deal becomes concrete.
While we disagree with it, there is a perspective from which we could argue that these deals make sense, namely that the Tesla brand is so powerful that companies with its association will get preferential treatment - especially from environmental organizations - so that the pricing discount is worthwhile.
If this is the case, we urge the managements of these companies to explain their actions with greater specificity.
Tesla's Motivation
We don't know whether Tesla really intends to source lithium from these two companies given that there are three producers and several companies further ahead in their respective development cycles. Nevertheless, we suspect - given the conditionality clauses in both agreements - that Tesla is not willing to bet on the quality of these assets just yet.
So where's the motivation?
One thing is clear: Tesla wants the price of lithium as low as possible as it is desperately attempting to reduce the cost of its Li-Bs. This latter endeavor will be a critical step in bringing the cost of its vehicles down to the point where EVs are competitive with combustion-engine vehicles. However, we note that this would require that the cost of the vehicle come down by tens of thousands of dollars while the lithium content in a Li-B is only a few kilograms. With Li-carbonate prices at ~$6,000/t ($6/kg.) the lithium value in an EV is miniscule considering the cost savings that need to be achieved. Even with the company's 500,000 vehicle sales goal in 2020, the cost savings of reducing lithium costs would be a few million dollars at best per year.
The fact that Tesla's lithium cost per vehicle is low would indicate that it should prioritize supply security as it could easily absorb a doubling or even a tripling of lithium prices without this significantly impacting the cost of producing an EV. And we suspect lithium producers see this as well, but from their angle they are thinking how easy it would be to raise prices and to do so on a regular basis.
We suspect that Tesla's primary motivation in symbolically supporting these long-shot junior miners is that it hopes to prevent the further consolidation of the lithium industry. We suspect that TSLA's management believes that the market values its brand so highly that these new associations could jump-start projects not owned by the oligopoly and that the discount clauses discourage additional consolidation. Again, we are doubtful that this approach will prove successful as the economics of a given mining project will be a financier's top priority, with other factors having value only insofar as they improve the project's IRR. Even if the government supports these projects as a result of the Tesla affiliation, they ultimately have to be developed, and therein lies a significant risk (no matter how promising these projects might seem).
The Bottom Line
Recent consolidation in the lithium space has left three players controlling 90% of the world's production:
Albemarle
FMC
Sociedad Quimica y Minera de Chile (NYSE:SQM)
Furthermore, in what has been a brutal bear market in commodity prices, Li has held up phenomenally well.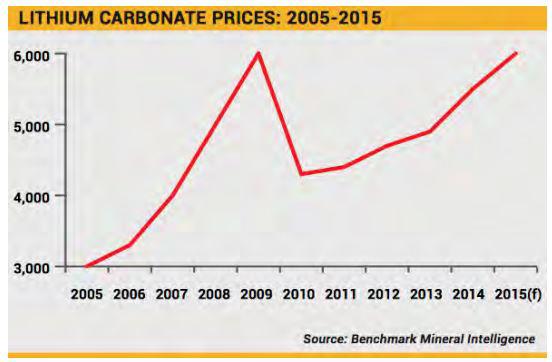 Again, we note that FMC just announced a 15% price increase in the face of a commodity bear market.
Why this disconnect between lithium and other commodities? There is certainly a rise in demand from Li-Bs, but this only accounts for ~25% of demand. Note that flake graphite, which also gets ~25% of its demand from Li-Bs, has suffered and continues to suffer through a bear market.
While there are certainly other factors in determining prices, and while commodities don't all trade together, the strength in lithium coupled with the incredible concentration of productive capacity in the hands of just a few companies is highly suggestive.
We think there's a lithium war brewing between producers and Tesla, and we've seen several "shots" taken by both sides. Producers have consolidated and have raised prices in the midst of a commodity bear market. Meanwhile, TSLA is dealing with potential competitors, as its management is likely displeased with the proposed off-take arrangements offered by the current producers.
As outsiders, we don't have access to the entire story, but Tesla's shareholders need to ask themselves if this is the best path toward lithium-supply security. We're doubtful, as it's highly contingent upon the market's perception of TSLA's brand value rather than the high likelihood that these two projects get into production in a timely fashion. We note that generally it takes years to bring a mine from the resource stage of its development to production, and that most projects at that stage actually never make it into production.
A spokesperson for Albemarle - a producer in Nevada - has stated that the company is capable of meeting Tesla's lithium needs. What is at issue are the terms. Without owning the productive capacity, Tesla is likely doomed to pay "market prices," and this is not a reality that the company has yet been able to accept.
This has the potential to have a deleterious impact on the Tesla brand. If suppliers, partners and investors have any doubt as to the company's ability to meet any of its material needs, then they will be forced to conclude that TSLA is potentially unprepared in a fundamental aspect of its business.
Disclosure: I/we have no positions in any stocks mentioned, and no plans to initiate any positions within the next 72 hours. I wrote this article myself, and it expresses my own opinions. I am not receiving compensation for it (other than from Seeking Alpha). I have no business relationship with any company whose stock is mentioned in this article.
Editor's Note: This article covers one or more microcap stocks. Please be aware of the risks associated with these stocks.