YUM Brands (NYSE:YUM), a 38,000 restaurant operator, reported stellar fourth-quarter earnings this week on the heals of exceptional international growth. The results were as follows:
Earnings per share came in at 75 cents, a 20% increase over last year's fourth quarter.
Total revenue surged 15% to $4.111 billion.
Same-store sales rose 21% in China
In the market of blue-chip stocks, this type of growth is not usually coupled with a consistent 1.8% dividend. The mix is a win-win and marks the company's exceptional package for investors. This is a stock that is accelerating upward on China and India's middle-class. Though valued high on a P/E ratio, YUM has the marks of a great company with a bright future if it utilizes its market position.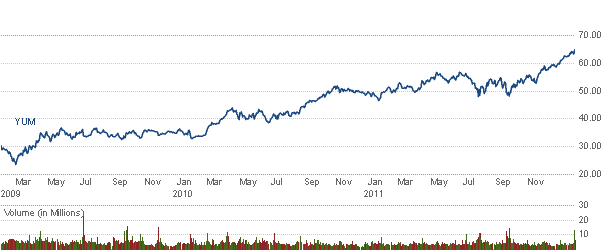 (CNBC)
3 Reasons YUM Could Be a Yummy Buy Into The Future
International growth:
Forbes reported that the company "opened 656 restaurants [in China] in 2011, including 327 in the fourth quarter." This is incredible growth and the company is looking to a FY12 where it will open 1,500 new stores outside of the United States. This shows the company's ability to capitalize on foreign markets in a way that McDonald's (NYSE:MCD) has not been able to do in the past 10 years.
Sasha Cekerevac of Wall Street Pitt reported, "YUM! Brands is the leader in China, compared to McDonald's Corporation, which is trying to catch up. YUM!" This will bode extremely well for YUM because it marks an opportunity to capitalize on being ahead of MCD and others. India marks another opportunity for YUM to grow incremental sales and profit over the long-term.
In 2011, the company opened 101 locations in India. This type of growth in a nation that is not being fully exploited by US retailers has the potential to be a strategic advantage for YUM into the next decade. This data can be marked by the company's projected future earnings, profit, and net profitability.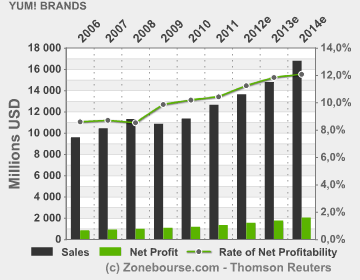 (Thomas Reuters)
A steady and growing dividend:
YUM currently pays investors a 1.80% dividend. Since the company implemented a dividend in 2004, it has increased every year by a high percentage. As an example, last year the company increased the dividend from $.80 to $.92, marking a 15% increase. With the earnings, revenue, and sales the company just delivered, this does not seem to be slowing. Forbes also reported, "YUM also repurchased 14.3 million shares for approximately $733 million in 2011. That should help boost EPS down the road." These two actions by YUM illustrate the company's commitment to putting money in the hands of shareholders.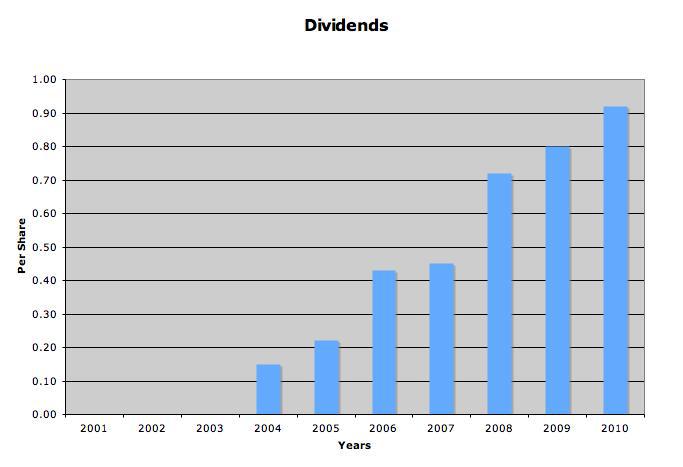 (iStockAnalyst)
Strong Financials:
Forward Price/Earnings: 17.42. This marks a slightly higher than industry average (15 times P/E), but is justified by the company's growth prospects. This type of multiple does not compare to that of Amazon (NASDAQ:AMZN) with a P/E hovering around 100, even though YUM has very strong growth prospects into the future.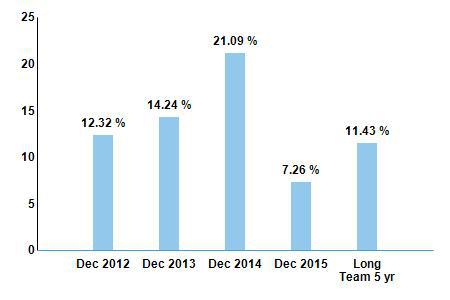 (Nasdaq)
Earnings per Share: The company has consistently delivered EPS that beat consensus expectations. For the fourth quarter, YUM reported EPS of $.75 versus $.63 for the same quarter last year. NASDAQ reported, "The company also stated that it is well-positioned to meet or exceed its annual target of at least 10% EPS growth in 2012."
Return on Equity: One of the strongest pieces of financial data YUM has exhibited is a return on equity of 67.36%. This is tangible evidence for the company's ability to turn capital expenditures into incremental profit and revenue. In an article I recently wrote, I stated that "Apple (NASDAQ:AAPL) and Microsoft (NASDAQ:MSFT) [have an] ROE of 45.6% and 41.7%, respectively." This illustrates the value in YUM.
Conclusion: Due to the above, YUM is in a position to expand into Asia and other markets. Due to the inexhaustible bounds of YUM potential for expansion, the company can take advantage of its many banners to utilize its market position. Dennis Gartman of The Gartman Letter stated, "buying high and selling higher. Strength tends to beget strength, and weakness, weakness." This is a case of a strong stock with a strong company to back it up. If YUM plays its cards correctly, investors will see a bright future.
Disclosure: I have no positions in any stocks mentioned, and no plans to initiate any positions within the next 72 hours.