Analysts at Macquarie Research believe that if the Asian crisis of 1997 was known as "the heart attack", then "chronic cardiovascular disease" is a good name for the current macroeconomic situation.
In 1997, there was a devaluation of the local currencies of the Philippines, Malaysia, Singapore and Indonesia. Then, there was a stock market crash in Hong Kong which spread to other markets. The American dollar (as it is currently) was strong, raising the cost of financing EMEA countries' debts. Another similarity with the 1997 Asian crisis is cheap raw materials.
According to the Macquarie Research, the current situation may get even worse. In the 1990s, the crisis had been resolved thanks to growing leverage, restoring of liquidity in world trade, the introduction of monetary easing after the Internet bubble burst in 2000, and China's integration with the global trading system. In the current situation, it is difficult to expect further monetary policy easing which would lead to the next industrial revolution or increase in leverage.
The graph below shows the emerging market countries which are likely to be most affected by the crisis. The rating takes into account the gross domestic product, foreign debt and the current account deficit.
Macquarie Research External Vulnerability Z-Score (September 2015)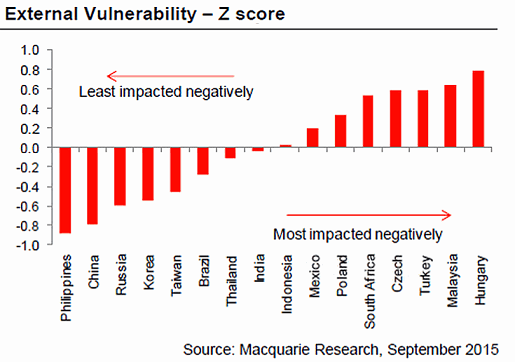 Source: Macquarie Research
In the following analysis, we'll take a closer look at Hungary which turned out to be the most vulnerable emerging market, according to the Macquarie Research External Vulnerability Z-Score rank.
Political Situation
Hungary has a parliamentary democracy system. Viktor Orban from the political party Fidesz was elected Prime Minister in May 2010. Election to the National Assembly was last held on April 2014 and the next elections are to be held in April 2018. Fidesz won the election with 44.9% of overall votes.
Hungary ceased to be an oasis of peace and calmness. Refugees (mostly from Syria) have been flooding the country from 2Q 2015. Why? It's easier to walk on the plains than on the mountains. Therefore, Hungary has become a gateway to Germany for migrants.
CEE & Balkans geophysical map - Migration Route via Hungary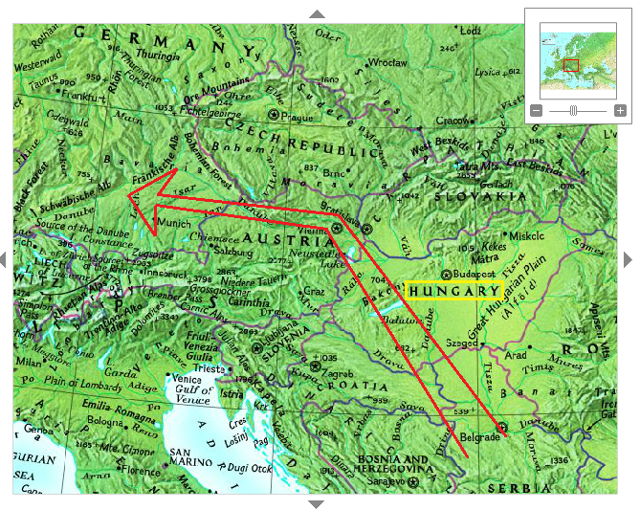 Source: National Geographic
Hungary did not hesitate to use force against migrants.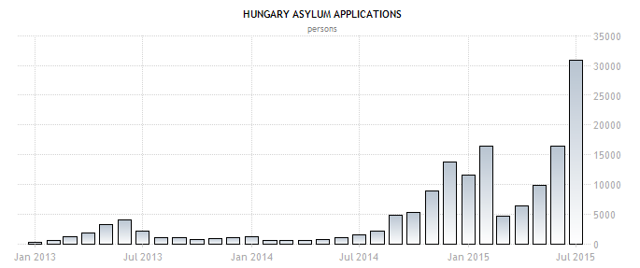 Source: Trading Economics
Hungary's relations with Croatia and Serbia are at a "freezing point" due to the refugee crisis. Hungary sealed off its borders with Serbia. However, Croatia began to transport migrants to the cities bordering Hungary. Hungarian authorities estimated that about 230,000 migrants tried to use Hungary as a gateway this year (as of September 2015).
The number of migrants intercepted in Hungary (August-September 2015)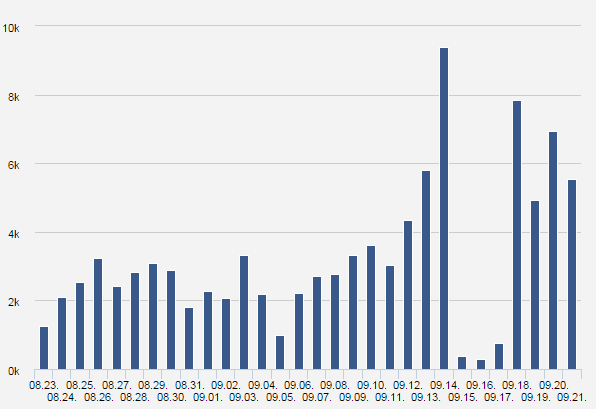 Source: Hungarian Police
At the moment, the situation is not significantly reflected in the stock market. The BUX Index was weak in last few months, but its behavior is pretty good when juxtaposed with Euro Stoxx 50 futures or the EMEA fund.
BUX (BUX) vs. FIDELITY FUNDS EMEA E ACC EUR (2177.N) vs. DJ EURO STOXX50 FUTURE (STXE.F)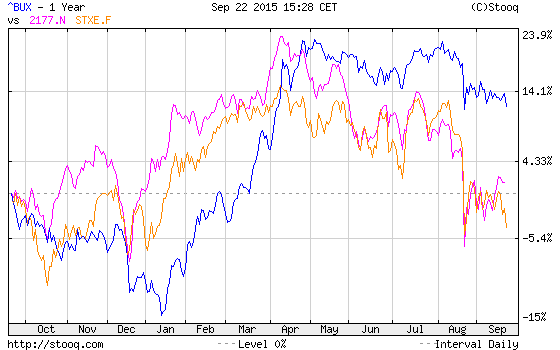 Source: Stooq.com
Economy and Finances
The refugee crisis' effects on the Hungarian economy will be visible on Nov. 13, 2015 with the release of Q3 2015 data.
From Q2 2013, the Hungarian economy has been doing well and the annual growth rate of its GDP in last quarters was more significant than other EU countries.
GDP annual growth: Hungary vs. EU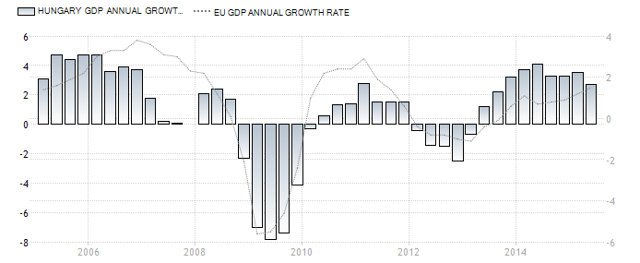 Source: Trading Economics
The situation in the labor market is very good. The unemployment rate is the lowest since the mid-2000s.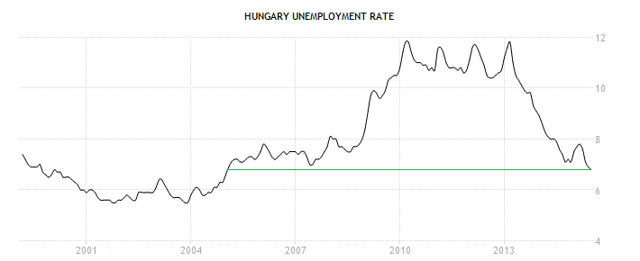 Source: Trading Economics
The level of Hungarian government debt-to-GDP is still a risk factor for country's economy (76.9% in 2014), but it's lower than the average in other EU countries (take a look at the chart below).
Government debt to GDP: Hungary vs. EU
Source: Trading Economics
The Hungarian economy is not an ideal economy. The state budget may be affected this year by the policy of building border fences and other security expenditures. The high level of government and external debt remains as an important source of vulnerability for the Hungarian economy (look at the charts below).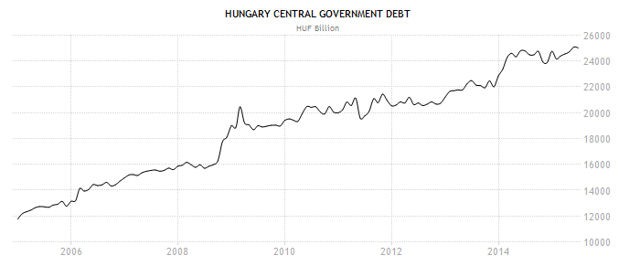 Source: Trading Economics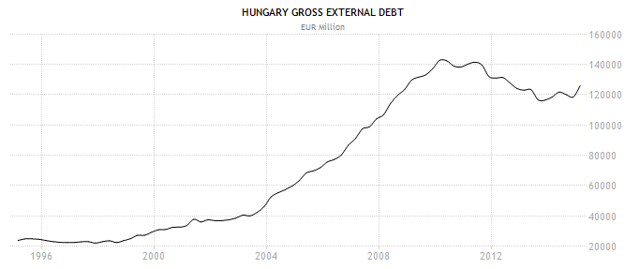 Source: Trading Economics
European Commission simulations reveal that the Hungarian government's debt reduction path is not robust enough to show resilience against adverse shocks. In the medium-term baseline scenario, the government debt is expected to decline but there is about a 40% probability that debt will exceed 77% of GDP before 2019 (look at the graph below).
Stochastic Hungarian debt projections 2015-19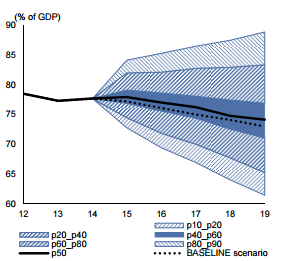 Source: European Commission
The European Commission made specific recommendations to Hungary in 1H 2015 to help to improve its economic performance. What were these recommendations? For example, to take measures to restore normal lending to the real economy, reduce distortive sector-specific taxes, remove the unjustified entry barriers in the service sector, and reorient the budget resources allocated to the public works scheme to active labor market measures to foster integration into the primary labor market.
The current account balance as a percentage of GDP is another problem for Hungary. It's very high and tells us that the economy strongly depends on export revenues, with high saving rates but weak domestic demand.
Current Account to GDP: Hungary vs. EU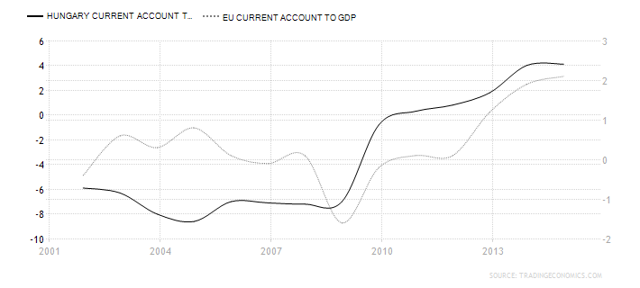 Source: Trading Economics
However, it is impressive what Orban's government has done in recent years for economic freedom and the ease of doing business.
Hungary - Ease of Doing Business rank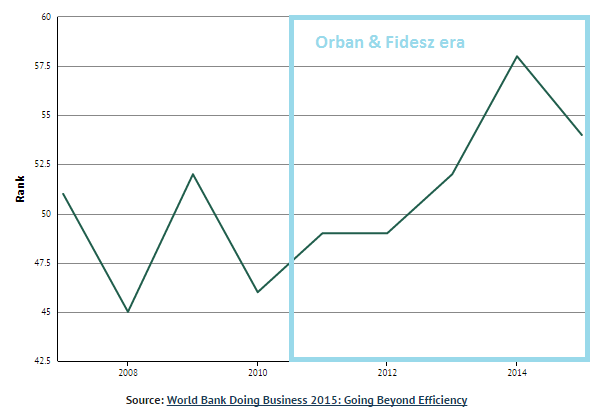 Source: Knoema
Hungary - Index of economic freedom (overall score: 66.8)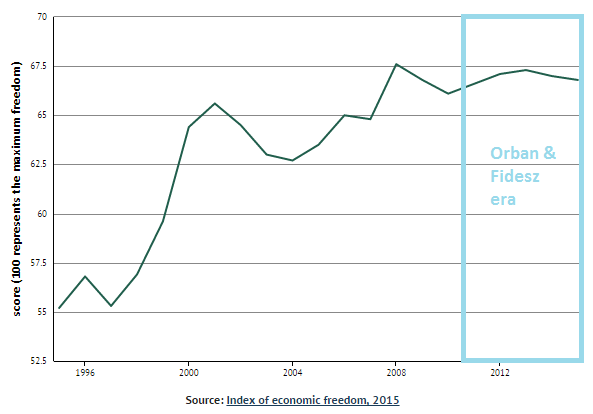 Source: Knoema
What about ratings? They are not very good, but stable. Standard & Poor's credit rating for Hungary stands at BB+ (stable perspective). Moody's rating for Hungary sovereign debt is Ba1 (stable). Fitch's credit rating for Hungary is BB+ (positive).
Banking Sector
According to the European Commission, the Hungarian banking sector has persisting profitability problems; however, banks are well capitalized and their liquidity position is strong.
Viktor Orban imposed Europe's highest levy on banks in 2010 and forced them to reimburse borrowers 1 trillion forints ($3.7 billion). Growth has slowed and the foreign investment has dropped after Orban introduced his policies.
Net foreign direct investment in the CEE region (% of GDP)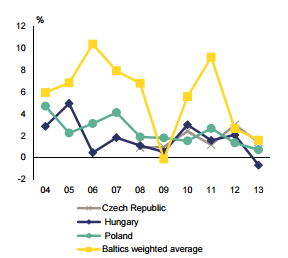 Source: European Commission
In February 2015, the Hungarian government agreed to a "substantial reduction" in the bank tax from 2016 through 2019 and committed to "predictable" policies for lenders.
The Hungarian state wants to maintain a strategy of extending its direct ownership in the Hungarian banking sector. The strategy has the potential to expose public finances of this small country to a contingent liability. This risk was underlined by the bankruptcy of Széchenyi Bank in early December 2014.
The Real Estate Market
There's no bubble danger in the Hungarian real estate market. Over the past few years, real estate prices were lowered quite heavily.
House Price Index: Hungary vs. EU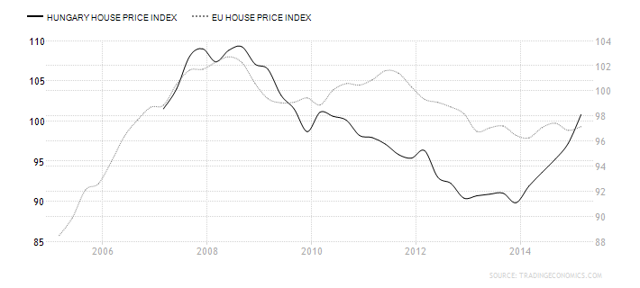 Source: Trading Economics
Summary
External debt increases and the refugee crisis (which increased budgetary expenditure and had a negative impact on international exchange in 3Q 2015) are currently main threats to the Hungarian economy.
Investors with exposure to the Hungarian market should reduce it. They should also monitor the refugee crisis closely. They should analyze the data from the Hungarian economy, which is going to be published in November 2015.
Who should be careful? Below you can find ETFs with the biggest exposure to Hungary.
9 ETFs with Hungary Exposure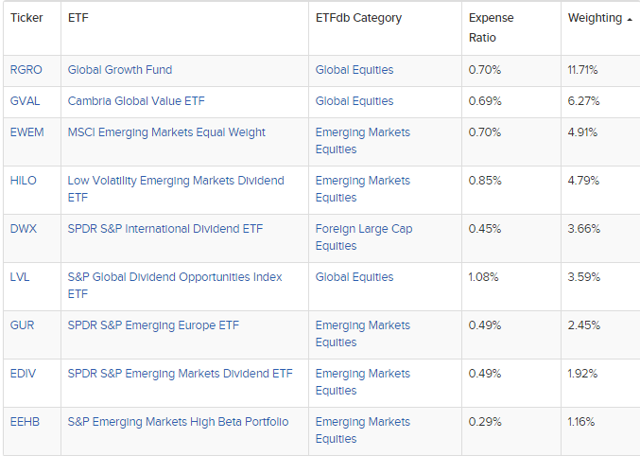 Source: ETFdb.com
Disclosure: I/we have no positions in any stocks mentioned, and no plans to initiate any positions within the next 72 hours.
I wrote this article myself, and it expresses my own opinions. I am not receiving compensation for it (other than from Seeking Alpha). I have no business relationship with any company whose stock is mentioned in this article.