The sizable dip in the stock market from mid-month resulted in a hefty drop in consumer sentiment according to the University of Michigan's Consumer Sentiment Index. However, after some recent reports hinting at a rise in consumer spending it is clear that the flash reading for September was an overreaction to the market pullback and interest rate worries. The consumer sentiment index popped up to a final reading of 87.2 for September from the flash reading of 85.7.
Although the September reading showed some improvement over the mid-month data, this final reading is still the weakest reading since October 2014 before oil prices began to slip. The chart below shows the sentiment index charted against the S&P 500 since the year 2000 when the two readings moved roughly in line.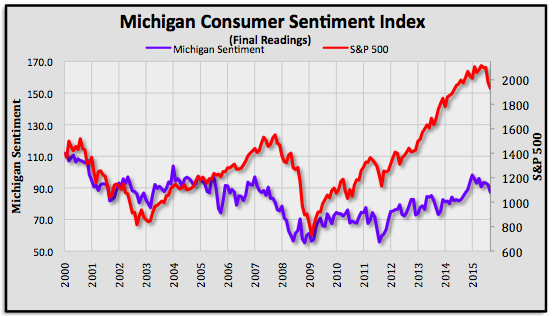 There are two main components within the consumer sentiment index: expectations and current conditions. Firstly, the expectations component, which tracks the jobs outlook, grew by about 120 basis points from the mid-month reading to round out September at 78.2. This is the lowest reading since September 2014 yet this is to be expected given current stock market conditions as well as the turmoil and fear caused by the Fed potentially raising interest rates.
Secondly, the current conditions component, which primarily coincides with strength in the jobs market, increased by 90 basis points over the mid-month reading to 101.2, which although strong is still at the lowest reading since October of last year. Despite the buzz in Fed meetings, inflation expectations are unchanged for the month of August but ticked about 10 basis points lower from the mid-month readings. The 1-year outlook remains at 2.8% while the 5-year outlook for inflation is at 2.7%. These expectations are realistic in the eyes of the consumer but thanks to the collapse in energy prices are far from reality.
Although this data from the University of Michigan is quite soft, it is still quite a relief from the sizable pullback in the flash reading. Assuming that the stock market is stabilizing in the near term, it should also be assumed that there will not be a freefall in sentiment any time soon. This report, coupled with the increasing consumer spending data from the Q2-2015 GDP report points to a renewed sense of optimism among the American consumer, at least for the near-term. As such, shareholders of the Consumer Discretionary Select Sector SPDR ETF (NYSEARCA:XLY) should be excited and this should be on investor watch lists going into the holiday shopping season.
Disclosure: I/we have no positions in any stocks mentioned, and no plans to initiate any positions within the next 72 hours.
I wrote this article myself, and it expresses my own opinions. I am not receiving compensation for it (other than from Seeking Alpha). I have no business relationship with any company whose stock is mentioned in this article.