Millward Brown and MPP released their fourth annual report (.PDF) analyzing the 50 most valuable brands in Latin America last week. They analyzed the region's six top economies: Mexico, Brazil, Chile, Colombia, Peru, and Argentina.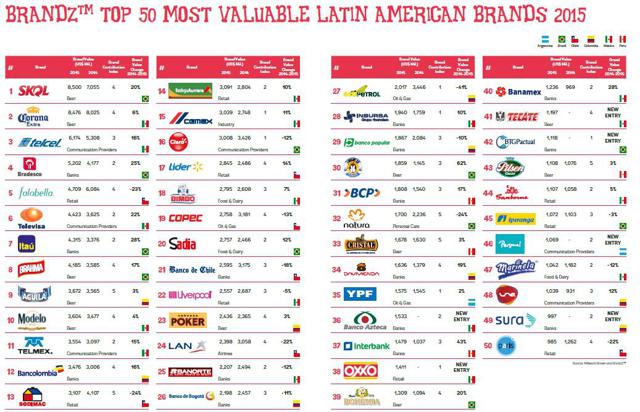 You probably own shares in the owners of a couple of these (quite a few are owned by multinationals), and even if you don't, there are key insights for foreigners seeking to understand the dynamics in the emerging markets nearest and dearest to the United States.
The Results: By Country
Here's a breakout of the top 50 brands by country, along with their change in value over the past year. Overall, the top 50 brands are worth $131.9 billion; that's no chump change. Despite the slow economic times in Latin America, this figure did rise 2% y/o/y.
* Mexico, 17 top 50 brands, $49.4 billion value, +15% y/o/y
* Brazil, 11 top 50 brands, $32 billion value, +5% y/o/y
* Chile, 7 top 50 brands, $19.4 billion value, -23% y/o/y
* Colombia, 9 top 50 brands, $19.3 billion value, -4% y/o/y
* Peru, 4 top 50 brands, $6.1 billion value, +15% y/o/y
* Argentina, 2 top 50 brands, $2.6 billion value, NM % change
A couple of things stand out. With Brazil's more than 200 million people population, twice that of Mexico and more than quadruple the other competitors, you'd expect Brazil to easily top the list. Instead, it badly lags Mexico on all counts. Even Chile, with just 1/10th the population of Brazil has 7 top 50 brands that in aggregate add up to 60% of the value of Brazil's.
The key takeaway for foreign investors is as follows. Mexico is the serious big economy in Latin America. If you're wanting to bet on the strongest horse, Mexico is where you want to go. Despite its massive size, Brazil is a weakling, vastly underperforming Chile, Colombia, and Mexico on a per capita basis in generating valuable brands.
And Chile, per person, packs the most punch, hitting as hard as Colombia with less than half Colombia's population. Here's how we'd label each country:
Mexico: The Powerhouse
Brazil: The Chronic Underachiever
Chile: The Dynamo
Colombia: Mr. Dependable
Peru: The Darkhorse
Argentina: The Forgotten
The Results: By Sector
The Beer, Food & Personal Sector accounted for 35% of LatAm's total brand values. Beer predominates, accounting for 5 of the region's top 10 brands. But you find some food producers in there as well. For foreign investors, beer is the easiest way to play LatAm, as many of these top brands, like Corona, are owned by multinational companies. Corona, interestingly is jointly split between Constellation Brands (NYSE:STZ) and Anheuser-Busch Inbev (NYSE:BUD).
This segment made up 33% of LatAm's top 50 brands value in 2014, growing its share 2%. In tough economic times, people keep eating and drinking.
Financial institutions are next up at 25%, up 3% from 22% in 2014. There's a bunch of these that are public in the US; I own a good number of them. We'll get to that in a minute. Banks are a great way to play emerging markets, as people enter the middle class, they get mortgages and credit cards for the first time - look at the GDP growth figure and then figure financial sector growth will be 3x or 4x that in a strong emerging market. These businesses are gold mines.
Retail is next up at 16%, down from 19% in 2014. The retail powerhouse in LatAm, Falabella, suffered a heavy fall in its value dragging the whole sector down.
Services also accounted for 16% of the total brand pie, equal to its 2014 standing. In LatAm, services basically mean telecom, along with the Mexican television/media company Televisa (NYSE:TV). There was a recent Seeking Alpha idea offering Spanish Broadcasting System (NASDAQ:SBSA) as a solid way to play the Hispanification of the US media. But no, if you want to play that trend, Televisa - LatAm's 6th most valuable brand - is the trade.
Finally, we find materials dragging up the rear at 7%, down sharply from 11% in 2014. There weren't any mining names whatsoever, and the oil and gas ones got clocked. Ecopetrol (NYSE:EC) and YPF (NYSE:YPF) suffered heavy hits to their brand equity, and Petrobras (NYSE:PBR), formerly a top 10 brand, was evicted from the top 50 list entirely following the corruption scandal.
To the people going on and on about the opportunity at Petrobras - it isn't even among the best branded oil companies on its own continent, to say nothing of global importance. Petrobras is now only the 13th most valuable brand in Brazil, isn't among LatAm's Top 50, and at $821 million in value, it has lost 75% of its brand cachet in just the past year.
How To Participate In The Upcoming Latin American Boom?
It's apparent why you'd want to get your hands on shares of many of the continent's leading brands. These are the pistons that will lead the continent's rapid growth and industrialization. In a developed world starved for growth, you must look to smaller, more nimble, corporations like these that can still post many years of double-digit growth.
All of these top 50 brands are publicly traded, either as standalone companies or by their corporate owners. Many only have listings on local South American exchanges, but a good number of them are available with a US listing. Here's a breakdown.
#1 Skol - Latin America's most valuable brand is, in no surprise, a Brazilian beer. It is produced by Ambev (NYSE:ABEV), Brazil's powerhouse brewery. Ambev is in turn a subsidiary of Anheuser-Busch. And Skol is produced overseas by Carlsberg (OTCPK:CABGY), a European alcohol giant. So there are lots of ways to play Skol. I own ABEV shares personally.
#2 Corona - Mexico's leading beer, as I mentioned above, produces profits to both Constellation Brands and Anheuser-Busch. Ownership of Anheuser-Busch also gets you another top 10 Mexican beer brand, #10 Modelo.
#3 Telcel, and #11 Telmex are both part of the America Movil (NYSE:AMX) behemoth headed by the world's richest man, the Mexican mogul, Carlos Slim. If you like telecom companies, want exposure to faster-growing economies than the US, and are tired of reading about nothing but Verizon (NYSE:VZ) and AT&T (NYSE:T) in the telecom space, give this $57 billion market cap giant a look.
#4 Bradesco (NYSE:BBD) and #7 Itau (NYSE:ITUB) are both Brazilian banking titans available as direct ADRs in the US. I'm not touching these until the Brazilian economy turns up and the grossly incompetent Rousseff government is booted.
#5 Falabella is Chile's retail giant, a chain of sprawling and superbly run department stores. They also own #13 Sodimac, which is the Home Depot (NYSE:HD) of Latin America. I really really want to own this company, it is a continental powerhouse, with stores in super-prime locations across Colombia, Peru, Brazil, and Argentina along with, of course, Chile.
The brand's equity has gotten whacked over the past year, as the Brazilian and Argentine economies have been simply terrible. Sadly, this has caused Falabella, who had been talking about a US IPO, to drag their feet. I don't have access to the Chilean market through my broker, otherwise I'd have already owned the shares. I'd buy the IPO tomorrow if it were offered - hopefully prices don't inflate before they finally list. Its top two brands alone are already worth more than $8bn; this company will make lots of investors rich.
#9 Aguila. Aguila is Colombia's most important beer brand. If you're an owner of SABMiller (OTCPK:SBMRY) and were wondering if you were left out of the party, fear not, you own this. Full disclosure, this is the worst-tasting beer on the top 50 list for what it's worth.
I'm not going to go through the full 50 for length considerations. But here are a few more of interest.
#12 Bancolombia (NYSE:CIB) is Colombia's most valuable banking brand, and most valuable of all the non-Brazilian financial institutions. A powerhouse in both Colombia and Central America, this conservative attractively-yielding bank is an absolute must-own stock for anyone interested in Latin America. I'm going to break my fist pounding the table on this name if shares stay under 35 much longer.
#14 Bodega Aurrera. Of the whole list, this is the name you're most likely to own. Oh, you're unfamiliar with it? This chain of Mexican supermarkets is one of Walmex' (OTCQX:WMMVY) brands.
Living in Mexico, I can tell you that Bodega Aurrera features the same atrocious customer service, dismal store interiors, and questionable inventory management that you've come to know and grudgingly tolerate from corporate parent Wal-Mart (NYSE:WMT). If, like me, you own Wal-Mart, you're in on this top 20 Mexican brand.
#15 Cemex (NYSE:CX) is a Mexican cement maker that's never caught my fancy. It has an easy-to-own US ADR and an improving capital structure that may help it turn shares around at some point. Mexico certainly will need more cement in the future.
#21 Banco de Chile (NYSE:BCH) and #31 BCP - the brand owned by Peruvian financial leader Credicorp (NYSE:BAP) are two more easy-to-own US ADRs of leading LatAm financial institutions. Neither is as dynamic or attractively priced as Bancolombia, but if you prefer Chile or Peru to Colombia for macro reasons, own these names. I bought a small stake in Credicorp during the August crash as shares came down 30% in the blink of an eye. I'm already vastly overweight Bancolombia and Aval (see below), or I'd buy more of these two.
#26 Banco de Bogota and #29 Banco Popular are a two-three punch, representing Colombia's next most important banking brands after #12 Bancolombia. Fortunately for US investors, they're both owned by Grupo Aval (NYSE:AVAL), the financial conglomerate 90% owned by Colombia's richest man.
Bancolombia is the more conservative institution, but if a 5% yield paid monthly from a company growing EPS at more than 10% CAGR sounds appealing, Aval is worth a look. It's my largest holding in my personal portfolio, and the monthly dividend checks more than cover my rent.
If you want to own a Colombian index fund and don't want to pay .61% a year to the people running the Colombia ETF (NYSEARCA:GXG), buy #49 Sura. A new entrant to the top 50 this year, Grupo Suramericana (OTCPK:GIVSY) runs portfolio management and insurance operations in Colombia. It also has a vast portfolio of Colombian investments.
It owns 45% of Bancolombia (discussed above) along with 36% of Colombian cement giant Cementos Argos (OTCPK:CMTOY), and 36% of Colombian food industry leader Grupo Nutresa (OTCPK:GCHOY). Grupo Suramericana itself is the 2nd biggest component of the Colombian ETF GXG, Bancolombia is the top component, Argos is #5, and Nutresa weighs in at #10. So there, you essentially have the Colombian ETF without a management fee. Enjoy.
Finally, the two names I'm most keen on owning that I don't already own from the top 50 list are #22 Liverpool (OTC:ELPQF) which builds and operates Mexican malls, along with running more than 80 of its flagship department stores. I love the combination of being a mall operator and running the anchor store. And as a bull on Mexico's long-term economy, malls are a must-own.
The other is #38 Oxxo, the Mexican equivalent (and better-run version of) 7-Eleven. Oxxo isn't just the country's predominant convenience store, it's also making great inroads into bill pay and money transfer. This company is a Mexican institution. Alas, it's owned by Femsa (NYSE:FMX), which is one of Coca-Cola's (NYSE:KO) Mexican bottlers and which also owns 15% of Heineken - among other things.
The good news, if, like me, you own Coca-Cola, you own 32% of Femsa, so you own a chunk of both the important bottler and the fast-growing Oxxo brand.
Finally, one note for a company ranked outside the LatAm top 50. The same report has a breakdown of each country's top brands including ones that missed the regional top 50. One of these is Colombian airline Avianca (NYSE:AVH), which I own and have written favorably about previously.
Since then, shares are down another 30%. I'm not going to go on at length here. I just want to mention in passing that Avianca's brand is worth $688 million and rose 7% in value over the past year. On the other hand, the market cap of the whole airline is down to $620 million. So yeah, you can buy the airline for less than the value of its brand alone, get the company's cash ($6/share), fixed assets, frequent flier program and everything else for free. You could do worse.
Disclosure: I am/we are long ABEV, CIB, AVAL, AVH, KO, WMT, BAP.
I wrote this article myself, and it expresses my own opinions. I am not receiving compensation for it (other than from Seeking Alpha). I have no business relationship with any company whose stock is mentioned in this article.
Editor's Note: This article discusses one or more securities that do not trade on a major U.S. exchange. Please be aware of the risks associated with these stocks.