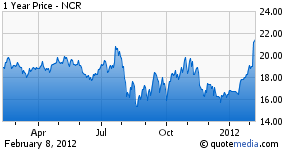 NCR Corporation (NYSE:NCR) was in the news this week for their role in a Verizon (NYSE:VZ) and Redbox (NASDAQ:CSTR) partnership. Coinstar, the company which owns the Redbox brand, agreed to acquire the entertainment division of NCR. The entertainment segment consisted of DVD Kiosk units that licensed the Blockbuster brand from Dish Network (NASDAQ:DISH). During the week NCR also released fourth quarter and full year financial results, which sent shares up over six percent.
At the beginning of the year, NCR Corporation was included in my annual top ten stock picks for the year. Since the beginning of the year, shares are now up 30.26% from a starting price of $16.46. I listed three key reasons why I liked the stock:
1. New Reel Time Technology
2. Diversification from ATMs
3. Integration of Radiant Earnings
I also called out the fact that NCR had beaten analyst's earnings estimates the last four consecutive quarters. Let's check in on the recent earnings report to see how this stock pick is holding up.
The sale of the DVD Kiosks to Coinstar was announced for $100 million. The amount is misleading as NCR will not see an upfront payment and it will not really impact earnings significantly. The deal for NCR is more about creating a new customer in Coinstar who will use NCR's services to manage its kiosks. The deal has raised anti-trust issues and if it is rejected, NCR will net a $10 million breakup fee.
The fourth quarter earnings per share came in at $0.65. Analysts had been calling for earnings of $0.56 and they continued their streak of quarterly earnings beats. Revenue for the fourth quarter was 1.6 billion, an increase of 17%. Global orders grew 24% for the quarter. Gross margins increased to 22.2% (from 20.4% the previous year). Strength was shown in Financial Services (+16%) and Entertainment (+44.8%).
New deals were also a highlight from the company towards future growth. NCR announced an alliance with Scopus Technologia, a Brazilian company. The deal will help NCR expand its ATM presence in the country, which is the fourth largest ATM market. TruWest Credit Union, which has locations in Arizona, and Texas, will be replacing its ATMs with new offerings from NCR. Peoples Bank of Alabama will also be using NCR for new ATMs. The company said that growth is strong in the regional bank sector for upgrading ATMs. As smaller banks try to compete with the largest players, they utilize NCR's technology and interactive ATMs to cater to customer demand and loyalty.
In the Hospitality segment, NCR saw the signing of Tullys Coffee, who selected the company for its checkout services. Also, Einstein Noah Restaurant Group will be using NCR in its 730 restaurants. Kum & Go, selected NCR for convenience store technology in its 400 plus stores.
NCR will also be introducing its self checkout kiosks to new markets including: Turkey, Korea, Czech Republic, and Thailand. A new deal with Foresight Technologies will see increased demand for NCR products in the Middle East and African regions.
One of the biggest positive announcements from the earnings call was the company's backlog. For a company like NCR, future success comes from signing and installing new equipment for customers. The backlog was up 14% to a level just over $1 billion.
Fiscal 2011 saw total revenue up 3% and operating income rise 5%.
In January, NCR announced that the Green Bay Packers had selected them to provide management solutions inside Lambeau Field. The company will help the Packers sell tickets and food items through POS systems located inside the football stadium.
At a recent National Retail Federation Convention, NCR showed off its new self checkout options to leading retailers. A new NCR SelfServ Checkout can switch from self-serve to assisted service. This change allows retailers to run the machine as self serve but switch to a cashier mode when sales levels pickup without having to move customers to additional lanes. Another significant showcase was checkouts allowing customers to pre-pay for gas purchases through NCR machines.
NCR will focus on higher margin software solutions for growth in the financials. The divesture of the entertainment segment was a step in this direction. Also, NCR offloaded its healthcare software unit to Quadremed.
During the questions and answers segment of the fourth quarter conference call, the company discussed the NCR Silver. The segment is a new player in the mobile payments industry that will allow users to pay for items with NCR software through an iPod or iPad. The company said that it is a better product then what Square currently offers. The cloud based SaaS service is in test stages and will likely go live later this year. Businesses will pay a monthly subscription fee to accept and mange payments through NCR services. I'm sure the company will have much more to say about this new development later this year and I look forward to it.
For 2012, NCR expects earnings per share of $2.36-$2.45, which is significantly higher than the $2.16 analysts had projected at the beginning of the year. These numbers represent an increase of 23 to 27% in earnings per share over fiscal 2011. Operating income is expected to be in the $560-$575 million range, which would be an increase of 29-32%. By segment revenue growth is expected to be:
Financial +5-7%
Retail +2-4%
Emerging Industries +7-12%
Shares trade for $21.44 at the time of writing. During the day Wednesday, shares reached a level of $21.55, which was not seen since 2008. Shares are already up 30% for 2012 in less than two months but if the company can keep delivering on their raised earnings estimates and new sectors, shares could be headed to $30. I continually watch this company and think it is a great pick for 2012 and beyond. Consider buying shares of NCR on dips below $21.
Disclosure: I have no positions in any stocks mentioned, but may initiate a long position in NCR over the next 72 hours.