On Nov. 30, 2001, the Nymex WTI Cushing Crude Oil First Month 321 Crack Spread was at 12.99. As of this writing, it is at 29.058. This is still a long way from the Aug. 2011 high of 37.96, but it is still a big improvement from the recent low. The trend is still strongly upward. The chart below shows the crack spread.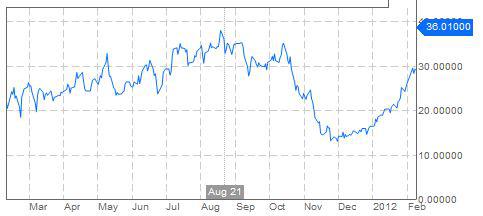 With the clear strong trend upward, it is time to consider buying refiners, especially refiners whose refineries are positioned to take advantage of the glut of oil in and around Cushing, OK. HollyFrontier Corp. (NYSE:HFC) is ideally positioned for this. It has 5 refineries with a combined processing capacity of over 440,000 bpd.
These are high complexity facilities with a combined Nelson Complexity rating of over 12.0. They are ideally positioned to take advantage of all of the new unconventional oil shale field crude in the Rockies, the Southwest, and the Mid-Continent Plains states. The graphic below shows HFC's distribution of refineries (and the associated pipelines). I note that HFC has a significant equity interest in Holly Energy Partners LP (NYSE:HEP) -- an effective logistics arm of HFC.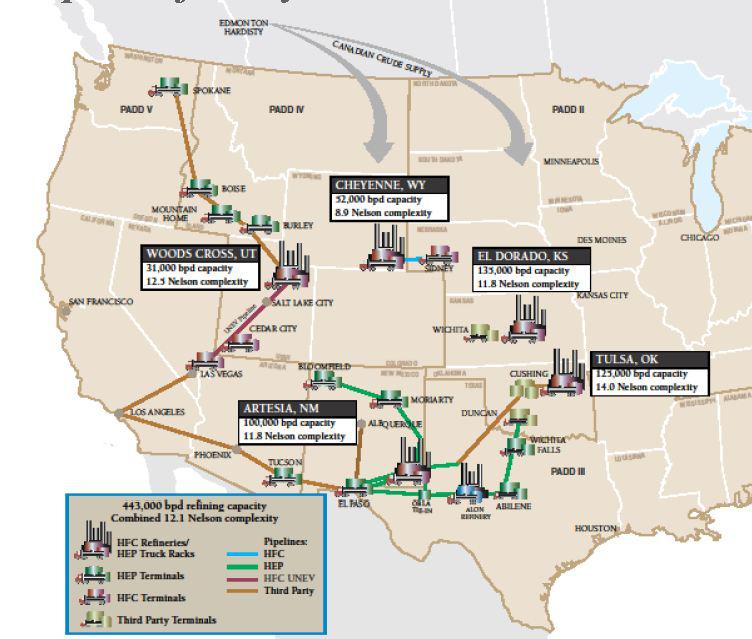 The above refineries are also strategically placed to be able to deliver products to some of the highest growth areas of the country. They will benefit from being among the earliest major producers for these areas.
Not only is HFC strategically positioned both in terms of crude supply and in terms of ready customers, but it is perhaps the most efficient refiner in terms of net income per barrel. The following graphic shows HFC's earnings per barrel compared to six of its competitors. HFC's performance over the 2006-2011 time frame has been the best. The competitors are: Coffeyville, Tesoro (TSO), Valero (NYSE:VLO), Sunoco (NYSE:SUN), Western Refining (NYSE:WNR), and Alon (NYSE:ALJ).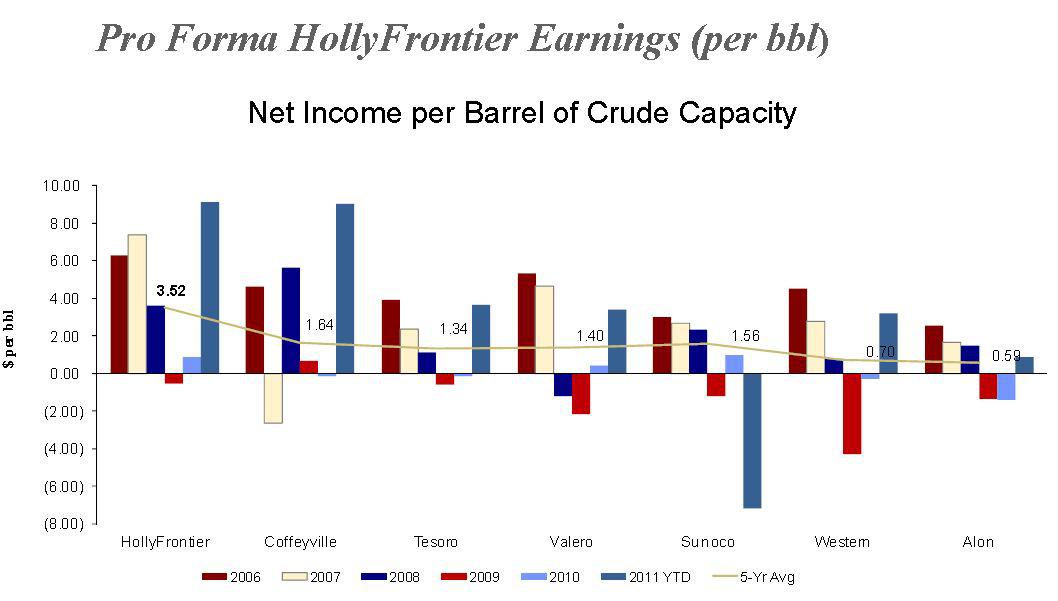 HFC is also the peer group leader in returns on invested capital from 2006-2010 as the chart below shows.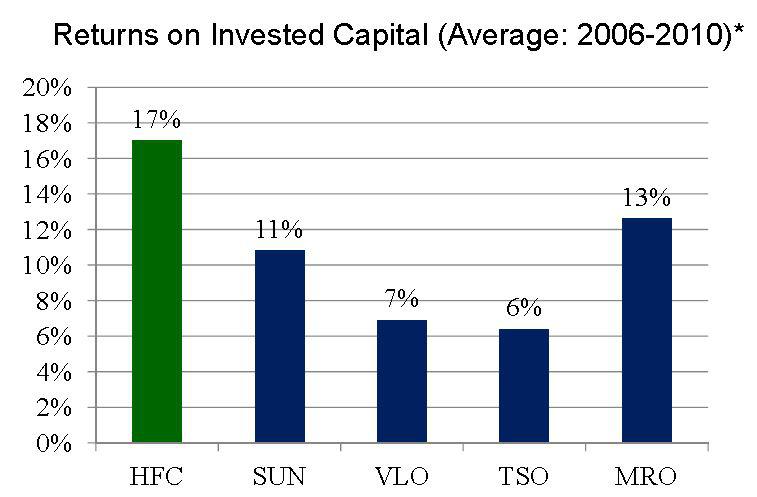 HFC is the clear leader with only Sunoco and Marathon Oil (NYSE:MRO) giving it any real competition. I should note that for this and previous charts the data of Holly Corp (HOC) and Frontier Oil Corp (NYSE:FTO) for any years before the merger if the two were combined.
The fundamental numbers also say this is a reasonable buy. HFC trades at a P/E of 5.65 and an FPE of 8.33. It pays a dividend of 1.20%. It is currently forecast to shrink profits in 2012 by -36.10%. However, this forecast may now be out of date with the recently strongly rising crack spread. Longer term HFC has a five year EPS growth estimate per annum of a great 29.99%. This is the growth of a high growth tech stock. It is also the result of the nearly ideal positioning of HFC's refineries near the new unconventional oil shale fields and the recent high population growth areas of the US.
The two year chart of HFC provides some technical direction for this trade.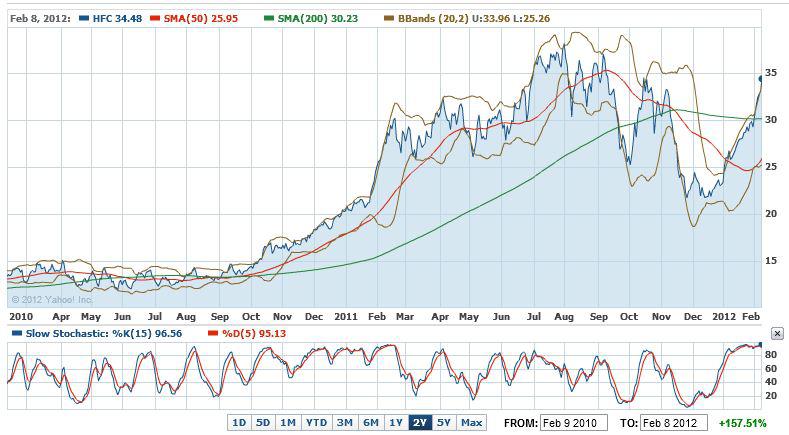 The slow stochastic sub chart shows that HFC is highly over bought. The main chart shows one ideally should have entered this trade at the beginning of January. However, the strength of the uptrend in HFC and in the crack spread make this trade a hard one to ignore. The only question is when to get in? There is probably only a little more near term upside, so my inclination is not to chase this trade. Instead, I would wait for the currently over bought overall market to pull back (likely taking HFC with it). Then if the crack spread chart still looked good, I would enter to trade. Averaging in is a good strategy.
If a pullback in the overall market is imminent (as many people think), HFC looks like it should find support at approximately $30. Its current price is $34.48. You could start to average in at this point. HFC is a leader in its industry. It gives the appearance of a good long term hold, so you should have some flexibility in this trade. One thing you should keep in mind in your approach is the status of the Seaway pipeline from Cushing to the Houston area. This pipeline currently carries 150,000 barrels per day from Houston to Cushing. It is scheduled to have its flow reversed in Q2 2012.
A reversal will net 300,000 barrels per day the other way. Proposed modifications to pump stations, etc. may bring its capacity up to 400,000 barrels per day by early 2013 (a net of 550,000 barrels from Cushing to the coast). This may temporarily depress the crack spread. It may be an excellent time to get into HFC. The constantly increasing oil flowing into Cushing from the unconventional oil fields will mean this amount will be swamped out quickly. Still paying attention to the Seaway pipeline schedule should help an astute investor. The changeover is expected in early Q2 of 2012. However, they have been experiencing some delays.
Good Luck Trading.
Disclosure: I have no positions in any stocks mentioned, and no plans to initiate any positions within the next 72 hours.