Up until fairly recently, investors could choose almost any sector and make money on most of the companies operating in them, because the bull market and economic growth in China covered up a lot of weaknesses. Those days are now over.
From now on, it's no longer the best practice to choose a sector and invest in that sector by choosing several stocks within it to manage risk. There is now more risk in that strategy than there is in individual stocks.
Now we have to get much more discriminate with the stocks we invest in, and dig much deeper to find those that have a competitive advantage that can produce good results in these weak markets.
The reason for that is the biggest global economies in the world are experiencing plunging stock markets, even though there hasn't been much coverage on how deep and wide the devastation has been. That's because China has received the bulk of the attention, which has obscured how widespread the loss of value has been in other leading economies.
Key stock markets and recent performance
If you were to be asked the best performing economy of the top ten in the world, the answer of Russia would have probably been the last one that would have been chosen. Yet, the 10 percent drop in value of its stock market, while a significant downward move, is nothing compared to the rest of the top ten economies and their stock market performances.
Since most of us know about China, I'm not going to comment much on it, other than to remind everyone it's down by about 40 percent since it peaked earlier in the year.
In the U.S., since the Dow Jones Industrial Average peaked, it has plunged 2,000 points. In August, for the first time in history, it fell by over 500 points for two days in a row.
The world's third-largest economy, Japan, has plunged over 3,000 points since its 2015 peak. Japan's financial system and economy are on shaky ground, and the concern there is a catalyst of any significance could push the country over the edge.
German stocks have lost close to a quarter of their value, and it is likely to get worse. Add to that the emissions scandal surrounding Volkswagen, and there is going to be a lot of pain going forward.
The stock markets in France, Italy and the UK are all down by similar percentages, with France losing 18 percent value; the UK, 16 percent; and Italy, 15 percent. Not only are their economies struggling, but the growing migration crisis threatens all of the EU and Britain.
India's market is already down almost 4,000 points, and what more can be said about Brazil, which is in the worst shape of all of them.
My reason for bringing up the stock markets of the largest economies in the world and how they've been performing, is to show there are no regions of the world untouched by the correction, and the various market sectors should no longer be taken into consideration as a whole.
Digging deeper for individual stock differentiators
In economic and market conditions we're now experiencing, we can no longer target entire sectors, as in most cases the companies in them are all struggling. We now need to look at individual stocks and ways they're differentiating themselves against their peers.
This sounds a lot like what all of us should be doing at all times. And that would be correct. What has happened though is the long-term bull market has encouraged investors to enter different sectors and allow the tide to raise all ships, which means they could get away with things when the stock market was soaring that can't be gotten away with now.
Next I'm going to use three companies as proxies of what types of things to look for in individual companies, and why investors should take a targeted approach.
Nike
With Nike's (NYSE:NKE) recent outperformance, it's a good time to take a brief look at why it did so well in the retail industry, which has been overall struggling. And to be led by retail sales in China makes the narrative even more interesting.
In the past Nike has struggled in China, but has now brought things together in a way that it is leading its performance.
A major challenge has been growing brand awareness, which has now reached the point it is attractive to Chinese consumers, and allows the company to raise prices and increase margin.
How it did that in the last quarter was it was backing some athletes in a track event hosted in China, and many of those athletes winning were sponsored by Nike. That brought a lot of media attention to the brand. It also suggests, which is one of those possible moats the company has, that it has a team in place that goes over the qualifications of specific athletes which have the best chance of winning.
It also sent high-profile athletic representatives during the quarter to also call attention to the brand. The combination worked well, and Michael Jordan will be visiting China in the last quarter, which will further enhance brand recognition in the eyes of the Chinese consumer.
What I want to point out in regard to not entering sectors for the sake of a sector, is Nike is a company standing out because of its brand, marketing expertise, and its resultant ability to raise prices on products it offers. That doesn't mean I should invest in other sports apparel companies, more companies competing in China, or retail in general.
Under the current economic and market conditions, within this sector, I'm only looking Nike because of its unique qualities and competitive advantage. It's going to do well under most market conditions. That's what we need to be looking for now.
source: StockCharts.com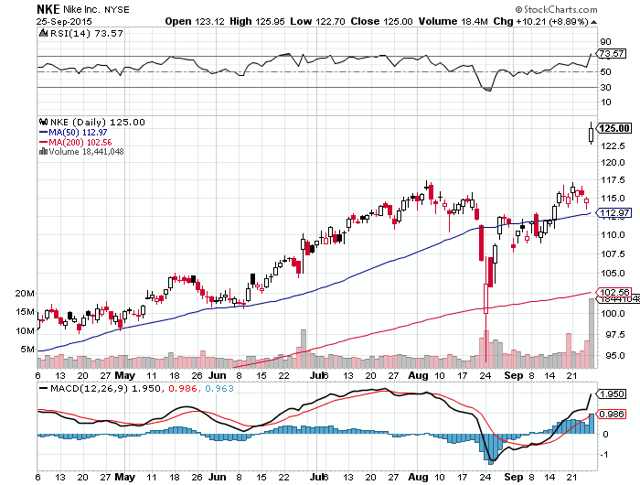 Klondex
A much smaller but interesting company competing in one of the most bearish sectors in the market is Klondex (KLNDF), which primarily mines gold.
What sets Klondex apart from its peers is it's making a lot of money under very adverse market conditions. The key to its success has been the resource it has control over.
How it competes and performs above its peers is it is able to mine more metal per ton of ore than its competitors, allowing it to make money even with relatively weak gold prices.
This doesn't' mean we should now go into the gold mining sector and load up on stocks, as some have in the past. Klondex stands out because it has a moat that very few companies have. Other than acquiring the company outright, it can continue mining for a profit while its competitors have to be concerned with treading water, or even surviving.
Source: StockCharts.com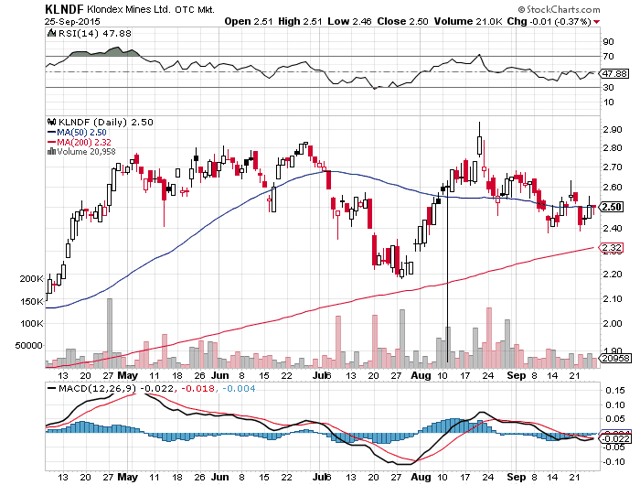 DR Horton
My final example is DR Horton (NYSE:DHI), a major builder of single-family homes in America.
The industry or sector it competes in has been one of the strongest in 2015, and it should still continue to do well. Why I bring it up in this context is demand for single-family homes is shifting, and DR Horton has taken the lead and positioned itself for growth in this market.
There's a reason the outlook for DHI is more than double that of its competitors, as the sector is estimated to grow at about 16 percent, while DR Horton has a growth estimate for this year of 34.3 percent.
During the growth spurt of the recent past, the building industry had built-in demand because of the fallout from the housing crisis during the Great Recession. A lot of people no longer wanted to buy their own homes, so large companies started buying up new homes build by DR Horton and its peers in order to rent them out.
Because of that, rents have skyrocketed, taking many of the millennials out of the new home market. Identifying that trend, DHI initiated a new brand for the purpose of building lower cost homes to serve that demographic, which is now starting to look for affordable, new housing.
Its peers, being more cautious, have lagged behind DR Horton's more aggressive strategy, and as down payment strategies are employed to help millennials get into homes (it's the major impediment to acquiring a new home), DR Horton is the strongest positioned to take advantage of that.
I'm not looking specifically for a builder because the sector has been strong, I'm now looking for any company within a legitimate market that has a monopoly within some part of its business that is hard to overcome. When I use the term monopoly here, I'm talking from the point of view of expertise or decisions made that make it extremely hard to profitably compete in certain segments of the market being competed in.
source: StockCharts.com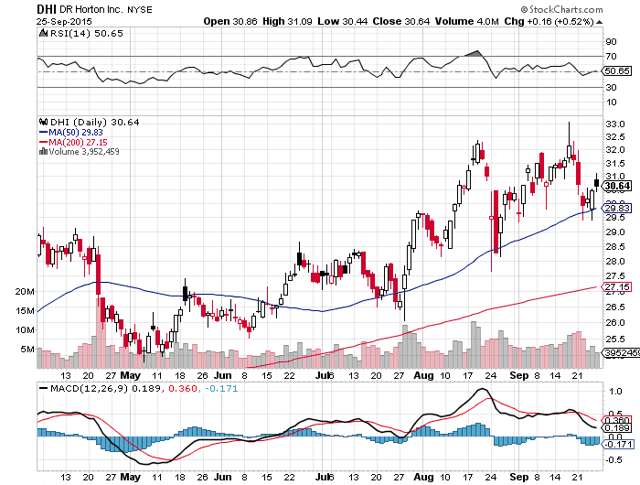 Conclusion
The days of buying into sectors, knowing we can make a profit because of the roaring bull market, are over. With the major stock markets under downward pressure, it has to be from the fact the underlying slowing economies are being reflected in the drop in share prices.
For that reason, looking for advantages companies like Nike, Klondex and DR Horton represent, are the ways investors will be able to grow their capital under difficult economic and market conditions. These companies were featured in order to show how we should no longer be looking at individual sectors, but individual companies that outperform in any sector.
That means we all will have to dig deeper into companies than we have during the bull market to generate decent returns. As these three companies above confirm, they are out there, and each one has one or more distinct moats that make it very difficult for their competitors to match them.
Disclosure: I/we have no positions in any stocks mentioned, and no plans to initiate any positions within the next 72 hours.
I wrote this article myself, and it expresses my own opinions. I am not receiving compensation for it (other than from Seeking Alpha). I have no business relationship with any company whose stock is mentioned in this article.
Editor's Note: This article discusses one or more securities that do not trade on a major U.S. exchange. Please be aware of the risks associated with these stocks.