The Periscope (NYSE:TWTR) Summit was an event in NYC last week which had a goal of bringing the growing community of broadcasters together. Think of it as the Vidcon of Periscope. There were panels on topics such as making money on Periscope. The most popular broadcasters were there including the following: Alex Pettitt, Alex Khan, Amanda Oleander, Tasmin Lucia-Khan, and Bree Olson. It is amazing that such a strong community has already been built in the 6 months since Periscope's launch. This article will provide you with my thoughts on Periscope after attending this event. Periscope has the opportunity to be the YouTube (NASDAQ:GOOG) (NASDAQ:GOOGL) of live video. This is a bigger opportunity than Twitter itself has.
The most common word used at the event was authenticity. It was used to describe the reason behind why the top scopers have gained such a large audience. Because it is live, the viewers get to see the broadcaster without any editing to cover up mistakes. This is different from every other social media. Therefore, Periscope's connection among users is more valuable than any other platform on the internet. I consider the broadcasters I watch to be my friends.
Brian Fanzo from @iSocialFanz said in his presentation that the hugs feel stronger than any other internet-related event. He was referring to the scopers who were meeting for the first time in real life. A strong community gives Periscope a deep moat which means top broadcasters will not leave the platform just as Twitch users haven't been willing to move to YouTube Gaming. This prevents Facebook (NASDAQ:FB) and YouTube from destroying Periscope with their deep pockets and popularity.
The closest thing to Periscope is YouTube, but the ability to chat live and have no editing sets Periscope apart. YouTubers often mention that a short video doesn't completely reflect who they are as a person. This is why daily vlogging has become so popular. Viewers long for a more personal connection with the content creator. Periscope is a natural extension of daily vlogging. There is less editing and more interaction with the content creator. In summary, Periscope is easier to use than YouTube and offers a better connection to the viewer. This combination shows how Periscope can take online video share away from YouTube. Taking share from a firm valued at $80 billion shows the potential valuation of Periscope in the next few years.
Alex Pettitt gave a great presentation. According to Alex, Periscope now has 15 million users and 60 million broadcasts. He made the point that because Periscope is such an authentic means of spreading a message it would be the future of how brands market products. Alex said a person is 475 times more likely to die in a plane crash than to click on a banner ad. This shows how advertisements need to evolve. He referenced how Harley Davidson (NYSE:HOG) started its own Periscope channel where it announced the launch of its 2016 bikes by doing each broadcast on a different bike riding in a different city around the world. This is the future of advertisements and brands eschew banner ads for real engagement with their customers. If brands decide to spend money on creating great content on Periscope, they will be willing to purchase additional products from the app to make sure the promotions are seen by as many viewers as possible.
Pettitt was also given the opportunity by Periscope (who had no involvement in setting up the event) to unveil the new ability to track stats for broadcasts. This infrastructure is going to become similar to the analytics given to YouTubers. Under the tabs you can see below, Periscope will give you information such as the number of viewers completing a replay, the number of comments, participation rate of commenters, the average number of comments, the number of heart givers, and the participation rate of heart givers. This announcement will also help broadcasters drive email campaigns. Periscope stats will improve the quality of content on the app because it lets scopers see what is working and what isn't. Brands love big data, so this information will get them to spend money on creating a Periscope presence.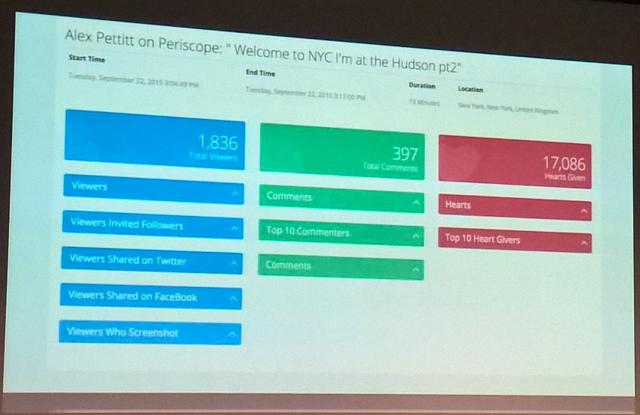 The reason why more brands have yet to deploy Periscope is because they don't know who should be filming the broadcasts since the CEO traditionally is the face of the company and he/she may not have the skills or time to scope. Brian Fanzo said the social media team should not be the ones who broadcast. It should be someone within the operations of the company. John Legere, the CEO of T-Mobile (NASDAQ:TMUS), is the best example of perfectly executing the use of live broadcasts. He shows viewers his daily life, answers questions, and promotes the T-Mobile brand.
Periscope is great for brands because it lets them do instant polling on different products or ideas without the need for focus groups. It also can provide polling within shows. For example, if the "Bachelor In Paradise" asks the audience a poll question, the viewer has to get out his or her smartphone. With Periscope users can answer a poll question with a comment in-stream. Periscope will be great for CRM and retention of customers according to Ronald Pruett who is the Chief Advisor of Al Roker Entertainment. Fanzo said if brands have trouble coming up with a scope topic, they should start by streaming the answers to their most common questions. Once they see how many viewers they are getting from this simple scope, they will likely grow their presence on the app.
There was a panel dedicated to showing how businesses can use Periscope for marketing and producing content. Ann Sublett described how she used Periscope at the Central Park Conservancy. She said putting the workers at the center of the scopes was successful. Her most popular scopes were of a worker who was enthusiastic and spoke many languages. This may add an even greater importance to employers hiring workers who are personable, since they may be on streams in front of hundreds of potential customers.
Shanda Maloney, who runs social media for the UFC said she is filming the weigh-ins and giving more perspective on what the athletes' diets consist of. This is a case study other major sports leagues such as the NFL can implement. Anything that personalizes the athletes more brings increases in memorabilia and ticket sales. Sports embracing livestreaming instead of eschewing it will grow the number of users on Periscope. The leagues must recognize the potential opportunity to offer additional content on Periscope instead of worrying about copyright infringements. Stolen content will not be widespread because of its poor quality on Periscope. Frankly, there are much better options to users if they want to illegally access content for free.
Joe Martin, who was the representative from Adobe (NASDAQ:ADBE), said television shows which had their actors/actresses promote their shows improved social discussion throughout the week instead of just when the program is on. Periscope is a great way to drive viewers to your TV program. I experienced this a couple of months ago when Kevin O'Leary got me to watch his interview on CNBC through a Periscope livestream. The representative from SanDisk (SNDK), which was a sponsor of the event, said the firm couldn't ignore Periscope when it had 1,400 viewers watching its product launch of one of its storage devices. Ronald Pruett discussed Al Rocker's use of Periscope. He made the point that he feels influencers will be less likely to earn ad dollars now that companies can speak directly to consumers through livestreams.
This concept of a diminishing importance of influencers on the internet such as YouTubers and scopers confused me because they have the authenticity corporations don't have. Consumers trust a less-biased influencer more than a firm which is just trying to sell their product. Oftentimes YouTubers say they only promote products they like, which is a believable statement to viewers. Considering traditional advertisements aren't successful as mentioned by Alex Pettitt and Ronald had leanings toward believing influencers will not be getting much ad spend, I brought up the idea of Bitcoin being used to monetize videos. He said it was a possibility. There already is a company called Streamium that has experimented with this concept. As an avid Bitcoin supporter, I believe Bitcoin will be spent on streams the way hearts are given. Each heart will represent a small amount of money such as a penny. Periscope would take a cut of this money spent just as YouNow currently does.
Another concept mentioned at the event was the 'citizen news reporter.' I have described this idea when discussing Snapchat because citizens report in the curated live events on the app. Since Periscope will be the first to report stories, TV stations will put up video captured from streams directly onto TV just the way tweets are often displayed. This concept shows how Periscope can be worth more than Twitter in the future. A live video stream of an event is worth more than 140 characters because it gives you in-depth access to the story as it unfolds. Mark Zuckerberg said we are entering the golden age of online video; Periscope will be the center of this age.
Entrepreneur Grant Cardone was one of the first speakers at the event. He compared using Periscope to doing an interview on TV. For a TV interview he has to drive to where the show is being filmed and often is on air for only a few minutes. He just spent a few hours of his time to be on TV for a couple of minutes. On Periscope he can just turn on his phone and become instantly connected with thousands of viewers. Therefore, Periscope is more efficient use of his time. He also mentioned instances where streams had more viewers than traditional networks. I think this will continue. Another advantage of Periscope is it gives you complete control over how you portray yourself. This is important for people who have branded themselves, such as Grant Cardone.
One of the MCs of the event, Mark Kaye, has a terrestrial radio show which is syndicated in a few states in the south and Midwest. He streams his radio shows on Periscope which has allowed him to get callers into his show from outside his normal reach. This revolutionizes talk radio. I have seen videos of Glenn Beck on his radio program because he has his own network. Periscope allows every radio program to stream its content with just a smartphone. It isn't problematic to advertisers because the viewers on the stream are also listening to the ads. A radio broadcaster I listen to, Steven Crowder, uploads videos of his radio program to YouTube where he has 130,000 subscribers. Broadcasters like him should switch to Periscope because it gives them more interactions with commenters than YouTube does.
I mentioned that the connections are stronger on Periscope than other social media. A way to show this to those who haven't used the app is an anecdotal example given by one of the scopers. They said they have 40,000 followers on Instagram and 10,000 on Periscope. They asked users on both platforms for donations and almost all of the money came from Periscope. If you thought the ice bucket challenge was an amazing use of social media to raise money, just wait until you see the amount of money that will be raised on Periscope. Jonathan Jacques, who is a magician, has already been raising money for charity using Periscope.
The CEO of Katch, Tarikh Korula also gave a presentation at the summit. Katch is the platform that allows users to upload their livestreams and keep them online after the 24 expiration date of Periscopes. It also captures Meerkat streams. He announced five updates in his presentation. They were the addition of hearts and comments, landscape support, the ability to delete any comment, user search, an embed widget, and RSS support. Katch also has the ability to scrub through video which is a feature Periscope doesn't even have yet.
Tarikh said since adding Periscope support, Katch has grown 1,000% and it has grown 20% every week for the past 8 weeks. When speaking to Tarikh after the presentation I told him Periscope should buy his company. My reasoning is recorded streams have the potential to be monetized. It doesn't makes sense for Periscope to throw away the opportunity to make money on ads. Either Periscope must create its own version of Katch or it should buy it. Since the Katch platform already has features Periscope doesn't have yet, I think an acquisition should be considered. I told Tarikh about the idea I mentioned in a previous article. Periscope should let users choose one scope to stay permanently on profiles to give viewers a sense of what the user's scopes are about. This would be similar to a channel trailer on YouTube.
Takeaways
In summary, my takeaway from the event is the app has already formed a community which gives it a moat to prevent competition from taking share. Periscope is a bigger opportunity than Twitter is itself. One of the top Periscopers, Tasmin Lucia-Khan, said she has stopped watching Netflix (NASDAQ:NFLX) because of Periscope. Based on the presentations and conversations I had with users, Blab is the top competitor to Periscope. YouNow was not mentioned once. Meerkat was mentioned as a fad which has passed. Snapchat was barely mentioned. Most users agreed Facebook's rollout has been a missed opportunity. I will be doing an article comparing Periscope to Blab now that I have seen how much of a threat it is to Periscope.
Disclosure: I am/we are long TWTR, FB.
I wrote this article myself, and it expresses my own opinions. I am not receiving compensation for it (other than from Seeking Alpha). I have no business relationship with any company whose stock is mentioned in this article.
Additional disclosure: Investors have copied my investment in Facebook on Instavest.