One of the worst performing stocks in recent months has been chipmaker Ambarella (NASDAQ:AMBA), the company most notably recognized for supplying GoPro (GPRO). Both of these companies have seen dramatic falls in their share prices, with Ambarella down almost 40% since its earnings report earlier this month, seen in the chart below. With the chipmaker's valuation now at a more realistic level, I think this increases the potential for the company to be bought out.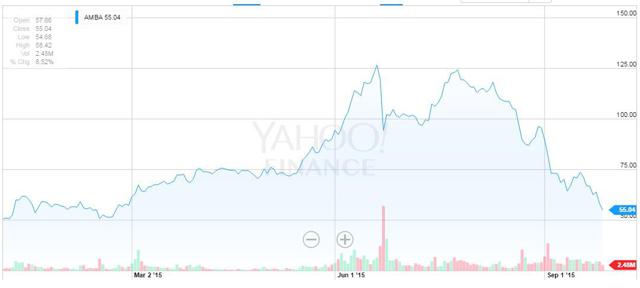 (Source: Yahoo Finance)
At their peak just a few months ago, Ambarella shares traded for nearly $130, giving the company a market cap above $4 billion. I thought the stock was in bubble territory and that was correct. At its peak, the company was trading for more than 10 times future sales (ending January 2017) and about 35.5 times expected non-GAAP EPS for that period. An acquisition then would have probably cost an acquirer close to $5 billion, a bit of a stretch.
Even though Ambarella is expected to post more revenue and earnings growth than the more established chipmakers, that valuation was excessive. As of Monday's close, Ambarella's market cap was down to $1.74 billion and the company has about $240 million in cash with no debt. That would mean that a takeover could be currently had for about $2 billion or so. At that price, Ambarella would go for just about 5 times future sales, a sizable discount to the price Intel (INTC) is paying for Altera (ALTR).
The industry's two giants, Intel and Qualcomm (QCOM), could certainly be interested in Ambarella. Both large-chip names are looking toward the future, and items like drones are a very hot item. Ambarella has a presence in the drone space, which Qualcomm is now entering, as well as the GoPro business. If for no other reason, Intel or Qualcomm might want to acquire Ambarella just to keep the other name for doing so. Sometimes, the best move is to prevent your competitor from doing something rather than just strengthening yourself. Intel needs to diversify away from its PC business, and Qualcomm needs to diversify from its phone business.
Both Intel and Qualcomm easily have the financial power to make this kind of acquisition occur. Intel is spending about $13 billion or so (after net cash) to acquire Altera. Intel also is buying back billions worth of its shares each year, so a temporary slowdown in the buyback could get Ambarella under its wings. Qualcomm bought back $9 billion worth of its shares in the first three quarters of its fiscal year, so it also could slow down its buyback to snatch up Ambarella.
With the fall in shares of Ambarella, I think the name becomes an interesting takeover target for a larger chipmaker. Ambarella is known for supplying GoPro, but the company also has a presence in drones. Intel and Qualcomm are both looking to boost their presence in future devices, and Ambarella would seem to fit in perfectly. Thanks to the fall, Ambarella could be had for around 5 times expected future sales, much less than what Intel is paying for Altera, and Ambarella offers a lot more short-term growth potential.