DSR Quick Stats
Sector: Industrial
5 Year Revenue Growth: 6.59%
5 Year EPS Growth: 10.63%
5 Year Dividend Growth: 10.89%
Current Dividend Yield: 2.81%
What Makes 3M Co (NYSE:MMM) a Good Business?
We all use Scotch Tape and you probably heard that funny story about how Post-it stickers were invented by mistake (a tech lab worked on a different type of glue that wasn't sticky enough… but worked perfectly for pieces of paper you want to put here and there). However, MMM is a lot more than daily sticky products - the company is divided into five segments: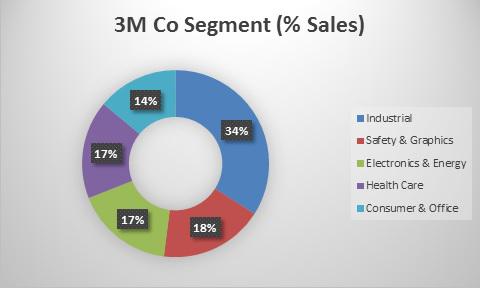 Source: author's graphics
Industrial Business (34%):
This is the largest segment in term of sales. This division provides adhesives, abrasives, filtration systems, fasteners and specialty materials to a variety of industries.
Safety and Graphics (18%):
This business offers films, reflective materials, projection systems, and the like. I bet you didn't know much about this part of 3M Co, right?
Electronics and Energy (17%):
This is 3M biggest business operation in Asia with two-thirds of its revenue coming from this region. Electronics and Energy provides products for electronics and energy businesses including films for LCD screens and splicing products for signal cables.
Healthcare (17%):
The Healthcare business focuses on products offered to more developed countries such as the US and Europe. It makes products in the areas of wound care, oral care, drug delivery systems, etc.
Consumer and Office (14%):
This is probably the division we know best as consumers - 3M offers a variety of home office products in developed countries. Over half of this segment revenues are coming from the US.
Ratios
Price to Earnings: 18.28
Price to Free Cash Flow: 17.60
Price to Book: 6.682
Return on Equity: 33.82%
Revenue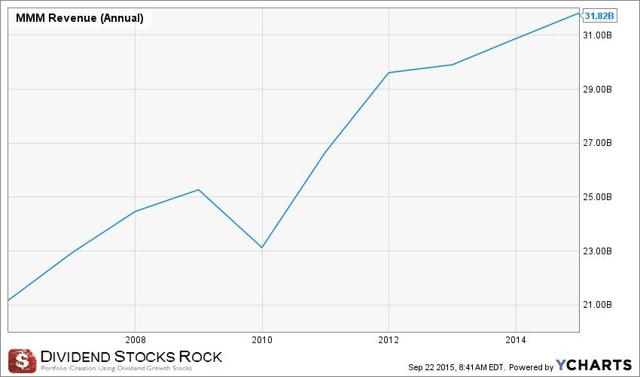 Revenue Graph from Ycharts
MMM is one of the rare international companies showing a positive trend in revenue for 2015. A strong US dollar affected their sales but their organic growth was strong enough to compensate and still push the revenue bar higher. It definitely pays to have such great diversification in their product offering along with a presence in so many countries.
How MMM fares vs. My Seven Principles of Investing
We all have our methods for analyzing a company. Over the years of trading, I've been through several stock research methodologies from various sources. This is how I came up with my seven investing principles of dividend investing. The first four principles are directly linked to company metrics. Let's take a closer look at them.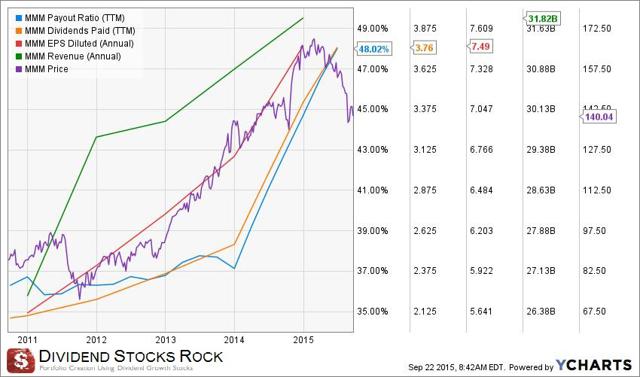 Source: Ycharts
Principle #1: High-dividend yield doesn't equal high returns
I don't like high dividend yield (over 5%) as those companies are always hiding something. There is no free lunch in finance and a high yield means problems on the way.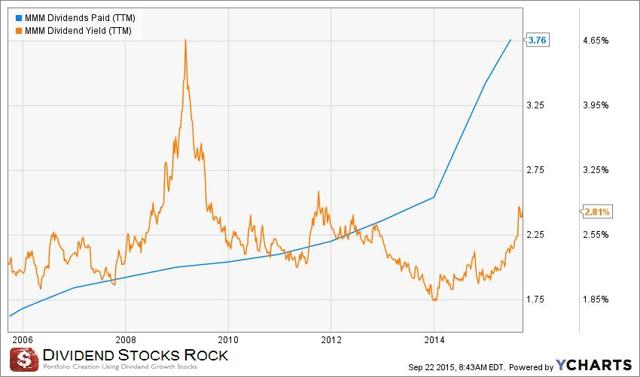 Source: data from Ycharts.
This is not really a concern when we look at the MMM dividend yield. Since the stock price dropped in the double digits this year, the dividend yield climbed over 2.50% for the first time in about two years. For me, this is a good entry point when I look at the historical yield being closer to 2%.
Principle#2: If there is one metric, it's called dividend growth
As you can see in the previous graph, MMM has never stopped increasing its dividend payment over the past 10 years. The company almost doubles its dividend payment every seven years showing a dividend growth rate near double digits over the past 10 years. The company is known for rewarding its investors with generous dividend increases. So far, the company fits perfectly with my investing criteria.
Principle #3: A dividend payment today is good, a dividend guaranteed for the next ten years is better
Once I've looked at the company's dividend payment history I want to know if it's in good shape to continue this into the future. A good indication is given by looking at the dividend payment and the payout ratio: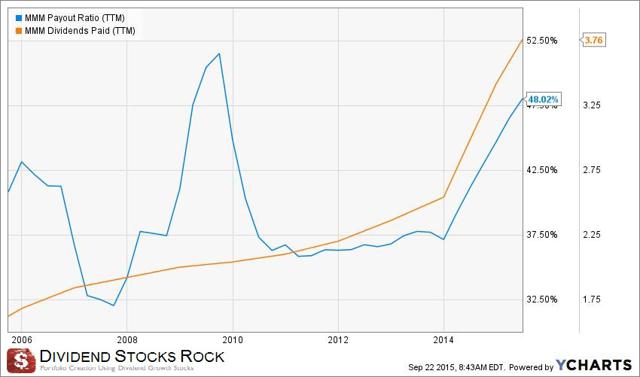 Source: data from Ycharts.
The company usually averages a payout ratio under 40% until recently (I don't consider the 2008 crisis in my observations). With a current payout ratio of nearly 50%, there is nothing dramatic. It's obvious the company will able to increase its payment for years to come. However, it may become difficult to keep up with a 10% increase rate in the future. Then again, MMM proves it can pay a strong dividend increase over time showing a perfect note of 3/3 for my first three investing principles.
Principle #4: The foundation of a dividend growth stock lies in its business model
MMM shows all requirements for being a dividend growth star. It sells various products in various countries enabling a maximum of diversification. Plus, most MMM products are consumable, meaning the company will manufacture products for the same clients over and over again.
What 3M does with its cash
MMM is known for being a very shareholder friendly company. You can see how much they give back to their investors through dividend increases and share repurchases below:

Source: Investor presentation
As I've previously mentioned, I don't expect MMM to be that generous in the future and we will probably see an average increase rate around 10% and not 20%-35% as we did in 2014 and 2015.
The company also reserves a huge part of its budget for Research and Development. This is probably its strongest weapon against competition as no other company can follow a $2 billion ($1.8B to be exact) annual investment.
Finally, the company also makes sure to grow by acquisition. MMM spends several billion each year in acquisitions. Most recently, Capital Safety ($2.5B) and the Separations Media Business of Polypore International ($1B) increased 3M's presence in the safety and filtration fields.
Investment Thesis
With 50% of their products being consumable, 3M is like a never-ending money-making machine. Its intelligent combination of technology and consumable products makes them almost impossible to compete against on a large scale.
3M benefits from a behemoth budget for R&D keeping them years ahead of its competitors for many products. It also has streamlined its manufacturing structure enabling large scales of economy on production. In other words, 3M has the platform to generate A1 quality products faster and at a cheaper cost than most of its competitors.
In addition to internal growth, the company also spends around $2 billion per year in acquisitions. This makes sure growth is coming from the outside. They have a streamlined integration process which ensures money is not wasted.
Risks
There aren't many risks around MMM at the moment. The biggest risk I see is the lack of a powerful growth perspective. It's hard for such a business to grow faster than the global economy as they offer so many products to so many clients it's hard to find a new way to boost revenues significantly.
The company also increased its exposure to overseas market reducing margins due to a strong US dollar. So far, the company has managed this risk well, but revenues could stagnate in the future when the Fed will increase interest rates.
Should You Buy MMM?
There is no question in my mind that 3M is an attractive company, but is it trading at an attractive price? If we look at the past 10 years, we can see the company has been going from a range of 9x PE to as high as nearly 23: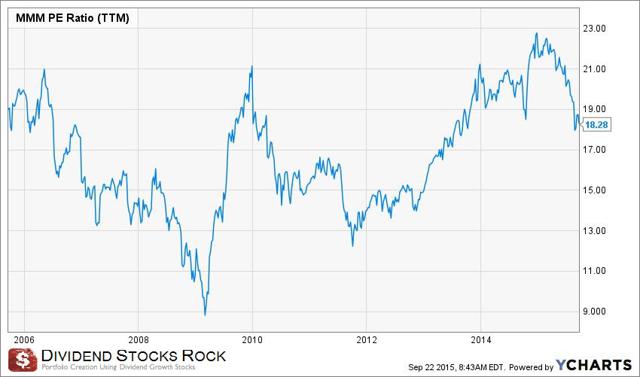 Source: data from Ycharts.
It's a graphic that is difficult to analyze as the valuation goes up and down without a clear middle range. I will have to use the Dividend Discount Model to see what MMM is truly worth. I use a double stage DDM model since I think the next 10 years will show stronger dividend growth as the company has plenty of room to increase it. Plus, management has proven over the last two years their commitment to increasing the payout significantly. I've used a dividend growth rate of 8% for the first 10 years and reduced it to 6% afterward. Then, I used a discount rate of 9% since the company shows stellar numbers.
Calculated Intrinsic Value OUTPUT 15-Cell Matrix

Discount Rate (Horizontal)

Margin of Safety

8.00%

9.00%

10.00%

20% Premium

$308.45

$204.32

$152.32

10% Premium

$282.74

$187.29

$139.62

Intrinsic Value

$257.04

$170.26

$126.93

10% Discount

$231.34

$153.24

$114.24

20% Discount

$205.63

$136.21

$101.54
Source: Dividend Monk Toolkit Excel Calculation Spreadsheet
Even with conservative numbers, the company is clearly trading at a 15% discount. The company is definitely in a position to increase its payout by 8% and then 6% after the first 10 years. This is a must have in any dividend growth portfolio.
Final Thoughts on MMM - Buy, Hold or Sell?
The recent drop in the stock market has opened a great door of opportunity to buy MMM at a cheap price. The company shows a stellar balance sheet and great ability to generate constant cash flow. 3M Co is definitely a buy.
Disclaimer: I hold MMM in my Dividend Stocks Rock portfolios.