Oasis Petroleum (NYSE:OAS) is an exploration and production company focused on the acquisition and development of unconventional oil and natural gas operating primarily in North Dakota's and Montana's West Williston Basin. The Company controls roughly 356,584 net acres in the West Williston and 147,919 net acres in the East Nesson area. Oasis' exploration and production business makes up roughly 94% of their revenues. The other 6% of revenue are earned through Oasis Midstream Services LLC and Oasis Well Services LLC. The company's current market cap has been fluctuating around $1.16 billion and the stock's 52 week range is $42.96-$8.04/share.
Oasis' liquidity and leverage ratios are currently worse than exploration and production industry averages:
One of the biggest concerns for investors looking to take a stake in Oasis Petroleum has been their high debt burden and their potential short-term liquidity problems. The previous quarter's current ratio was 0.69, compared to the competitor average of 1.29. Similarly, the quick ratio for last quarter was 0.27 compared to the industry average of 0.77. These two ratios demonstrate the possible inability for Oasis Petroleum to meet it short term obligations. However, what's most concerning is the Company's ratios relative to its struggling peers.
Liquidity ratios are not the only concerning aspect of Oasis Petroleum. The Company's leverage ratios are just as ominous. Currently, Oasis holds $2.7 billion in long-term debt obligations. From 2013-2014, total liabilities increased roughly 13% to $3.271 billion. As a result, the company's debt to equity ratio reached 1.44, higher than its peers' average of 1.11. Not only will the Company struggle to meet its obligations in the long-term if the price of oil and gas does not revert back to its mean, but the Company has little ability to raise debt in the future. Unable to take out much more debt might be positive for investors looking at comparable and ratio analysis, but it is problematic for the Company if they look to pursue other growth opportunities.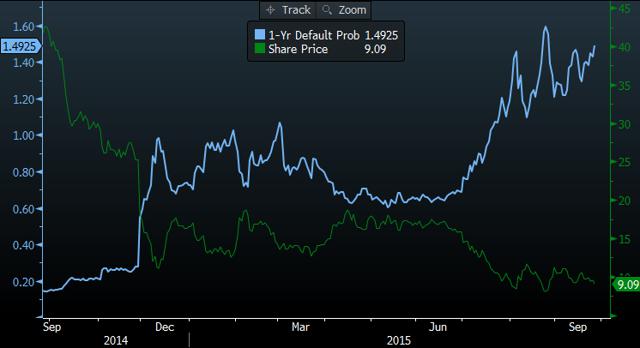 (Bloomberg- Default Risk)
It is unlikely the $1.5 billion borrowing base will increase and no obligations are due before 2019:
One of the major advantages the Company has is their debt repayment timeline. Oasis currently has no debt due until 2019. The industry average for debt-repayment is $126.21 million due in one year or less, $253.04 million due between two and three years, and $747.14 million due between four and five years. Even though they have taken out massive amounts of debt, even relative to their highly leveraged peers, their repayment timeline makes them somewhat less susceptible to short term market volatility and uncertainty.
Even though the numbers look grim for Oasis Petroleum, their possibility to improve their Lease Operating Expenses and decrease their well costs in the future can ease investors in the short term. Chief Financial Officer and Executive Vice President Michael Lou announced in the August earnings call that "at the end of 2014, we were around 40% connected and have moved to around 65% connected in the second quarter. Having these volumes move on the OMS system was the primary driver for the 4% drop in our LOE quarter-over-quarter. We are now running about 18% our 2014 LOE per Boe levels". In the same report, it was stated that cash operating costs (including LOE, production taxes, and differentials) are down 25% compared to 2014 levels. Their operating costs are reported to total $23.71 per BOE in the second quarter. (Earnings Call)
Their reduction in LOE and overall operating costs are positive signals to investors that management understands the Company's debt obligation problems and are pushing strongly to reduce their effects.
High potential for their non-core acreage provides a possible long-term growth opportunity:
One of Oasis Petroleum's biggest strengths is the Company's substantial properties all throughout the West Williston, East Nesson, and surrounding areas. While Oasis has cut rig count a few times in the past couple years, the three rigs they are currently running are operating at very high intensity.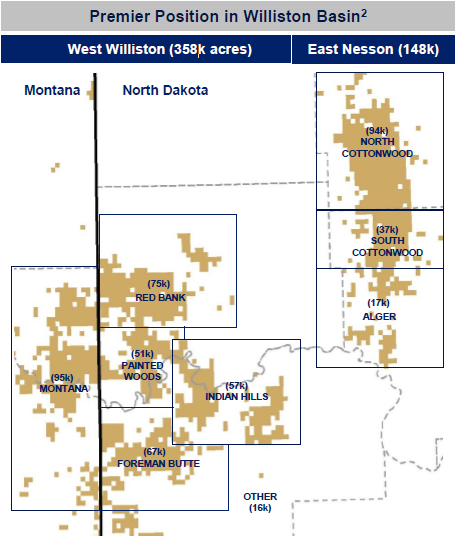 (Oasis Petroleum: August Investor Presentation)
In 2014, the Company produced a daily average of 45,656 Boe, a total of 14,883MBbls of oil, 7,450 MMcf of natural gas, and 16,667 MBow of oil equivalents. Many analysts see this efficiency as an ability to increase long-term market share throughout the area. With high well performance and high intensity completions increasing returns, the Company definitely has the ability to compete strongly with its local competitors.
One of the reasons Oasis Petroleum has been trading down recently, aside from the obvious overall market downturn, has been investors' skepticism of future productivity levels in the area. Due to management's attempt to reduce costs as much as possible, there has been little talk of expanding outwards from their North Dakota base. However, management is fairly high on the ability to see similar success in western acreage as they have found closer to the base. This optimism has been represented a couple times during recent earning calls. In August, management was asked "when you look at your acreage position across Indian Hills and in Alger, how repeatable do you think those results are?" Their response was very uplifting. "We're seeking pretty consistent uplift and so we're feeling good that you're going to see that same type of performance across not only the whole core position but as you get into areas like Montana".
I am confident that Oasis Petroleum will see high intensity completions farther away from their core acreage is because I am confident in management. Their ability to provide shareholders with clarity throughout the recent market downturn and their ability to drastically cut costs have been ensuring signs that they are confident and capable group.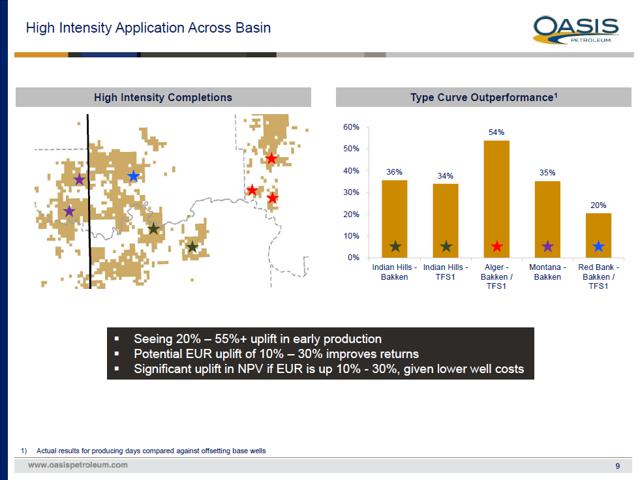 (Oasis Petroleum: August Investor Presentation)
As demonstrated in the image above, there is high potential for EUR uplift of 20% or more. If this is the case, it will drastically improve net present value of these projects, especially given the new, substantially lower, well costs.
I see these possibilities for higher drilling potential and increased inventories very realistic. However, this is long-term, and will probably begin seeing results 10-20 years in the future. Ultimately, based on management's confidence and recent testing, the Williston Basin's extended core and fairway present great long-term investing opportunities.
Extreme market uncertainty makes it challenging for investors to enter:
Exploration and production companies have been hurting a lot all throughout 2015. A production war between United States and the Middle East's OPEC was the initial cause for the major downturn in oil prices. However, more recently, weak global economic indicators, especially in China, have signaled a demand shutdown. The decreasing lack of demand for oil globally and the immense oversupply have caused the price of WTI to drop from a high of $95.47 a barrel to a low of $38.93 a barrel in just thirteen months.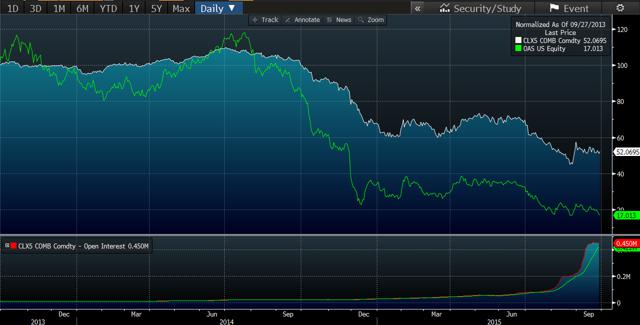 (Bloomberg- WTI compared to OAS)
Fortunately for these companies, long-term consensus among analysts is that oil prices will revert back near the highs, probably towards $70-$80 per barrel. Recent news that the U.S. oil production fell is a positive sign prices may be moving in the right direction soon. Hindering a price movement is OPEC's continued rising production.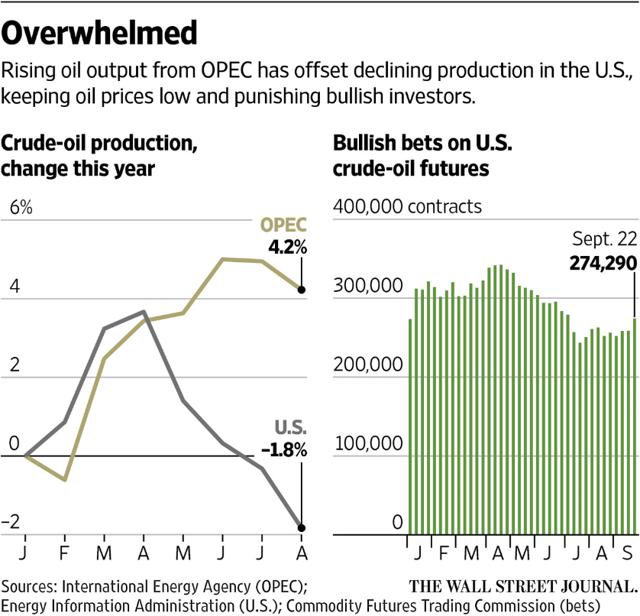 The major question fluctuating around analysts has been when these prices will gradually begin to rise. Constantly decreasing rig counts and now decreased production in the U.S. are good signs, but they are very much overlooked by Chinese demand and OPEC production levels. Ultimately, it is going to be a very bumpy ride for exploration and production companies in the short-term. It will be especially bumpy for companies with high leverage ratios like Oasis.
In conclusion, Oasis is a company that has positioned themselves wonderfully in the North Dakota and Montana marketplace. Their potential to improve upon their NPV of future projects outside their main basin and their ability to cut costs are positive signs for investors. Unfortunately, these positives can be disregarded due to their debt burdens. Current market conditions paired with their debt make it the wrong time to take an equity stake in the company. For investors that have already taken positions in the company, withstanding extreme volatilities to ensure long-term results is a must. If oil prices begin to stabilize, I believe Oasis Petroleum will see very strong results and present a perfect opportunity for oil bull investors to see capital growth.
Disclosure: I/we have no positions in any stocks mentioned, and no plans to initiate any positions within the next 72 hours.
I wrote this article myself, and it expresses my own opinions. I am not receiving compensation for it (other than from Seeking Alpha). I have no business relationship with any company whose stock is mentioned in this article.