Don't Throw Alloy Steel Out With The Bathwater
Summary
Arcoplate is a differentiated product that is used by large mining companies.
Based upon the 2014 EBIT, AYSI trades at a EV/EBIT ratio of 2.
Exposure to the mining industry has brought prices down to value territory.
ROE (5-year average) = 19.4%.
Cash = 55% of shareholder equity.
Alloy Steel
Alloy Steel International, Inc. (OTCPK:AYSI). (Alloy Steel) is a manufacturer of Arcoplate (AP). The company is a provider of anti-wear and hang-up solutions to the mining and bulk materials industries, based in Perth, Western Australia. Arcoplate is accepted in the mining and mineral processing industries to protect a host of fixed plant and mobile equipment applications. Arcoplate is being used by large mining companies (i.e. Newmont (NEM) and Rio Tinto (RIO)).
Management - Mr. Gene Kostecki was the inventor of Arcoplate; sadly he passed away on 5/19/14. His children Steven Kostecki and Andrew Kostecki serve as Managing Director/Chief Executive Officer of Alloy Steel International and as President of Operations/Brand Development Manager in North America, respectively.
Thesis
Alloy Steel manufactures a differentiated and good product. Return on equity for the last 5 years has been excellent - averaging 19.4%. Although I will be discussing AP and how it fits into the wear market, I do not think it is the most important part of this thesis considering the capitalization structure.
The company has a large exposure to the mining industry, but after closer inspection, it seems that a lot of the decline in commodity price has been discounted into the price of the stock. Due to the company's large cash balance and normalized earnings, AYSI seems to be trading at an attractive price.
Looking forward, one of the most important keys in this thesis is how management will allocate the excess cash and FCF. So far the company has done a mediocre/below-average job as I will explain towards the end of the article.
Arcoplate
AP is marketed to customers as a wear and material hang-up solution. The company's product differs from competitors as its alloy chromium-carbide-rich overlay layer is created using a single-pass computerized process. This process creates a stronger metallurgical bond, eliminating some of the major drawbacks associated with conventional weld overlay liners.
Substitute products
As there are many different types of wear (i.e. abrasion, impact, etc.), there are also many different products to combat each wear type - each with its own strengths and weaknesses.
From my understanding, the primary substitutes for Arcoplate are QT plates and cladded wear (CW) plates. QT plates are cheaper than AP, but have a significantly shorter life. CW plates are slightly cheaper than AP and have a slightly shorter life.
Relative to the other products (QT & CW plates), the Fused Alloy Steel is superior due to its single-pass process that produces a uniform alloy layer. I have not found a company, other than Alloy Steel, that provides Fused Alloy Steel that is used for both hang-up (residual material stuck on equipment after dumping load) and wear. There are other companies (i.e. ESCO (ESE), Bradken (OTC:BRDKY)) that market the fused alloy steel to combat only wear (block products).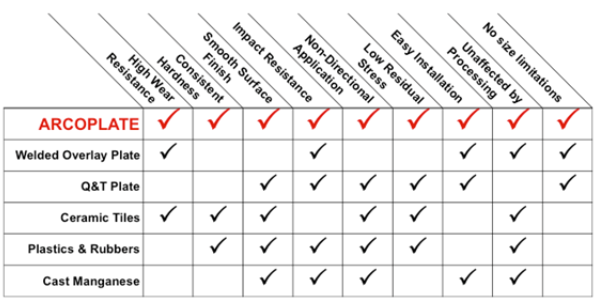 Below are more details on the different types of wear plates and their associated strengths and weaknesses.
QT Plate (Quenched and Tempered Steel Plate)
QT plates have a hard outside surface (or skin) and a "soft" inner core. Once the outer hard surface is lost through wear, the inner soft metal quickly disappears. This results in the need for frequent replacement.
Another limitation of QT Plate is the difficulty of shaping. As the steel is hardened through quench and tempering, it is difficult to form the plate into shapes for various applications without experiencing breaking and cracking.
AR Plate (Abrasion Resistant Plate)
The increase in wear resistance of AR Plate is suited to moderate impact and wear applications. However, it generally does not perform well in situations of extreme impact and wear.
Cast White Iron
These castings have increased wear resistance over AR plate. CWI is limited in that components can only be produced through casting, which generally presents an expensive and limited option. Also, the increased alloy content means these products are unable to be welded in place.
Cast Ceramics
Cast ceramics provide excellent abrasion and heat resistance, but are limited in applications involving moderate to heavy impact. They are also limited in terms of installation as they cannot be welded and are generally secured using special adhesives.
Cladded Wear Plate (Chromium Carbide Overlay Plate)
Cladded Wear Plate is manufactured through a process that essentially layers high chromium white iron onto a steel base plate. This creates a wear plate with a high wear resistant surface with a formable base plate that can be welded into position.
By using multiple weld passes (or layers), the thickness of the white iron cladding can be built up to ten times that of the first pass. With each pass, the process results in the surface becoming brittle and susceptible to spalling or break-up.
Some cladded wear plate can contain flaws, like an unevenness of the cladded overlay, or worst still, cracks between the welds.
Plate distortion and severe cracking is common in some manufactured plate due to the intense heating and cooling that the plate is exposed to during the welding process. This is detrimental to the plate used in high-impact environments, as it will inevitably lead to the overlay either spalling or breaking apart. The process used to manufacture cladded wear plate results in an undulating plate surface. The lack of a smooth finished surface results in increased friction from material turbulence and clogging due to material hang-up.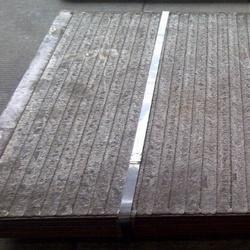 Fused Alloy Steel Plate (Arcoplate)
Unlike cladded wear plate, fused alloy steel plate is manufactured using a single-pass process that produces a uniform alloy layer and a strong fusion to the steel base. This eliminates problems such as spalling and cracking commonly experienced in cladded wear plate. By using a single pass process, intense heating and cooling loads are minimized, eliminating plate distortion and severe finite cracking. This patented process results in a fused alloy steel that is far more receptive to bending and rolling due to its dense matrix structure.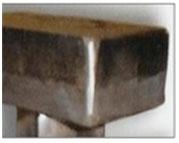 Valuations
At $1.3/share, the market cap is $22.6mm. However, once excess cash and debt has been accounted for, the enterprise value is only $8.8mm.
P/B = .89 (Cash is 55% of book value).
EV/2014EBIT = 2.
Assuming sales decrease (due to lower commodity prices) to $20mm and EBIT margin shrink to 8.4% of sales ($1.1mm), EV/EBIT = 8.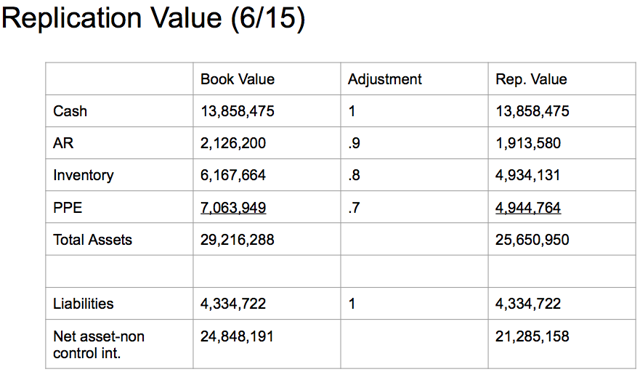 Risks
Exposure to declining commodity prices. Sales likely to decrease until commodities market turns around.
Competitive advantage may be elusive and not durable (high ROE may not be sustainable).
Management misappropriating cash (see below).
From my research, I believe that management has used shareholder cash to fund personal expenses. For example, Alloy Steel is a sponsor of a race team (teamarcoplate.com). Brodie Kostecki, Gene's grandson, is the driver for the team. The race team's inventory include: (1) 3D simulator, (1) Renegade race hauler, (1) Semi-trailer truck, (1) sprint car and at least, (3) NASCARs (600HP engines).
Editor's Note: This article covers one or more microcap stocks. Please be aware of the risks associated with these stocks.
This article was written by
Analyst's Disclosure: I am/we are long AYSI. I wrote this article myself, and it expresses my own opinions. I am not receiving compensation for it (other than from Seeking Alpha). I have no business relationship with any company whose stock is mentioned in this article.
Seeking Alpha's Disclosure: Past performance is no guarantee of future results. No recommendation or advice is being given as to whether any investment is suitable for a particular investor. Any views or opinions expressed above may not reflect those of Seeking Alpha as a whole. Seeking Alpha is not a licensed securities dealer, broker or US investment adviser or investment bank. Our analysts are third party authors that include both professional investors and individual investors who may not be licensed or certified by any institute or regulatory body.