Summary: Gentex (NASDAQ:GNTX) is the inventor of auto-dimming rearview mirrors and is the dominant manufacturer with a 90% market share. The company maintains the highest margin in the auto-parts industry because of its technology, manufacturing process, and patents. Gentex generated stable free cash flow with limited maintenance capex requirements. Significant growth potential still exists, as the global penetration rate of auto-dimming mirrors is increasing from the current 27% level. Gentex's 14% revenue exposure to Volkswagen (OTCPK:VLKAY) caused Gentex's stock to decline recently, but fundamental earnings power is still intact. Current valuation of 2014 P/E at 15x underestimates the company's strong competitive advantage and growth potential.
Investment Thesis
Dominant player with the highest margin in the auto-parts industry
Gentex's gross margin of ~38% in the past 25 years is among the highest in the auto-parts industry. Gentex won its battle with its only competitor, Donnelly, using its unique manufacturing process, which resulted in better quality and reliability and a patent lawsuit. Even after Donnelly was acquired in 2003 by Magna (NYSE:MGA), which is much larger in size, Gentex continued to gain market share. Its strong competitive advantage is also supported by a completely non-unionized labor force, lack of pension liabilities, and a unique incentive plan that gives 90% of the stock options to non-executive employees and requires executives to hold the company's stock in an amount that is 3x their annual salaries.
Growth potential still significant as technology penetration increases
Despite volatile vehicle sales in the past decade, Gentex's revenue has continued to grow, as the global penetration of auto-dimming rearview mirrors increased from 16% to 27%. The trend continued to accelerate from interior to exterior mirrors and from the U.S. to the global markets. In addition, Gentex was able to expand its auto-dimming technology into the aerospace sector with annual sales growth of +50% in the past three years due to putting its mirrors on the Boeing 787. The increase of penetration of auto-dimming technology in the automotive industry alone is likely to provide the company with +10% annual revenue growth in the next five years.
Efficient capital allocation record
Almost all of Gentex's growth in the past was funded internally, and the company has always maintained a net cash position since its IPO. It generated fast-growing FCF with limited maintenance capex needed. Investments in the past decade from R&D, growth capex, and acquisitions constantly generated above 15% ROIC. The company has a growing dividend with a current yield of 2.2%. It only conducts buybacks occasionally when a price decline presented the company's stock as an attractive investment.
Company Overview
Gentex is an auto-parts manufacturer in Zeeland MI. Its core technology is the auto-dimming mirror that it invented in 1982. Since then, it has built several businesses around this technology. The company started with rearview mirrors for vehicles and dominated the market with a 90% share. In 2010, the company entered the aerospace business by putting the auto-dimming mirrors onto Boeing 787s. Gentex also built new features on the rearview mirrors like assisted driving, video display, and garage door control to better utilize the screen. Besides the main business, Gentex also manufactures fire alarm equipment. This is a high-margin business but only contributes 1% of Gentex's revenue.
Chart 1: Summary of core businesses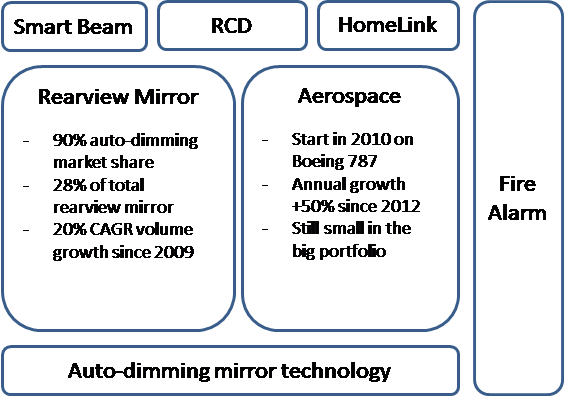 Source: Company data
Gentex has built the company to achieve an owner mindset throughout the company. There is no multi-layered reporting structure and every employee is empowered by several unique settings.
Management team: CEO/Chairman Mr. Fred Bauer (72) is the founder of the company and holds 3% of its shares. He maintains a low profile and mainly focuses on running the business in the long term. Although the company gives guidance on its annual performance, the CEO rarely talks to analysts or grants interviews. The management team has a strong track record of growing organically and good capital allocation.
Incentive plan: Gentex has a broad incentive plan to align the interest of employees with the shareholders. Compensation at the executive level is reasonable. Over 90% of the stock options are granted to non-executive-level employees with the grant-date market price as exercise price vesting over five to seven years. All executive-level officers are required to hold at least 3x their annual salaries in the company's stock.
Labor force: Unlike its peers in the industry, the workforce in Gentex is not unionized and there is no pension liability. Combined with the incentive plan, this structure has created an ownership mentality across the whole company and aligned the interests of the employees with those of the shareholders.
Competitive advantage
For the past 25 years, Gentex's gross margin level of around 38% has looked more like Apple's (NASDAQ:AAPL) than that of an auto-parts manufacturer. The consistently higher margin resulted from the long-term building of a competitive advantage around technology, process, and patents. The company invested heavily in R&D to maintain its leading position versus competitors, and it enjoys a much higher operating margin as well.

Advantage in quality and reliability
Since the invention of auto-dimming mirrors decades ago, Gentex has always had a strong hold on the automotive rearview mirror market. In the early-2000s, Donnelly, the only competitor, caused some troubles by imitating the product and gaining market share. In 2003, Donnelly was acquired by Magna, which has much larger resource than Gentex. However, it turns out that the product from Donnelly has serious reliability problems after several years of usage. Automakers gradually shifted back to using only Gentex's products. Even Magna was not able to resolve its problem despite its vast resources after the damage was done to its reputation. Gentex also protects its technology with around 500 U.S. patents. Moreover, its unique manufacturing process has contributed significantly to its lead in quality and reliability.

Because of its dominant market control in the fast-growing, auto-dimming rearview mirror market and high R&D rate, Gentex was able to maintain its technology and expend into other areas like aircraft mirrors. In the meantime, SG&A as a percentage of revenue constantly declined as volume grew, further expanding the operating margin.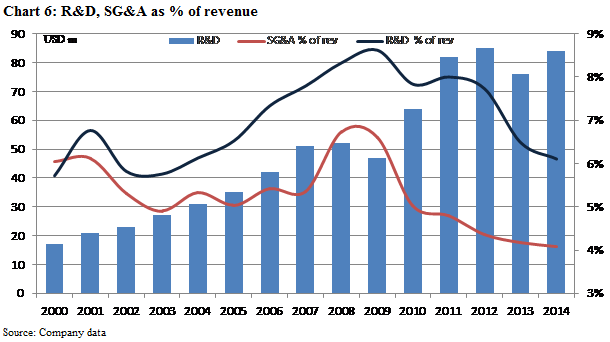 Growth potential
Despite the fast growth in the past 20 years, the penetration rate of auto-dimming technology is still at a relative low level on a global basis. Gentex will continue to enjoy the increasing adoption of its technology on both vehicles and aircraft.
Automotive rearview mirror
The market penetration started with interior mirrors in the U.S. and spread to exterior mirrors and the global markets. The global adoption rate is likely to continue to increase, providing strong support for Gentex's revenue growth regardless of the total vehicle sales, which can be volatile.

A new potential area for auto-dimming technology is the application of mirrors on aircraft. Gentex has started to provide auto-dimming mirrors for Boeing 787s and some high-end business planes. Although the revenue contribution is still small (~2%), this segment has been growing +50% for the past three years and presents a potential growth engine in the long term. Besides the new application of its technology, Gentex has also been adding new features to the existing mirrors. The recent acquisition of HomeLink is expected to provide some meaningful growth potential to the company.
Efficient capital allocation
Most of Gentex's growth was organic, enabling the company to maintain a net cash position since its IPO. Because of larger R&D expenses and capacity expansions from time to time, free cash flow was relatively volatile and distorted. To get a better picture of normalized FCF, several adjustments were made. R&D above the industry level (2%) and capex above D&A were categorized into growth investments with acquisitions. Working capital changes from 2010 were smoothed using the average.
Investment return: Gentex's business needs limited maintenance capex (5% of revenue) due to its dominant market share and advantages in technology. Accumulated growth investment in past 10 years reached USD1.4bn. As a result, annual normalized FCF increased around USD210m during this period, representing a ~15% return on investment. Moreover, as the company finished a capacity expansion in 2014, and so the actual return will be higher as the utilization rate increases over time.
Acquisition: The only major acquisition Gentex made was HomeLink from Johnson Controls (NYSE:JCI) in 2013 at USD700m, as JCI refocused its businesses on seats and buildings. The actual product has been integrated into Gentex's mirrors for over a decade so management was very familiar with the product. HomeLink's margin is higher than Gentex's and it will serve as an additional feature to improve the value proposition of the mirrors.
Dividend & buyback: Gentex has a growing dividend policy with a current yield of 2.2%. The company only uses buybacks occasionally when the price decline presents the stock as an attractive investment.
Valuation
The price of Gentex's stock has declined 22% from its peak in 2015, and the decline has accelerated in recent days due to the Volkswagen scandal. Despite having 14% of the revenue exposure to VW, the fundamental long-term earnings power and the competitive advantage of the company have not changed. Adjusting for volatile items, P/FCF is trading at 11.7x, which is close to the lower end of the historical level. On the reporting basis, Gentex is trading at a 2014 P/E of 15x. Considering its strong competitive advantages and dominant market share in a fast-growing industry, investors failed to appreciate its full potential due to short-term effects from VW.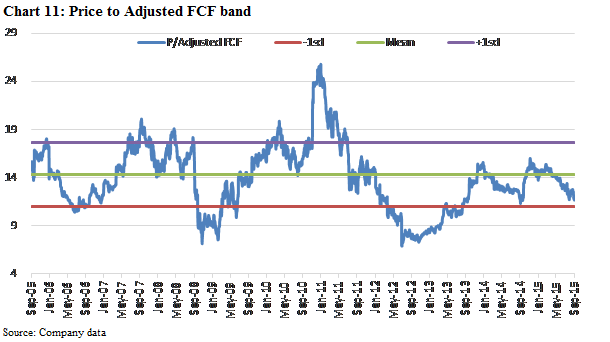 The following DCF was based on the assumption of a 2% CAGR in global vehicle production growth and a gradual increase of the auto-dimming penetration for the next five years (Interior: 27% to 33%; Exterior: 10% to 15%). The model also assumes a gradual decline of ASP and does not include significant expansion of the aircraft mirror business.
Table 1. Market implied valuation from DCF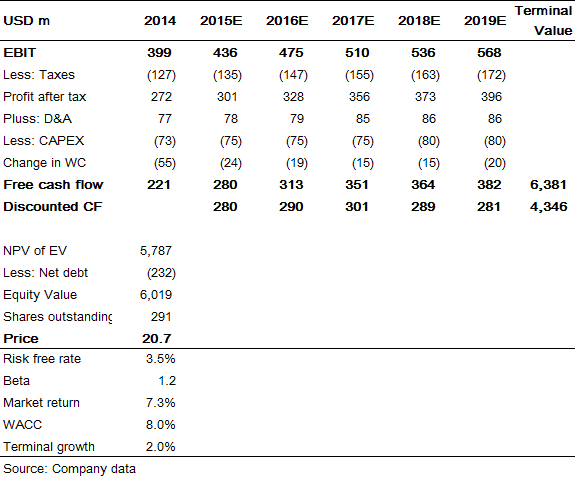 Disclosure: I/we have no positions in any stocks mentioned, and no plans to initiate any positions within the next 72 hours.
I wrote this article myself, and it expresses my own opinions. I am not receiving compensation for it. I have no business relationship with any company whose stock is mentioned in this article.