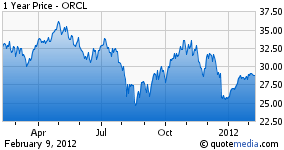 Oracle's (NYSE:ORCL) move to buy Taleo (NASDAQ:TLEO) for $46/share, an 18% premium over its $38.94 closing price yesterday, makes clear it's going to try and treat cloud just as it treated open source and, before that, its own ecosystem. Buy it. Teleo is a SaaS company in the human resources development space. It sells subscriptions to business solutions, making this deal similar to SAP's (NYSE:SAP) ongoing buy-out of SuccessFactors (NYSE:SFSF).
The idea, in this case, is to own the final destination of the cloud space, which is applications software delivered through cloud resources, and to slowly transition its own product line so it can be sold as cloud.
Smart investors will note that this increasingly puts Salesforce.com (NYSE:CRM) in Oracle's sights as a key competitor. Last year's feud with Salesforce CEO Marc Benioff over cloud was what the movie people call foreshadowing.
By owning solutions, and enterprise customers tied to those solutions, Oracle figures it can own the customers.
Sounds reasonable. Buy out their solutions, raise the prices. Oracle has been doing this for a decade. But SaaS isn't like open source, and it isn't like Oracle's ecosystem. SaaS has a much-lower barrier to entry, and much lower switching costs, than those other technologies. This makes it hard for Oracle to jack-up prices on Taleo, and makes it easier for customers to avoid the "Oracle Tax" that makes acquisitions pay off.
Oracle may find itself in a continual game of whack-a-mole, buying what's hot and innovative for a high price, but then finding it can't squeeze out profits because the innovators simply moved on.
Taleo's own corporate history shows that owning SaaS is a continual process of buying out others. Taleo has done four buy-outs of other companies in the last two years - Worldwide Compensation, Learn.com, Cytiva Software, then Jobpartners. The roll-up got rolled-up, and cashed out.
Oracle already has its succession plan in place with former HP CEO Mark Hurd. How long is Taleo CEO Michael Gregoire, who was previously part of PeopleSoft before Oracle bought it, going to hang around before he's off building yet-another SaaS company that takes share from Oracle? He's already half-way through his latest four-year employment contract.
Oracle's ongoing acquisition strategy, in other words, is one where margins are in a continual state of shrinkage. SaaS isn't open source, where you get code you control, and it is not dependent on Oracle hardware or standards. It's a business that's easy to get into, one with relatively low customer switching costs.
This is not a game that, in the long run, Oracle is going to win.
Disclosure: I have no positions in any stocks mentioned, and no plans to initiate any positions within the next 72 hours.