Trends have been changing for several industries over the past couple of quarters, due to sharp adjustments in market conditions. Commodities and oil & gas prices have been under massive pressure over the past couple of quarters, and they are now trading at historic lows. This, in turn, has put several industries under significant pressure. As a result, a number of dividend paying companies operating in the mining & minerals, E&P, drilling, and oilfield services industries have had to drastically slash their dividends.
Despite the challenging environment, some of the big names in the chemical industry continue to generate steady growth, combined with attractive returns for shareholders. However, it is important for defensive investors to pick the right stock at right time if they want to boost returns. In this article, I will present an attractive investment opportunity for defensive investors, which not only offers big dividends, but also has the potential to grow the initial investment.
Dow Chemical (NYSE:DOW) is one the biggest names in the chemical industry. The company has been successfully repelling market headwinds with wise strategies and strong management. It has been consistently managing and constantly shifting its portfolio towards high-margin businesses. Its strategies are now paying off and are likely to generate big profits over the coming days, while many other multinational companies are falling due to currency headwinds, troubles in China and declining oil prices.
The company's recent asset disposals have not only reduced excessive pressure on its financial performance, but have also enhanced its cash position. Dow's recent divestiture of its chlor-alkali and downstream derivatives businesses has significantly increased its cash position. Dow also recently divested its ANGUS Chemical Company and its sodium borohydride businesses, an action that has also enhanced its balance sheet. At the same time, the company is aggressively, but in a disciplined way, looking for high-margin opportunities that will allow it to make major profits at a very low cost.
Dow's management is now concentrating on the building & construction, electronics, performance material & performance plastic, coating and agricultural sciences businesses. With these strategies, the company has generated EPS, EBITDA and EBITDA margin expansion over the past 11 quarters. In the most recent quarter, Dow's earnings per share increased 23% to $0.91 on an operating basis, its operating EBITDA grew to $2.5 billion and the operating EBITDA margin expanded by 396 basis points. Dow's strategy of enhancing its margins has clearly offset the 13% decline in sales due to negative currency translations and lower oil prices.
Cash Position Is Increasing
As I said earlier, the company's cash-generating potential has been growing quarter by quarter as a result of its asset disposals and prudent investment strategies. In the trailing twelve months, it generated an operating cash flow of $7.2 billion, while its capital requirements were around $3.9 billion. After those capital investments, the company is still left with a massive free cash flow of $3.2 billion, which represents the strength of its businesses and strategies. Its dividends are not only safe, but the company's free cash flow is providing room for further increases.
In the past twelve months, Dow's dividend payments have stood at around $1.8 billion, which are very low compared to its free cash flow of $3.2 billion, representing a huge gap between free cash flow and dividend payments. Therefore, we know that the company is also aggressively reducing its outstanding shares. Furthermore, with the latest separation from the chlor-alkali and downstream derivatives businesses, its cash situation will only expand further, and the company will be able to use this cash for buying back additional outstanding shares. In the latest earnings call, Dow indicated that it is going to retire more than $2 billion of its stock by using cash from the chlor-alkali and downstream derivatives businesses.
Initial investment is likely to grow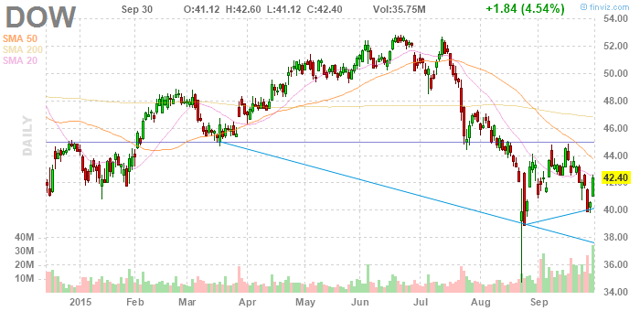 Dow's share price has gained momentum due to the positive impacts of its business strategies, but its stock price has plunged significantly since the start of the third quarter. I strongly believe that the company's share price tumbled purely because of investors' negative sentiments about the stock market as a whole, since during the past three months, we have witnessed a sharp decline in the prices of oil, metal and minerals, a devaluation of currencies, and a sluggish economic environment.
I am not seeing anything materially wrong with Dow's business model, nor with its business fundamentals. Therefore, I view the existing dip in its share price as a buying opportunity. With double-digit growth in earnings and the significant drop in its share price, Dow's stock is now trading at around only 12 times its earnings, while the industry average is about 14.5 times.
Bottomed out
Dow is a well-established corporation with extensive market penetration. Thanks to its recent asset disposals, the company has maintained a portfolio of high-margin assets. The company has the potential to generate double-digit growth in earnings. Moreover, its recent divestitures have increased its cash position significantly. Furthermore, its high-dividend yield, a very strong revenue base and the focus on stock buybacks makes it all the more interesting for defensive investors. The stock is trading at a significant discount, with strong upside potential.
Disclosure: I/we have no positions in any stocks mentioned, and no plans to initiate any positions within the next 72 hours.
I wrote this article myself, and it expresses my own opinions. I am not receiving compensation for it (other than from Seeking Alpha). I have no business relationship with any company whose stock is mentioned in this article.