Timing
As we all know at the moment many U.S. publicly listed Chinese companies have been privatizing. This report is to help traders and investors capitalize on this rare opportunity more efficiently.
First of all, to explain my idea and analysis better, I want to define an indicator called 'Investor Confidence Level' for privatization:
Investor Confidence Level for Privatization (ICL) = Closing Price on a specified date / Privatization Price
ICL shows how sure the investors are regarding the 'go-private' deal.
For example, on December 18, 2012, Chinese media company Focus Media (NASDAQ:FMCN) announced that it has finally entered into a definitive merger agreement. The closing price on that day was 25.25, and we know the privatization price offered for FMCN is 27.5 by the consortium. To calculate ICL, we divide the closing price of 25.25 by the privatization price of 27.5, leading to an ICL of 91.8%. This means, after Focus Media announced that it made a definitive merger agreement, investors were 91.8% sure that FMCN's privatization can be a success at the end.
Big Picture
Based on the company's press release, there are 6 main stages throughout a company's privatization. Basically, the pattern is that once a new stage has been reached, the ICL will increase by a great chance, which virtually means stock price will go up. When a company gets to the final stage (announcement of completion of the merger), the ICL mostly will be 100%. Let's check out three examples which have already done the mergers.

Chart made by author. All information is from company's investor relations.

Chart made by author. All information is from company's investor relations.

Chart made by author. All information is from company's investor relations.
In above 3 charts, we would be able to find out the ICL values at each stage, and how long it took from stage one. The recently delisted company, China Mobile Game Entertainment (NASDAQ:CMGE), finished the whole process in only 84 days. As soon as CMGE received privatization proposal, the ICL immediately went up to 95.6%. That means investors for CMGE were extremely confident about its privatization, and this also means we would have little profit in this case because it lacked uncertainty: roughly 4% return in 84 days, if we did it perfectly.
Focus media (FMCN) and Perfect Word (NASDAQ:PWRD) obviously had spent much longer time than CMGE.
How does a definitive merger agreement affect the stock price?
We all have a general idea that a stock will go up if the company announces that it finally made a definitive merger agreement, and the probability of merger completion increases significantly because of that. But how does the stock price actually go? Let's have a look.
I did research on 5 stocks, all of which have already made definitive merger agreements recently. They all made agreements in 2015, except FMCN, which finished in 2012. To evaluate the effect of a definitive agreement, I took two values: the closing price from one day before the announcement day, and the closing price on the announcement day.

Table made by author. All information is SEC fillings and Yahoo Finance
As can be seen, 4 out of 5 stocks went up. The average change was 2.6%. Only one stock went down, which is Sungy Mobile (NASDAQ:GOMO). Three stocks soared more than 5%. Generally speaking, the announcement of reaching a definitive merger agreement indeed has a positive effect on the underlying stock's price.
This following chart illustrates the duration from the day of receiving the privatization proposal to the day of entering into a definitive agreement for each company.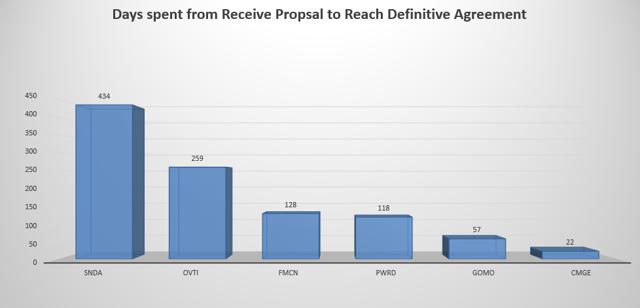 Chart made by author. All information is from SEC fillings and Yahoo Finance
As we can tell from the chart, CMGE spent only 22 days to make a definitive agreement, which could be the fastest in a Chinese company's privatization history. In contrast, SNDA, the Shanghai-based game company, spent 434 days to get a definitive agreement signed.
One more thing to notice, FMCN and PWRD spent almost the same amount of days (128 and 118 days, respectively). And they both had a same backer: Fosun, a leading investment group in China. I will take further analysis later.
Is Now a Good time to Open a Position?
Is now a good time to take advantage of Chinese companies' mergers? After reading the above sections, you may have more knowledge on how long it would take at each stage of a privatization life. Now we need to know when does all this begin.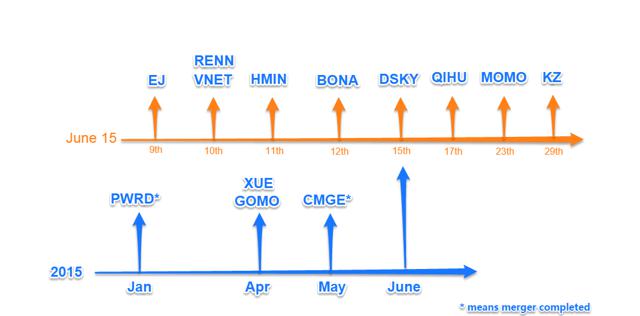 Chart made by author. All information is from SEC fillings and Yahoo! Finance
The above chart shows, in 2015, on what date companies received their non-binding go-private proposals. It doesn't cover all of the privatizing Chinese companies, but the most.
As we can see in the chart, 2 companies have already completed a merger: PWRD and CMGE. They all got the proposals before June. GOMO made a definitive agreement in June. It received a proposal 2 months earlier in April 2015.
Most importantly, most of the companies received a proposal in June, which means in a normal condition they will be able to reach the next stage very soon if they still want the merger. As of September 29, 2015, it's been 92 days for Kongzhong (NASDAQ:KZ) (latest in June), and it's been 112 days for e-House (NYSE:EJ) (earliest in June). Based on the historical record, 100 days is a pressure point: the financial advisor and legal counsel should have finished their main work by this point, and this is management and special committee's call to decide whether to make a definitive agreement.
In past cases, FMCN and PWRD reached definitive agreements in 128 and 118 days after they received proposals. If everything goes well, some of the companies should announce that they reached definitive agreements in the very near future.
Completion Date
Some analysts expect companies to close the deal by January or February 2016. Most recent rumor says Momo's (NASDAQ:MOMO) privatization plan was revealed: Merger will be completed by February 2016.
I have no idea if the rumor is true. I just want to say that, in terms of timing, it makes sense. For example, MOMO received its offer on June 23, 2015; let's assume the deal will close on February 1, 2016. The total duration is 224 days, which I believe is very reasonable. Historically, PWRD finished its merger in July with a 207-day 'go-private' deal.
As I said, the reasonable time for a whole privatization process is about 200-300 days. I'm sure we will be able to see lots of companies close deals by the end of next year, especially the first half of next year.
Size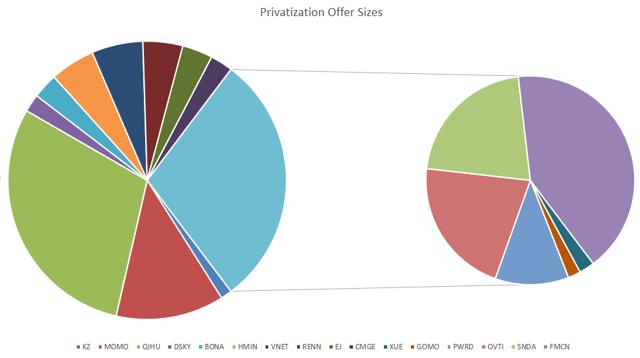 Chart made by author. All information is SEC fillings and Yahoo Finance
The above chart shows companies privatization offer sizes (including completed mergers). We can clearly see Qihu360 (NYSE:QIHU) is the biggest one in size. The biggest company that completed merger is FMCN, with the offer size of $3.7 billion. In the most cases, privatization with bigger offer size should take longer to close the deal than the ones with smaller size. Let's take a look at historical examples:

Table made by author. All information is SEC fillings and Yahoo Finance
In above chart, all 3 companies had completed their privatization. CMGE and PWRD just finished months ago and FMCN was done in 2013.
We can clearly see that for these companies, duration's been longer when the offer size is bigger. Accordingly, it's reasonable to believe the company with huge offer size like QIHU may take more time to close deal than the company with a smaller offer.
Buyers
At the moment, two big buyers are involving Chinese companies' privatization business: Sequoia and Fosun, two leading investment groups in China.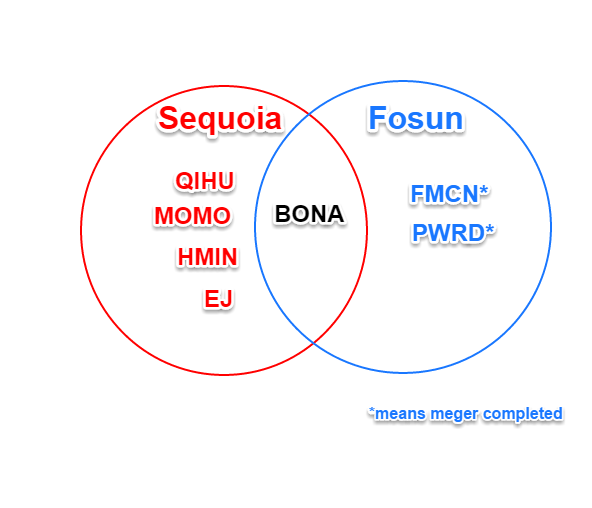 Chart made by author. All information is SEC fillings and Yahoo Finance
From above chart, we could see the companies backed by Sequoia and Fosun: QIHU, MOMO, HMIN (NASDAQ:HMIN), and EJ have been backed by Sequoia; FMCN and PWRD had completed the merger with the help of Fosun; while Bona (NASDAQ:BONA), the leading film distributor in China, gained support from both of them.
In terms of privatization, Fosun has a great record - It helped FMCN and PWRD complete mergers in May 2013 and July 2015, respectively. Both of them were privatized at almost the same pace. FMCN took a little longer time, because it simply needed much more funds for buyout than PWRD did (FMCN: $3.7 billion, PWRD: $1 billion).
We may suppose that Bona will have more chance than others to finish off the merger just because it's been backed by two heavyweight backers at the moment.
Story of Valuation
I want to give a simple example here to explain a bit more on motivation of Chinese companies' privatization. The following chart shows the possible IPO roadmap for QIHU after the merger.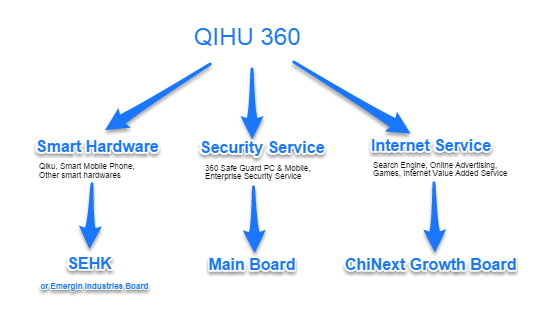 Chart made by author.
Let's assume QIHU has completed its merger and wants to launch an IPO back in China. It seems to me that breaking the company up and going for an IPO separately for higher valuation on different board might be the smartest way to gain maximum profit for investors.
At the moment, the P/E ratio for QIHU is 23.3 (trailing twelve months). In the meanwhile, Information supplier LeTV's enjoying a ratio of 163 in ChiNext; Cyber security company Nsfocus has a TTM P/E ratio of 87 in ChiNext; Venustech, an information security service supplier, is having 93 as the ratio in the main board (ShenZhen). Tencent (OTCPK:TCEHY) holding also has been enjoying a ratio of 40 at the moment in SEHK.
The huge valuation difference strengthens QIHU's motivation of getting back to China. Management also claimed many times that they think the stock price has been undervalued.
In term of valuation, if the gap remains this way, I strongly believe privatization of QIHU will be a success. But they may possibly cut down the purchasing price, considering the current high premium and massive offer size, and the whole process would be relatively longer than other companies.
Conclusion
To sum up, if you want to take advantage of Chinese companies' privatization, as far as I'm concerned, the potential trade opportunities could be listed as follows:
Buyers: If you like reliable and solid consortium, I strongly suggest you trade companies that are backed by Sequoia or Fosun: QIHU, MOMO, HMIN, EJ, and BONA. A strong backer definitely increases the chance of a successful privatization.
Timing: As of October 1, 2015, most companies have already spent more than 100 days in privatization. Historically speaking, as I said earlier, if everything goes well most of companies will announce that they made definitive agreements in the very near future. Duration of companies from receiving proposals to October 1, 2015: QIHU (106 days), MOMO (100 days), HMIN (112 days), EJ (114 days), BONA (111 days)
Patience: Since there is a huge gap in valuation between the U.S. market and Chinese Market, the companies with strong motivation backing to China like QIHU, will definitely take more time than other relatively small companies because of its massive offer size. The whole process will probably take more than 300 days in total. If you're patient enough, you could open a position at a comfortably low price and hold. The reward would be considerable given the current huge premium.
Disclosure: I am/we are long QIHU, BONA, KZ, DSKY. I wrote this article myself, and it expresses my own opinions. I am not receiving compensation for it (other than from Seeking Alpha). I have no business relationship with any company whose stock is mentioned in this article.