1.0. EXECUTIVE SUMMARY
A Special Purpose Acquisition Corporation (SPAC) is a publicly traded shell corporation (with no operating business) that is created to raise a minimum of $30 million, with the sole purpose to acquire an operating business.
The Toronto Stock Exchange (TSX) adopted rules to govern SPACs in Dec 2008. However, some practical concerns and the rigid nature of these rules made it less attractive for managers, financiers or institutions to sponsor SPACs. As a result, until April of this year, there was not a single listed SPAC in Canada. This spring, the Ontario Securities Commission (OSC) and Toronto Stock Exchange permitted 64 SPAC rule exemptions2, giving the SPAC market a reboot. Once the blueprint for SPAC 2.0 was finalized (with the 64 rule exemptions), four SPACs completed their IPOs in the TSX, raising more than $1 billion in combined equity.
The sheer volume of equity raised in such a short time (six months) has intrigued many investors and managers, and raises the question of how this market evolved, where this market could be headed, and who should invest in it. The answer to this and many other questions require a deeper understanding of SPACs, similar investment vehicles in Canada, track record of SPACs in the U.S., optimism around Canadian SPACs and the reasons for its rapid growth.
2.0. UNDERSTANDING THE SPAC
A SPAC's construct and design are different from other public vehicles. Before diving deeper into SPACs, it's helpful to understand the various stakeholders and its basic structure.
Each SPAC has 3 major stakeholders
The founders (or sponsors) who create the SPAC by investing their capital and working with the OSC & TSX to list the SPAC through an IPO;
The SPAC's board and management team (some of the founders sit on the board as well), who are tasked with

finding a suitable acquisition for the SPAC;

The investors, who invest their capital (in the SPAC) through the IPO.
These stakeholders come together to form a SPAC that is governed by a number of TSX rules. Of these, 3 fundamental rules form the core of the SPAC:
At least 90% of the proceeds from the SPAC's IPO need to be escrowed (Escrowed Funds) and used solely to acquire an operating business,
The acquisition must be approved by a majority of the directors and majority of the shareholders. If a shareholder (other than founders) votes against the acquisition, he/she has the right to exchange their SPAC shares into cash on a pro rata basis,
SPACs must acquire an operating business within a defined time frame (upto a maximum of 36 months), failing which shareholders have the right to receive their pro rata share of the Escrowed Funds.
These rules are designed to protect investors. For instance, the escrow arrangement ensures that most of the capital raised at IPO is set aside for acquiring an operating business, and not spent by management. Similarly, by giving investors the option to cash-out of the SPAC (if they vote against the acquisition), the OSC and TSX incentivize the SPAC's board & management to identify sound acquisition targets.
3.0. THE REVERSE TAKE OVER (RTO) PROCESS
The sole purpose of the SPAC is to acquire a good private target that wants to be public. This begs the question of why the acquisition target would want to be acquired by a SPAC. From the perspective of an acquisition target, SPACs are an alternative to Initial Public Offering (IPO).
A private company's motivation to pursue a transaction with a SPAC is the same as that of pursuing an IPO - access to public capital and going public (i.e.) trade in a public stock exchange. In an IPO, the private company applies to go public with the regulators, and raises public capital as it completes the IPO. Alternatively, the private company can become public by combining with a publicly traded shell company, such as a SPAC, that has already raised capital.
The process by which the private company (acquisition target or 'target') combines with the SPAC is called the Reverse Take-Over (RTO). In a normal takeover, when a larger company acquires a smaller target, the larger company issues shares to the smaller target. At the end of the process, the smaller target's shareholders end up with shares of the larger company, and the larger company's shareholders end up with a majority control of the combined entity.
In a Reverse Take-Over, the process is reversed. Rather than the larger company issuing shares, the smaller public company (such as a SPAC) issues shares to acquire the larger company (private target). At the end of the process, the larger target's shareholders end up with shares of the smaller public company, but a majority position in the combined entity.
Compared to an IPO, a RTO transaction (with a SPAC) enables the target to go public in a much shorter time-frame and with fewer resources. For this benefit, the target usually pays a premium to the shareholders of the SPAC.
Even though, SPACs are new to Canada, the RTO process is a familiar and tested process in the Canadian public markets. Similar investment vehicles have been successfully using the RTO process for many years.
4.0. SPAC-LIKE INVESTMENT VEHICLES
The simplified version of a SPAC's mandate is to acquire an operating business with the capital on its balance sheet. This mandate is on the same lines as that of a Capital Pool Corporation (CPC), which is also a Canadian, publicly listed shell company.
Table 4.1. Difference between CPCs and SPACs
| | | |
| --- | --- | --- |
| Parameters | CPC | SPAC |
| Listed on | TSX-V | TSX |
| Min. capital raised | $0.3 million | $30.0 million |
| Max capital raised | $5.0 million | No limit |
| Min. IPO capital held in escrow | N.A | 90% |
| Min. founders/pre-IPO share price | 50% of IPO share price | N.A |
| Min. IPO share price | $0.10 | $2.00 |
| Dissenting shareholders' rights in a Qualifying Transaction (QT) | N.A | Dissenting shareholders can liquidate their shares |
| Not completed a QT within the time frame | CPC transferred to junior exchange | SPAC Liquidated |
In fact, both investment vehicles follow the RTO process to acquire a larger private company, which wants to be public. Despite sharing the same fundamental process, CPCs and SPACs are different in many ways, as illustrated in the table below (Table 4.1).
The difference between CPCs and SPACs stem right from the size, to the level of investor protection and governing rules. SPACs are better in most of these parameters. On one parameter, CPCs slightly edge out SPACs - pricing of the seed (or pre-IPO) financing round. In a CPC, the pre-IPO financing has to be raised at 50% of the IPO share price. There are no such restrictions for a SPAC. In fact, the average cost base for founders in recent Canadian SPACs is close to $1.503, when SPACs go public at $10.00. In absolute terms, SPAC founders have more capital at risk than CPC founders. However, if a CPC fails to complete an acquisition, the investors lose their capital along with the founders. In case where a SPAC fails to complete an acquisition, the investors do not lose much (or any) of their investments; but the founders lose almost all of their seed investment. From a founder's returns perspective, if an acquisition is completed the founder's investment/share could move from approximately $1.50 to upto $10.00; but if an acquisition is not completed within 36 months, their investment/share would go from approximately $1.50 to zero (or close to zero). This all-or-nothing monetary structure for founders could lead to a potential conflict of interest as the SPAC gets closer to its stipulated time horizon (upto 36 months), forcing founders to find an acquisition that may not be in the best interest of the investors.
5.0. SPACs IN USA
There is an active market for SPACs in the U.S. Since 2003, 228 SPACs have completed their IPO, raising a combined $29 billion. On these SPACs: 127 have completed an acquisition, 3 have announced an acquisition, 76 were liquidated, and 22 are still looking for an acquisition4 (Figure 5.1).
Figure 5.1. Summary of SPACs in USA- Since 2003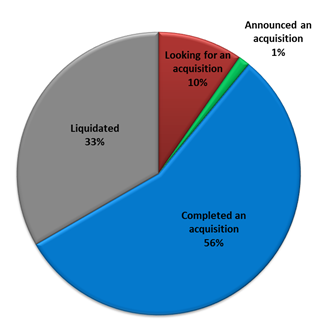 Based on these data, roughly, 1 in 3 U.S. SPACs was unable to complete an acquisition. These stats seem a little surprising, especially, given the number of companies that go public in the U.S.
More notable is the return profile for U.S. SPACs that have completed an acquisition. The 127 SPACs that have completed an acquisition has a median annualized return of -12.1 %. If you are looking for a benchmark for comparison - the Russell 2000's annualized return over the same period is 6.4%. The uninspiring stats does not seem to have dampened the mood for SPACs both in the U.S. and Canada. Recently, TPG Capital created a US$400 Million SPAC called Pace Holdings. Including TPG, 12 SPACs have completed their IPO this year, raising US$1.7 billion in equity.
6.0. SPACs IN CANADA
Four SPACs have completed their IPO in the last 6 months, raising a combined $1 billion (without including seed investment by founders). Recently, 2 more SPAC has filed its preliminary prospectus with the TSX (Table 6.1). The last 3 SPACs overshot their initial fund raising targets, proving the growing appetite for SPACs in this market.
Aside from the size of the capital raised and the size of the expected Enterprise Value (EV) of the targets, there is not much difference from one SPAC to another. Among the similarities, one aspect seems to define the SPAC market - all SPACs have a stellar board and advisory team. With some of the most familiar Bay Street veterans lending their credibility, markets will view SPACs with greater confidence.
Table 6.1. Canadian SPACs
| | | | | |
| --- | --- | --- | --- | --- |
| SPAC | Ticker | Initial Capital Raising Target | Actual Capital Raised | Expected EV of the Target |
| Dundee Acquisition Ltd | DAQ | $100.0 MM | $112.3 MM | $200 MM to $800 MM |
| INFOR Acquisition Corp | IAC | $200.0 MM | $230.0 MM | Up to $1,000 MM |
| Alignvest Acquisition Corp. | AQX | $125.0 MM | $258.7 MM | $250 MM to $1,250 MM |
| Acasta Enterprises Inc | AEF | $275.0 MM | $402.5 MM | $1,000 MM to 2,000 MM |
| Gibraltar Growth Corp | | $100.0 MM | | Up to $750 MM |
| Avingstone Acquisition Corp | | $110.0 MM | | $250 MM to $500 MM |
7.0. MACRO DRIVERS - FACTORS ENABLING THE MARKET
The TSX's rule exemption was the key trigger to spawn the growth of Canadian SPACs. At the same time, a couple of macro factors had already set the stage for SPACs' success.
7.1. Drop in IPO financing volume5: the financing activity in the TSX can be broadly divided into initial public offerings , public offering and private placements. In the first half (H1) of 2015, IPO financing accounted for 7.7% of the total TSX financing volume, making it the lowest level in the recent past (last 3 years) . These low stats are despite 3 SPACs raising $555 million in the first half of 2015. If the SPAC financing volumes are backed out, the H1-2015 IPO financing accounted for only 6.3% of total TSX financing volume (Figure 7.1).
Figure 7.1. Jan - June: IPO financing as a % of total TSX financing (excluding SPACs)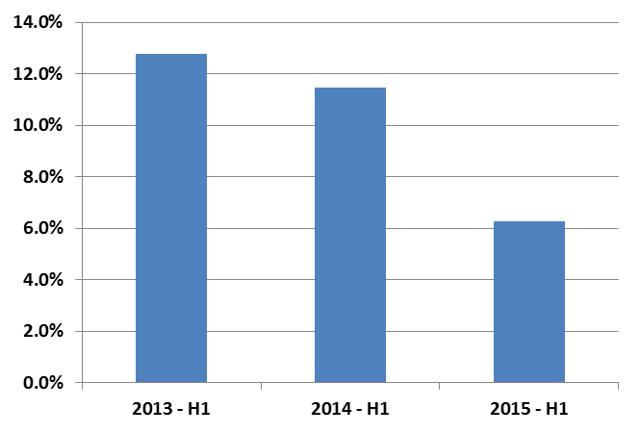 This drop in '% of IPO financing' could be due to a drop in IPO financing, a spike in total capital financing, or a function of both. Let's take a closer look at both IPO financing volume and total financing volume.
The capital raised at IPO experienced a slight dip in H1-2015 (compared to last year), touching $2.8 billion. This figure also includes the capital raised by SPACs. 3 SPACs (out of 55 IPOs) raising a massive $555 million in H1-2015 appear to skew the overall figures. Moreover, as there were no SPACs before 2015, excluding them would enable us to study the trend in IPO volume, without the influence of SPACs. After excluding these 3 SPACs, the capital raised at IPOs in H1-2015 would drop further to $2.2 billion, which is the lowest in the last 3 years (Figure 7.2).
On the other hand, public offering and private placements volumes on the TSX surged in H1-2015, pushing the overall capital raised to hit a high note in H1-2015 (Figure 7.3). The $36.8 billion (and $36.3 billion excluding SPACs) raised in H1-2015 is significant because on an annualized basis, 2015 could become a record year for capital raising.
Figure 7.2. Jan - June: Capital Raised at IPO (excluding SPACs) in Millions
Figure 7.3. Jan - June: Total Capital Raised (excluding SPACs) in Millions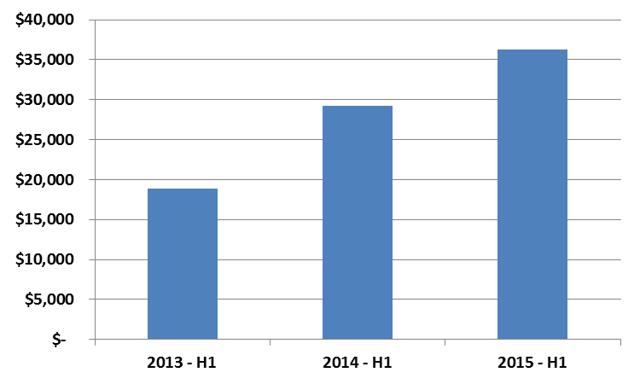 This contrast (i.e. drop in IPO financing versus an increase in overall capital raising) might explain some of SPACs' success. In H1-2015, there probably were not enough companies that went public. This is evident from a drop in IPO financing (excluding SPACs) in absolute terms, and as a % of overall financing. In spite of this, investors invested heavily in the TSX - this is backed by the near record 'total capital raised' in H1-2015. Putting these together, it appears that investors are investing heavily in the TSX market that has a shortage of IPOs. In other words, if there were more IPOs, the market appears to have the capacity to finance them. When the much needed extra IPOs came in the form of SPACs, the market greeted them with a loud applause. We believe the current shortage of IPOs was one of the reasons SPACs managed to raise $1 billion within 6 months.
7.2. Low inflation and low interest rate environment, coupled with volatile markets: With the U.S. Fed's QE program, there is a general apprehension that the U.S. stock markets could be overvalued. This has fueled concerns of a spillover effect in Canada if a correction were to happen in the U.S. On the other side of the equation, a low inflation and low interest rate environment (the current Canadian 10 year bond rate is 1.45%6) could have made some investors indifferent between holding cash or investing in near zero rate assets. In this unique state of the financial market, SPACs pitched to offer the ideal solution (whether it truly is ideal is a separate discussion!), by offering to hold investors' excess cash and giving them an option to make an investment decision at a later date. Both these offerings have specific advantages. First, most of investor's cash are held in Escrowed Funds (until the acquisition), which does not carry any investment risk. Second, SPACs offer an embedded optionality vs. other investment vehicles; and this put option has some value.
Looking at this from an investor's lens, the investors could park their excess cash in a SPAC, until the SPAC identifies an acquisition target. If investors like the acquisition, they can put their capital to use (by exercising their option and voting 'yes' to the acquisition). But if they are opposed to the deal, they can cash-out of the SPAC and find a suitable investment at that point in time. Going by the success of SPACs, this proposition must have struck a chord with a number of investors.
8.0. WHERE IS THE CANADIAN SPAC MARKET HEADED?
All of the factors discussed in previous sections influence some aspects of where the Canadian SPAC market could be headed.
8.1. Market Performance: Let's start with the unattractive performance of U.S. SPACs. The stats from south of the border might provide some indications about market direction, but sometimes it's critical to qualify them based on the underlying fundamentals in Canada.
The Canadian SPAC market is a little different from the U.S.'s. First, Canada has an extremely well developed CPC ecosystem with lawyers, bankers, investors and regulators, who are highly familiar with the Reverse Take-Over (RTO) process. As the RTO process is the basis for a SPAC acquiring a target, Canada's familiarity with the process could make SPACs more welcome than in the U.S. Second, as described earlier in the report, there seems to be a market demand for more IPO financing. As long as these fundamentals are in play, the SPAC market will have less to worry about. Third, the RTO process in Canada is, relatively, less time consuming and less expensive. Based on a TSX report, it could take about 3 months for a SPAC to complete an acquisition in Canada vs 6 months in the U.S. Fourth, the current list of SPACs have the "who's who" of Bay Street as founders/board members. This will instill a lot of confidence in the market and in the companies that are planning to take this route.
Given the above advantages, the Canadian market is bound to have better acceptance, working knowledge and execution related to SPACs; all of which should positively impact SPACs' performance. Based on the above analysis, the SPAC market appears to have the potential to do better than its counterparts in the U.S.
8.2. Number of SPACs: If a SPAC completes an acquisition, the SPAC founders should make a handsome return (at least 4x). However, if a SPAC is liquidated, the founders could lose almost all of their capital. Even assuming a 67% probability of closing an acquisition (based on U.S. stats), the founder's return profile seems to be in tilted in their favor. This upside is bound to attract more founders, creating newer SPACs and increasing the number of SPACs in the TSX.
8.3. Average size of SPACs: From the perspective of an acquisition target, SPACs are an alternative to IPOs, which are influenced by the scale of financing activities for new issuers and the size of that market. Consequently, the average size of a SPAC must also be influenced by the same factors. Although the structural benefits and market acceptance in Canada could have a greater impact on the performance of the SPAC (as described in Section 8.1), it is less likely to have an influence on the average size of a SPAC. In other words, a relatively better acceptance of the SPAC market could lead to a relatively better performance in the market, but the size of an average initial transaction in a market will tend to limit the average size of SPACs, in the long run.
The average size of a U.S. SPAC is ~ $150 million, over the last 3 years. In 2011, this market hit its peak with an average SPAC size of $226 million7. Based on the 4 listed SPACs, the average size of a Canadian SPAC is $250 million, which is greater than the highest level ever in the U.S (Figure 8.1). As the U.S. market is much bigger (in terms of market capitalization, capital raised, number of IPOs, and average trading volumes), it is challenging for a relatively smaller Canadian market to have a disproportionately higher average SPAC size in the long run. In the future, we expect the newer SPACs to be smaller than the current average SPAC size of $250 million, pushing the overall SPAC average lower than its current levels.
Figure 8.1. Average size of US and Canadian SPACs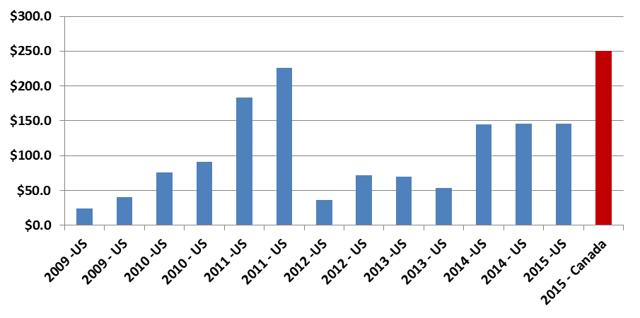 9.0. INVESTING IN SPACs
Like most investment opportunities, SPACs have their benefits and shortcomings, making it suitable for select investors. Investors, who don't fit the shape & form, or worse have misunderstood the shape & form, are likely to be disappointed.
In our opinion, investors who fit the form are those who might want to park their excess cash in a low-risk entity, in the short-term, and want the optionality to invest the capital in the future (or withdraw their capital). For such investors, SPACs are a good investment option. They should still be cognizant of the potential conflict of interest that the founders might have - to complete an acquisition before the SPAC's expiry date (explained in Section 4.0).
Investors who may not fit the form are those who expect outsized returns from their SPAC investment. We do expect the Canadian market to do better than U.S. markets. But with U.S. SPACs having a median annualized return of -12% (over the last 12 years), beating it may not be much of a challenge, nor provide much of a median return. Needless to say, there will always be a SPAC that shoots through the roof. But exceptions are less likely to drive a market.
Investors who have misunderstand this space, such as those who view SPAC investment as Private Equity investments or hope to achieve diversification with SPACs, should at least be aware of the facts around these ideas.
SPAC investments are not Private Equity (PE) investments: Some news articles called SPACs - "the new Private Equity vehicle, or "a bite-size PE investment". We believe this marketing spin deviates quite a bit from fundamentals. Most private equity funds, by definition, invest in private companies and continue to run them privately for a few years. Moreover, PE investments are diversified across multiple private companies. A SPAC investment is different on all of these fronts.
First, a SPAC investment is concentrated in only one company (so it is not diversified). Second, it's important to recognize that the capital raised by a SPAC (though an IPO) never leaves the public vehicle. The acquired private company gets access to the SPAC's capital only after it combines with the publicly traded SPAC, and not the other way around. Hence the SPAC's capital is technically raised and deployed only in a public setting. Third, right after the acquisition, the combined entity operates in a public setting. These are never the case with a PE investment. As SPAC investment is neither diversified, nor placed (nor operated) in a private setting, SPACs should not be confused or compared with PE funds.
SPAC do not help in portfolio diversification: A SPAC is a corporate financing vehicle, and not an asset class (such as infrastructure, or private equity). Even from a stock diversification perspective, investing in a SPAC or investing in a random IPO (with the same target EV as the SPAC) is quite similar. In other words, SPACs do not offer any real diversification for investors.
SPACs do not create a new market (it's not Apple!): As mentioned in Section 3.0, the purpose of a SPAC is to acquire a private company that would otherwise pursue an IPO. Every SPAC that completes an acquisition eliminates an IPO from the market. From a market perspective, a lot of capital raised in SPACs today, just means that the IPO financing volume will be lower by the same amount (assuming every SPAC completes an acquisition) in the future. SPACs do not create a new market; it just eats from the future IPO market. Investors, who want to participate in SPACs with the theory that SPACs are innovative capital market instruments that create a new market, might feel let down in the long run.
SPAC's are an interesting financing vehicle, with potential value in it. Investors need to ensure that SPACs are the right investment strategy for them before jumping into the multi-billion dollar band wagon.
Disclosures & Disclaimers
This Industry Report is not an offer to sell or the solicitation of an offer to buy any of the securities discussed herein, and should not be construed as offering investment advice. Those seeking direct investment advice should consult a qualified, registered investment professional. The information contained in this Industry Report is prepared from sources believed to be reliable but 4Front Capital Partners Inc. makes no representations or warranties with respect to the accuracy, correctness or completeness of such information. 4Front Capital Partners Inc. accepts no liability whatsoever for any loss arising from any use or reliance on this Industry Report or the information contained herein. Certain statements in this report may constitute "forward-looking" statements which involve known or unknown risk, uncertainties and other factors which may cause the actual results, performance or achievements of the company, or industry results, to be materially different from any future results, performance or achievements expressed or implied by such forward-looking statements. Any reproduction in whole or in part of this Industry Report without permission is prohibited. All historical data including financial and operating data on the companies mentioned in this Industry Report come from publicly available documents including statutory filings of these issuer(s). Data may also be sourced from Bloomberg and other sources.
2 Source: Financial Post Article - 27th April '15 business.financialpost.com/news/fp-stree...
3 Source: Final Prospectus of listed SPACs (DAQ, IAC, AQX, AEF)
4 Source: SPAC Analytics http://www.spacanalytics.com/
5 Source: All the stats in this section are from TSX-MIG Reports (from 2008 to 2015) https://www.tsx.com/listings/current-market-statistics/mig-archives
6 Source: Bloomberg - Canadian 10 year Govt. Bond Rates
7 Source: SPAC Analytics - http://www.spacanalytics.com/