Cisco (NASDAQ:CSCO) reported fiscal Q2 earnings yesterday and delivered solid results and guidance which met or exceeded expectations. Here are some highlights from the report:
Revenue came in at $11.5B, up 10.8% from last year and +2.4% from last quarter, a nice surprise from management's guidance of a 4-6% decline.
Gross margin held steady at 61.9% despite increased competition and concerns about pricing wars.
EPS came in at $0.40 per fully diluted share vs. $0.27 last year.
Cisco generated $2.8B in free cash flow. At this pace, the company will easily exceed my FCF base case which I discussed in my original CSCO buy article.
The company expects 5-7% revenue growth next quarter. CSCO also guided higher on earnings than analysts expected.
CSCO hiked its dividend by 33%.
All in all, these were excellent results posted by a company that Wall Street feared was losing its edge not too long ago. My initial buy thesis saw value in the shares if the CSCO could just maintain its business but instead, it is growing and apparently at the expense of competitors. Cisco managed to beat on revenue, earnings and guidance while rivals like Juniper (NYSE:JNPR) reported struggles on their calls.
Cisco is the 800 lb gorilla in its field or to use another analogy, the big stack at a poker table. The player with the biggest stack of chips has inherent advantages due to size and can press smaller rivals who can't comfortably match the big stack's bets. In this case, the big stack -- a refocused Cisco -- looks set to take control again in its core fields. While it may not always post such positive results, I expect the company will use its entrenched position and unmatched scale to fend off competitors unless one of them can develop a transformational product that changes the face of the industry. The market reaction to Cisco's earnings is relatively muted, with the stock trending slightly negative after earnings in a positive market: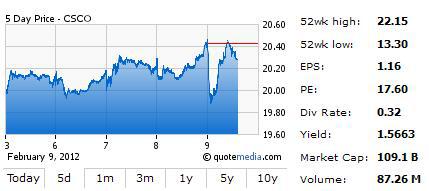 Analyst sentiment has turned positive on CSCO in recent month which may explain this reaction. With the stock running up to $20, the market may have already priced in expectations of a turnaround at Cisco. If this is the case, I agree that CSCO is trading closer to fair value and hence, no need to rush to buy shares.
As I discussed a few weeks ago, I have taken steps to monetize my CSCO stake, writing Jan 2013 $22 covered calls and pocketing a 6% premium while leaving myself 10% more upside in the stock. This may lead to an exit point of $23.26 in a year's time which is a little under my $25 estimate, which itself may be too conservative if Cisco continues executing at this level. Nevertheless, I am always inclined to realize substantive gains and remove risk, even at the cost of leaving a little money at the table.
Disclosure: I am long CSCO.
Additional disclosure: Short CSCO covered calls