The average one-day change of the 1,041 companies that have reported earnings this season has been +0.56%. Below we highlight the stocks that have had the biggest one-day gains on their report days this season. (For companies that report after the close, we use the next day's change.)
As shown, Zoltek (NASDAQ:ZOLT) leads the way with a gain of 38.44%, followed by Corinthian Colleges (NASDAQ:COCO) at 36.30% and Guidance Software (NASDAQ:GUID) at 34.15%. Of the stocks that have gained more than 15% on their report days this season, just two are in the S&P 500 -- Netflix (NASDAQ:NFLX) and Computer Sciences (CSC).
Other notables on the list of big earnings season winners include Green Mountain Coffee (NASDAQ:GMCR), Seagate (NASDAQ:STX), Buffalo Wild Wings (NASDAQ:BWLD), and Standard Pacific (SPF).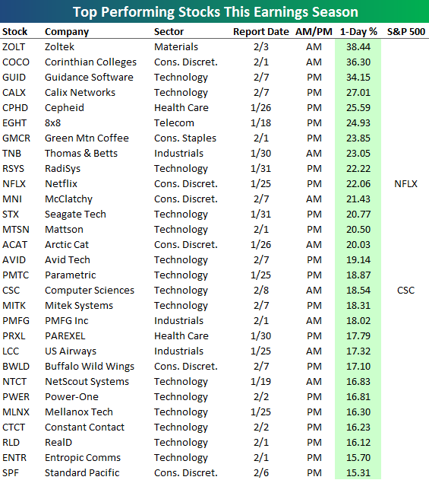 Below are the top performing S&P 500 stocks on their report days this season. Along with Netflix (NFLX) and its gain of 22.06%, other notable winners include Whirlpool (NYSE:WHR), Ralph Lauren (NYSE:RL), Goldman Sachs (NYSE:GS), MasterCard (NYSE:MA) and Apple (NASDAQ:AAPL).