The past week has witnessed an interesting development in the United States economy. The unemployment report is of course what I am referring to. You see, by any measure, unemployment in the United States is pretty good. And yet, the market sold-off on the release. How could that be?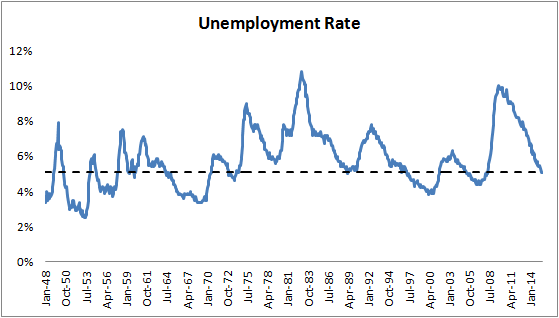 Standing at a crisp 5.1%, unemployment within the United States has only been this good in 33% of all months since 1948. In other words, we're experiencing a very good boom in employment, better than most other time periods over the past 60 years. From a distribution standpoint, you can see that today's employment situation is much better than we typically encounter in the course of the boom-bust cycle of regulated capitalism.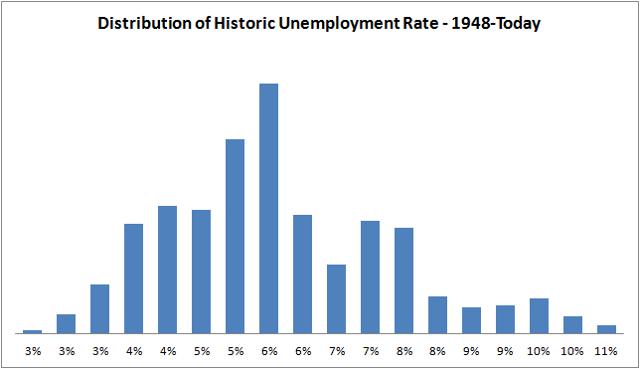 In light of the rosy economic picture and strong employment, vigilant investors should begin to ask, "What's next?" You see, history is very useful in that it allows us to study it. This is incredibly obvious but bears repeating - history is only useful if one studies it!
For the past few months, I have noticed a very interesting development unfolding before our eyes. For 64 months straight, the year-over-year employment rate has increased.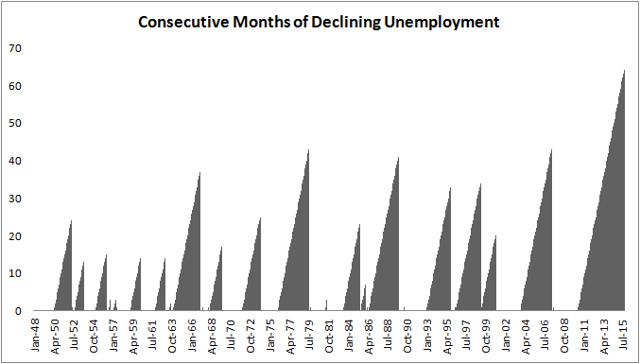 This is very noteworthy in the fact that it is highly unusual. You see, the U.S. economy follows the cycle of boom-bust-recover-repeat. As credit becomes available to institutions, they finance expansions driving employment above the long-term rate of productivity gains. Eventually institutions are unable to manage their debt load or level of financial activity and companies trim back employment to service debts and preserve the balance sheet. After a period of adjustment, companies are once again positioned to take on more debt, spend more capital, pursue more projects, and hire more workers. And the cycle repeats.
We are at a critical juncture in Federal Reserve and economic history. That is, the Federal Reserve is poised to increase the discount rate. The discount rate is the bedrock rate of the United States economy. As the discount rate increases, firms across the entire economy are required to pursue projects which deliver higher yields as borrowing costs increase. This causes a decrease in employment as firms pursue fewer projects and the economy as a whole adjusts back towards the long-term rate of productivity.
I believe the Federal Reserve will increase rates in the very near future. The economic situation simply dictates that an increase is in order. When the rate increases, unemployment necessarily increases in tandem. For those keeping an open ear, the telltale signs of weakening employment can already be heard in the energy sector. Simple stated - we are fast approaching a point of inflection in which we see broad-based declines in employment.
So what do we do with this information? Our objective as investors is to dispassionately view the economy and focus only on intelligent ways to deploy our capital. There are many opportunities linked to the economy as a whole, but one of the more powerful I have found is the correlation between changes in unemployment and the S&P 500 (NYSEARCA:SPY).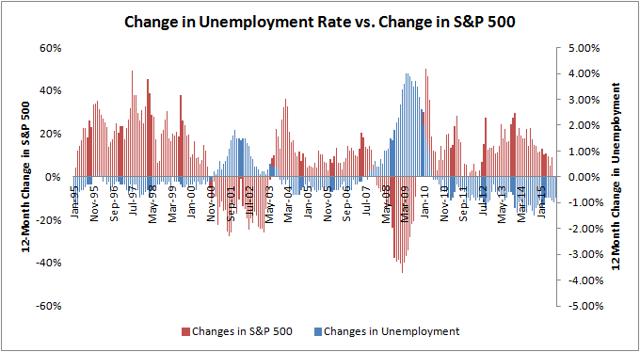 The economic rationale behind this trade is simple yet powerful. The primary driver of a firm's long-term stock price is earnings. Shareholders do not park capital in firms which do not deliver a return. In order to deliver earnings, firms must cut back on employees to trim costs during difficult times. If we trade a broad-based index such as the S&P 500, Dow Jones Industrial Average (NYSEARCA:DIA), or NASDAQ (NASDAQ:QQQ), then we capture a sufficient swath of firms which contribute to the overall employment rate. In other words, we can almost directly trade the interplay between firm earnings and U.S. economic strength by using the unemployment rate as an investment catalyst. In light of the Federal Reserve's impending actions and a jobs market saturated yet beginning to falter, it is time to short the market.
Disclosure: I/we have no positions in any stocks mentioned, and no plans to initiate any positions within the next 72 hours.
I wrote this article myself, and it expresses my own opinions. I am not receiving compensation for it (other than from Seeking Alpha). I have no business relationship with any company whose stock is mentioned in this article.