Hennes & Mauritz (OTCPK:HMRZF) is an apparel retailer based in Sweden founded in 1947. According to the company, at the end of November 2011, it had around 2500 stores in 43 countries, selling own brand womenswear, menswear, childrenswear, accessories and cosmetics. In an increasing number of territories it also operates a catalogue and a transactional internet site, which expects to implement in the USA next fall. Until recently, H&M was a single-concept company, but in 2007 launched COS (Collection of Style) stores, a more up-market concept. All of H&M's stores are leased, although there is some owned property relating to the logistics infrastructure and manufacturing is outsourced. Around 70% of product is sourced directly in USD, collections are planned up to a year in advance with around 100 in-house designers, centralized in Stockholm. Logistics are decentralized, with approximately one major distribution centre for each country in which H&M operates.
In the last year the stock is up about 8%, trailing its main peer Inditex (1Y +24%) but above GAP (NYSE:GPS) (+6%). It trades with a past P/E of 24.3x and a forward P/E of 21.4x, reflecting the long term growth story as a successful combination of international growth and margin expansion.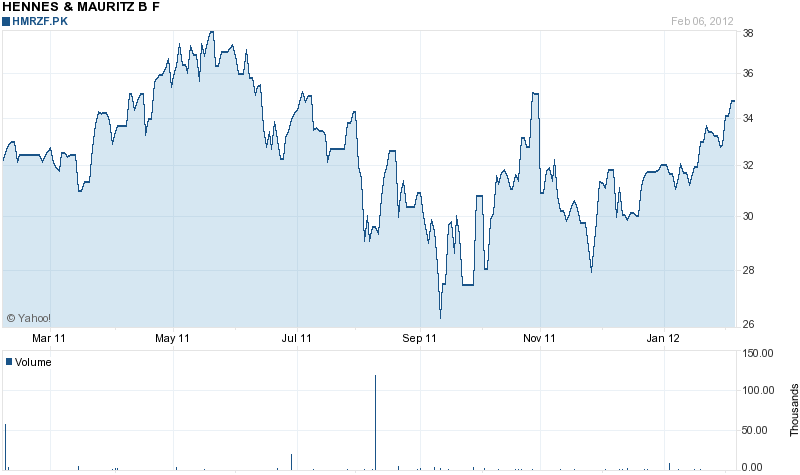 (Click to enlarge) Source: YahooFinance.
Germany is H&M's biggest market by far, in the last fiscal year accounted for 23% of sales, and Scandinavia represents around 16% of sales. The company has a modest exposure to Asia (less than 5% of sales) and no presence in Latin America. The USA represents around 8% of sales. Given the weak economic environment for Europe (around 80% of sales) for this year, with recession being a strong possibility, its geographical exposure represents a strong headwind and a risk to earnings growth in the short-term.
H&M has a strong balance sheet, with cash representing around 4% of the market capitalization. This position enables the company to pay a 4.5% dividend yield, but its cash is falling significantly as a result of the lower operating cash flow, high capex spend on new space and warehousing and high levels of dividend payments. The last dividend announced by the company (9.50 SEK per share) represents a payout of 99% in 2011, clearly above the average of the last 4 years of 84%, and may be unsustainable in the long-term given the deteriorating cash position.
Since the end of 2010, management decided to invest in price perception in order to take market share whilst competitors were raising prices, creating pressure on gross margins without material improvement on like for like sales in recent quarters. Further investments in 2012, as management attempts to revive LFL growth, will continue to put pressure on gross margin expansion and may be difficult to achieve, given the bad economic outlook for H&M major markets. In 2011, for the first time in recent history, H&M delivered negative earnings growth (EPS -15%; Gross Margin -2.8%) because of its lower prices, higher raw material costs and appreciation of the wedish krone. This result is very different from the double digit earnings growth that investors have become used to, and for which the stock usually trades at 20x forward earnings.
Conclusion
Although H&M is a long-term growth company with very good brand awareness, its large exposure to Europe and price perception strategy will continue to pressure earnings growth and gross margins, making it more difficult to justify the high multiples of the stock, possibly causing a rerating of the stock in 2012. With a Bloomberg consensus EPS of 1.61$ for 2012 and applying a more conservative P/E multiple of 18.5x (5% discount to P/E of 19.6x of Inditex) result in a price target of 30$, implying a 14% downside potential.
Disclosure: I am short OTCPK:HMRZF.