The market continued its flat movement on Thursday as the market shifted from pullback to up to flat to end the day. The market was reacting to news out of Greece that it had completed an austerity plan to get more loans. Additionally, the market got to see another surprise drop in jobless claims from last week as they came in just north of 350K. Greece has come out and said the deal to get 130B euros of bailout funding is in place, but it still needs to be approved 100% by finance ministers.
The market continues to be strong, and we believe that downside risk, while there, continues to be specific to certain industries over others. Financials continue to look weak and we would be concerned with a breakdown in energy as well. Yet, one area that looks good for a pop is the Chinese Internet industry. That space has been dogged over the past several months, and one earnings report may reinvigorate this industry.

Baidu (NASDAQ:BIDU) delayed earnings last month, and they are now due out at the end of next week. Moving into earnings, we believe the stock has upside. BIDU has been flat for several months, and it has toyed with the 200-day MA over the past week. We believe that the stock should see some speculators, and those who have stayed with it through the flat market and downside it has experienced as of late are not going to suddenly disappear. We would like to sell the $120 puts on BIDU for Feb 18 expiration with a speculative play with $140 calls for Mar 17 expiration.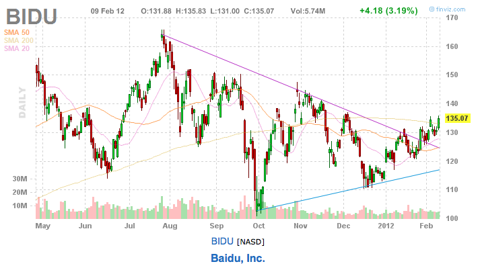 For tomorrow, the situation in the market will continue to focus on Greece. Further, we get inflation data from China. Further, here at home we finally get a decent day of economic data with Trade Balance and Michigan Consumer Sentiment. Finally, we have earnings from LinkedIn (LNKD) and a handful of others that can definitely give some market direction.
We had a solid day as we got a 10%-plus gain in Apple (NASDAQ:AAPL) 430/425 Feb 18 bull put spread that we entered the day after earnings. Additionally, we were able to get a solid 2.2% gain on a long Activision Blizzard (NASDAQ:ATVI) position we had. Thirdly, we were able to exit one-third of Gildan (NYSE:GIL) for a 20% gain from our Extended Value Portfolio, which was one of our major positions in that long-term portfolio entered at the beginning of the year.
Disclosure: I am long SCO.
Additional disclosure: We have the following positions. In our Short-Term Equity Portfolio we are long Dollar Tree (NASDAQ:DLTR) and Ultrashort ProShares Crude (NYSEARCA:SCO). In our Options Portfolio, we are long Priceline (PCLN), Dollar Tree (DLTR), SPDR Gold (NYSEARCA:GLD), Weight Watchers (NYSE:WTW), Nordstrom (NYSE:JWN), Bed, Bath, and Beyond (NASDAQ:BBBY), and Discover Financial (NYSE:DFS). We are short Deckers Outdoor (NASDAQ:DECK) and SPDR S&P500 ETF (NYSEARCA:SPY). In our Earnings Portfolio, we are long CF Industries (NYSE:CF), VF Corp. (NYSE:VFC), EOG Resources (NYSE:EOG), Oil States (NYSE:OIS), and Fossil (NASDAQ:FOSL). We are short AOL (NYSE:AOL). We have reverse iron condor in WFM.