Apple has had a tremendous run in pricing from November 2011. Share value has increased from $397 to $474 today. With such significant growth it creates an interesting challenge for long-term investors. Apple Inc., together with subsidiaries, designs, manufactures, and markets mobile communication and media devices, personal computers, and portable digital music players as well as online and physical stores.
Although we can only dream about results like Apple has been able to post, it makes managing an Apple position more complicated than it might appear. With such stellar results the share of a portfolios Apple stock value has very likely pushed it outside portfolio design criteria for sector weighting. What is an investor to do? Ride the Apple wave and manage a portfolio that is overweight technology, take profits and reduce exposure or attempt to create some income to invest in other sectors?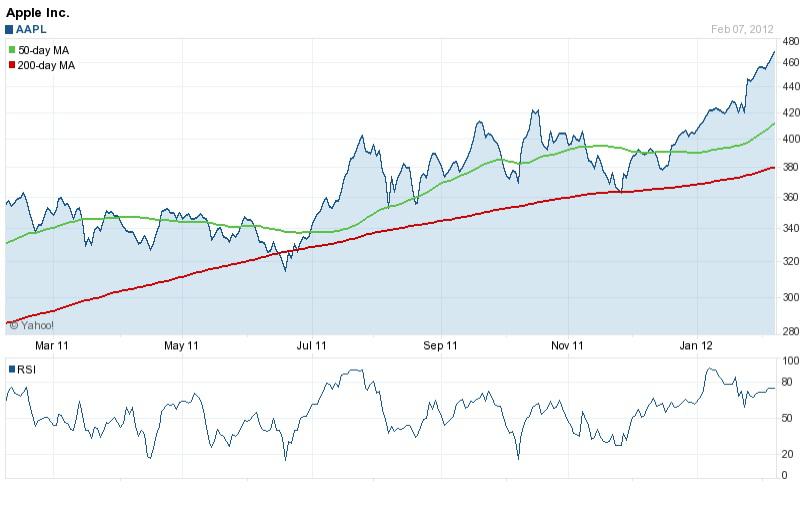 Currently, the RSI is pushing through 80. In the past when the RSI reached these lofty levels stock pricing declined. August 2011 saw an RSI of 80 and pricing of $400. In September the RSI was 40 and pricing was $380. Although I do not believe that the RSI can accurately predict Apples' future pricing behavior it is an indicator that I pay attention to.
The growth has been so significant that I cannot subscribe to selling even at these levels. Pricing seems to be headed higher and the business metrics support even higher prices. I do have some covered calls that paid $11.50 with a July strike price of $510 which looks like it could get assigned. With some shares covered I don't want to sell in the open market to reduce my technology exposure. Earnings estimates are on an upward trend and price estimates continue to climb.

Share pricing has tended to decline somewhat in the summer months. Resistance appears to be in the $320 range. A retracement line from the June low to today shows a price point of $316. To earn income and maintain my share positions I have built a cash secured put ladder. Strike Pricing is set incrementally from $320 to $335.
Adding sell to open cash secured puts to the portfolio acts as a dividend replacement income strategy. If shares fall to these levels I am happy to add to my holdings even though it increases my technology exposure. If these puts are assigned I fear we might have more than a portfolios overweight technology sector to worry about. If they are not assigned my stake has produced income while Apple continues to grow. As an aside the cash that is held back is earning less than 1%.
So what is the conclusion for fitting Apple into an investment category? With the addition of cash secured puts and covered calls Apple is all of the above: growth, value and income.
Disclosure: I am long AAPL.