Thesis Summary
First Security Group (NASDAQ:FSGI) is a previously distressed, thinly researched, micro cap community bank that has shown operational improvement under new management. The bank agreed to be acquired by privately held Atlantic Capital earlier this year, in a deal set to close on October 31st. Atlantic Capital is an Atlanta-based business bank formed by a private equity group that includes Jody Grant, the founder and current chairman emeritus of Texas Capital Bancshares (NASDAQ:TCBI). Atlantic Capital has sought to replicate TCBI's platform in the southeast, and has grown quickly. The deal provides Atlantic a means to a public listing, and importantly, FSGI shareholders have the option of receiving shares in the newly public combined company that will trade under the ticker symbol "ACBI". As a result, FSGI holders will be able to transform their ownership of a sleepy community bank into a high-quality, fast-growing southeast business banking platform. The merger makes strong economic sense, and the results of the combined company are set to improve nicely as Atlantic's highly efficient, technology-oriented operating model is extended across First Security's business. Once the deal closes, ACBI will be considerably larger, more liquid, and likely to attract substantial sell-side coverage and greater attention from institutional investors. The combination of accelerating operating results and multiple expansion could yield over $23 per share (upwards of 65% upside) for the combined company over the intermediate term. To the extent that the bank can successfully replicate and scale TCBI's model in the southeast, long-term returns could be extraordinary.
First Security Group
First Security Group is a Tennessee-headquartered community bank with slightly over $1 billion in assets and 26 banking offices. The bank was deeply troubled during the financial crisis, with high levels of non-performing loans that peaked at over 8% of total assets. The government infused TARP capital in 2009 and applied a consent order, noting several internal control lapses, and mandating a variety of improvements and capital restrictions. The company experienced quite a bit of dysfunction in this period, with high turnover of both executives and directors.
The turmoil ended in 2011, when the founder and former CEO resigned his position. He was replaced by a seasoned industry veteran, Michael Kramer, to lead a turnaround. Kramer moved quickly to clean up the balance sheet and reduce problem assets. This was followed by a 2013 recapitalization backstopped by several notable value investors, including Michael Price (who currently owns slightly less than 10% of the company), and a portion of the proceeds were used to repay the TARP. With an improved capital position and stronger asset quality, the government lifted the consent order in March 2014.
Having addressed the credit and capital problems, First Security management has made strong continued progress on several key pillars of its plan to improve the bank's profitability:
Balance Sheet Restructuring & Growth. Management has worked to shift the bank's asset mix from low-yielding cash and securities to higher-yielding commercial loans. To achieve this, First Security has successfully developed several niche lending categories that have been the basis for strong recent loan growth. The company exceeded its 2014 goal of $50 million in production per quarter, and total loans grew 14% year over year. Deposit gathering has also been a focus, as the bank has previously had a relatively high cost of funds resulting from expensive brokered CDs, many of which have been maturing. FSGI was able to grow its core deposits by a giant 18% in 2014, which helped improve net interest margins by an enormous 86bps, from 2.5% to 3.36%. During the first half of this year, growth has accelerated for both loans (up 15% YTD) and core deposits (up 20% year over year).
Expense Cuts. First Security emerged from the recession with a bloated infrastructure base and a large number of inefficient branches. In 2010, the bank had 39 branches supporting roughly $1 billion in market deposits, representing a paltry $25 million per branch. Management has since closed one-third of these branches, taking a significant bite out of the expenses. The bank has 26 branches left, which support around $867 million in market deposits. While $33 million per branch is an improvement, there are certainly more inefficient branches to close over the coming quarters. Also, the bank had incurred substantial administrative expenses (legal, professional, insurance, etc.) related to dealing with problem assets. With the asset problems resolved, these costs have declined significantly.
Non-Interest Income Growth. Management has emphasized and expanded the bank's Treasury Management, Wealth Management, and Mortgage Banking capabilities. This has resulted in growing fee income streams and non-interest income growth in the low teens.
Atlantic Capital
Atlantic Capital is a privately held business bank that has been operating primarily in the Atlanta area. The bank was organized in 2007 by way of a $125 million capital raise led by several large private equity sponsors. Current ownership is divided amongst BankCap Partners (28%), Insiders (16%), Stone Point Capital (8%), Goldman Sachs (NYSE:GS) (8%), and a variety of high-net worth individuals in the Atlanta area. Notably, BankCap Partners was founded by Jody Grant, who had previously founded Texas Capital Bancshares, where he is still Chairman Emeritus. Mr. Grant's idea behind BankCap was to take the TCBI model and bring it to other parts of the country, and Atlantic Capital was started in the Atlanta market with this vision (Mr. Grant briefly speaks to this at the beginning of this recent interview). BankCap also holds rights to use the processes and procedures that have made TCBI successful, and these have undoubtedly helped Atlantic Capital develop a competitive edge. Stone Point also has had quite a bit of success in the banking space, having sponsored the formation of Yadkin Financial (NYSE:YDKN), which is a regional peer to Atlantic Capital.
Atlantic has a seasoned management team led by CEO Doug Williams, a former Wachovia executive, and non-executive chairman, Sonny Deriso, who was previously the head of asset management at Synovus Financial Corp. (NYSE:SNV).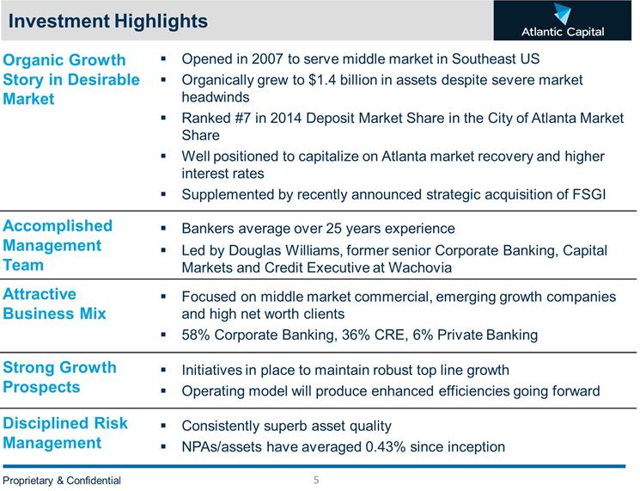 Source: July 2015 KBW Community Bank Investor Conference Presentation
Atlantic Capital's objective is to become a dominant southeastern business and private bank. Operating out of a single location, it has grown quickly by combining high-touch service with a robust technology offering. The bank has successfully added a large number of small- and mid-sized business customers as well as affluent families, with its assets reaching approximately $1.4B. Despite having an extremely efficient business model, its profitability (trailing 0.6% ROA / 5.4% ROE) has been dampened by large ongoing growth investments that Atlantic has been making in both infrastructure and lending teams. In particular, the bank has developed several niche lending categories, including SBA lending, franchise finance, and a payments industry practice. Credit quality has been strong, and although most loans remain unseasoned, the bank has zero non-performing assets. Also attractive is that just under 90% of the bank's $1.1 billion in deposits are from direct relationships.
Although Atlantic has been successful growing organically, the company had been looking at a variety of M&A opportunities in prior quarters that would act to accelerate its regional expansion plans.
The Merger Agreement
In March 2015, First Security announced that it had agreed to be acquired and merge with Atlantic Capital for a headline $2.35 per share. The merger consideration consists of either $2.35 per share in cash or 0.188 shares of surviving company stock (valuing Atlantic Capital at $12.50 per share). The deal is subject to proration so that the total consideration consists of 30-35% cash and 65-70% stock. As a privately held company, the deal will provide Atlantic Capital a means to become a public company, and the shares are set to list on the Nasdaq under the ticker "ACBI".
It's also important to note that the above consideration mix reflects adjustments made in June to include a greater proportion of combined company stock (previously 60%). The amendment was made after larger FSGI shareholders indicated that they had a greater preference for combined company stock than had initially been anticipated by management. Also, by having a larger proportion of stock, the combined company will have more capital to meet its growth plans.
To fund the cash portion of the deal, Stone Point Capital's Trident Funds have committed to a $25 million common equity private placement at $12.60 per share (essentially the same price that FSGI holders receive). The remaining proceeds will come from a $50 million subordinated debt offering that was just recently completed. There is very little risk of the deal not closing, as both banks have already secured voting commitments from large shareholders.
Atlantic Capital has said that it expects the effective date of the merger to be October 31st, with shares of ACBI set to start trading on Monday, November 2nd. First Security shareholders must submit their cash/stock elections by the close of business on Monday, October 26th.
As of this writing, FSGI shares are trading around $2.53, which is a 7% premium to the $2.35 headline deal price. With the market signaling a strong preference for shares rather than cash, it is increasingly likely that interested shareholders will receive the maximum proration of 70% shares / 30% cash consideration. This combination acts to increase the effective cost per share of ACBI. Assuming a 70% / 30% proration, at current market prices the effective cost of ACBI would be $13.82, roughly 10% higher than the $12.60 initial deal price. Although somewhat unlikely if there is no proration (i.e., 100% stock for those making the election), the effective cost would fall to $13.45. Obviously, any future increase or decrease in FSGI's share price will also have a corresponding impact on the effective cost. For simplicity sake, I will be using an assumed cost of $13.82 per share of ACBI in the remainder of the article.
Why The Combined Bank is Attractive
Atlantic's acquisition of First Security makes strong economic sense, because it creates a regional banking platform that is well positioned for continued growth and profitability gains. Atlantic's Doug Williams outlined the case for the combination in the March post-announcement conference call:
First of all we believe that FSGI's small business approach could be extremely successful with the benefit of being delivered out of Atlantic Capital's existing platform in the ninth largest metropolitan area in the country, which is Atlanta.

Two, Atlantic Capital's corporate banking approach and model, we believe, will be extremely successful while being delivered out of FSGI's platform in East Tennessee, and North West Georgia, plus the resulting capital base, even with conservative hold limits, allows for the ability to truly bank middle market clients.

Three, it's fair to say that our balance sheets are relative mirror images of one another, and the combination provides a stronger mix of deposits, and a loan composition base that neither bank could achieve on its own in a realistic time frame.

Lastly, over the last several years FSGI has closed nearly 30 percent of its branches. Leveraging off of Atlantic Capital's strategy of meeting client needs through better banking technology, we believe there will be continued opportunities to rationalize our branch footprint, and our infrastructure costs, which are largely driven by that branch footprint.
The benefits of this merger have quite a bit more substance than the customary vague references to synergies that often accompany bank merger explanations. Both banks have complementary lending teams that stand to benefit from access to wider markets, and higher lending limits that come from being part of a larger organization. Despite improvements, FSGI's efficiency has remained poor, and adopting Atlantic's highly efficient, technology-oriented model should result in large cost savings. The deal has also been structured to maximize the retention of First Security's sizeable NOL balance. Atlantic Capital completed significant tax due diligence and said it expects to retain roughly $50 million of loss carry-forwards, which will be of significant benefit to the combined bank over coming years.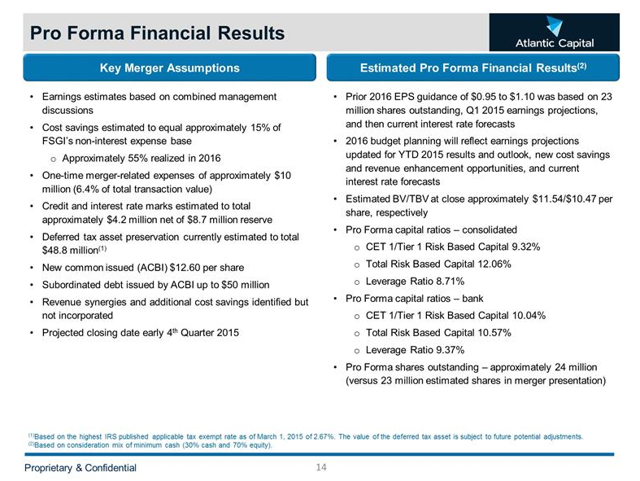 Source: July 2015 KBW Community Bank Investor Conference Presentation
Atlantic Capital has provided detailed pro forma guidance (above), and management has said they expect to achieve 1% ROA and 12% ROE within the first 24 months. Guidance for 2016 issued in March originally anticipated EPS of $0.95 to $1.10 and a $10.60 TBV. Based on the amended merger terms, an additional 1 million shares are likely to be outstanding, which will act to reduce these numbers by 5% or so. Regardless, I believe the earnings projections are conservative, and management has indicated they are based only on the benefits of the cost savings, which are expected to be around $6 million in 2016. The guidance doesn't include any revenue efficiencies, which, if realized, could add upside to this guidance over coming quarters.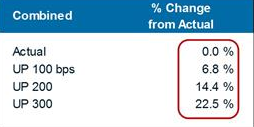 Source: July, 2015 KBW Community Bank Investor Conference Presentation
With roughly 60% of its loans being variable-rate, the combined bank is very asset-sensitive and would be a big beneficiary of interest rate increases (above). However, the bank is not dependent on rate rises, and the lower end of management's guidance anticipates no rate increases through both 2015 and 2016. The high end assumes modest increases that were included in the forward rate curve at the time. Although the combined bank can be quite profitable in the current interest rate regime, future rate increases have the potential to generate large incremental profits.
| | | | | | |
| --- | --- | --- | --- | --- | --- |
| | 2015 | 2016 | 2017 | 2018 | 2019 |
| Pro forma EPS | $0.58 | $0.96 | $1.35 | $1.66 | $1.97 |
| Pro forma TBV | $10.57 | $11.59 | $13.01 | $14.76 | $16.84 |
One of the most interesting parts of merger filings is the fairness opinion, which includes pro forma financial estimates provided by management. Atlantic Capital's pro forma table is found on page 85 of the prospectus, and a portion is included above. Obviously, as long-term forecasts, these numbers should be taken with a grain of salt, but they do provide some perspective on what the combined bank can achieve if it has success. Atlantic's management forecasts considerable EPS and TBV growth over the coming years, but notably, the estimates are not overly aggressive and imply an 11.7% ROE in each of 2017, 2018, and 2019. The combination of expense savings, increasing efficiencies, and revenue growth should make these numbers very achievable. A higher interest rate environment, accretive M&A, and/or faster revenue growth would add upside to the estimates.
In addition to organic growth, Atlantic has considerable M&A ambitions moving forward. In the July KBW Investor Presentation, CEO Doug Williams indicated that:
"it's clear to us that the best valuations in banking are $5-10B in balance sheet size with a business banking model. We want to build in a 3-5 year time horizon a $5 Billion or greater balance sheet". We first want to put these two companies together and have confidence that we can go do it again, and do it well. We are building dialogue with partners across the Southeast and hope to build a regional franchise."

Source: Atlantic Capital September Investor Presentation
At $13.82 per share, the deal prices Atlantic Capital at around 1.3X TBV and 14X 2016 EPS. This is a very attractive valuation for a high-quality, fast-growing business bank with improving fundamentals. I believe there is large return potential over the coming years as earnings expand and tangible book value compounds. There is also a strong case to be made for multiple expansion. A comparison to similarly sized regional peers (above) shows that the average peer trades at over 1.8X P/TBV and over 14X EPS. These regional peers, on average, are generating 0.9% ROA and 9% ROE, which is slightly below Atlantic's 24-month performance targets. To the extent that Atlantic achieves its post-merger objectives, it is extremely likely that the market assigns it a considerably higher multiple. If we assume Atlantic can produce its pro forma $1.35 in 2017 EPS and $13.01 TBV, using peer averages the stock could be worth over $23 (upwards of 65% upside) over the intermediate term.
An additional and natural comparison would be to Texas Capital, which Atlantic has been directly modeled after. TCBI has become a best-in-class commercial lender that has rewarded shareholders with impressive returns. While Atlantic has yet to have either the financial success or scale of TCBI, it does serve as a road map for the company to follow. If Atlantic is successful in replicating TCBI's model in the southeast, its long-term returns could be extraordinary.
Key Risks
Execution. One of the primary risks of this investment is the successful execution of the merger integration. I will be closely monitoring progress towards the company's financial objectives over coming quarters and watching for both continued growth and expense reductions. Extending Atlantic's efficient model across the legacy First Security operations will be critical. Although management is projecting strong performance, I feel the assumptions are conservative, as they include no revenue efficiencies or interest rate increases (for the low end of guidance). As a result, the bar has been set fairly low, which acts to reduce the execution risk somewhat. If the company does fall short of the targets, I believe the downside is limited by the fact that the valuation is quite undemanding. The stock is not priced for perfection, and thus I believe it more than adequately compensates investors for these risks.
Effectively Managing Balance Sheet Growth. The combined company will have a pristine balance sheet with strong capital levels and negligible non-performing assets. However, many of the loans remain unseasoned, and so, like all growth banks, early-stage delinquencies bear close watching for signs of looming credit hiccups. The fact that it has an experienced management team that has previously managed much larger banking enterprises increases my confidence that the company will be able to manage its growth in a disciplined fashion.
M&A. The company has highlighted that additional M&A will be a priority over coming years, which introduces some risk of the company consummating a bad deal. I view this as highly unlikely, because Atlantic will have a very strong board of directors. Representatives of large shareholders, including Stone Point, BankCap, Michael Price, and Ulysses Capital, will all have board seats in the combined company.
Disclosure: I am/we are long FSGI. I wrote this article myself, and it expresses my own opinions. I am not receiving compensation for it (other than from Seeking Alpha). I have no business relationship with any company whose stock is mentioned in this article.