One of Gazprom's (OTCPK:OGZPY) needs over the long term is to find stable partners to work with, as evidenced by the turmoil in Ukraine, and the more recent political challenges in Turkey, where it's looking to expand its gas delivery capacity.
There have been mixed reports concerning the reasons the talks with Turkey concerning the expansion of the Blue Stream pipeline, with some pointing to construction difference and the price of gas. While that may be true to some degree, it appears it's more related to political issues in Turkey, which look like they'll have to be resolved before this deal goes forward.
In order to bypass uncertainty of what future Turkish government leadership may do, Gazprom has been pressuring the existing government to sign the deal before a new government takes over in November.
Also at issue is whether or not the government in Turkey has deal with the growing challenges of the various factions within the Islamist Justice and Development Party, where ongoing internal battles and violence have escalated. There is also the issue of terrorism related to ISIS's presence, and insurgency from the Kurds.
Into that scenario the pipeline deal is being attempted to be secured.
source: StockCharts.com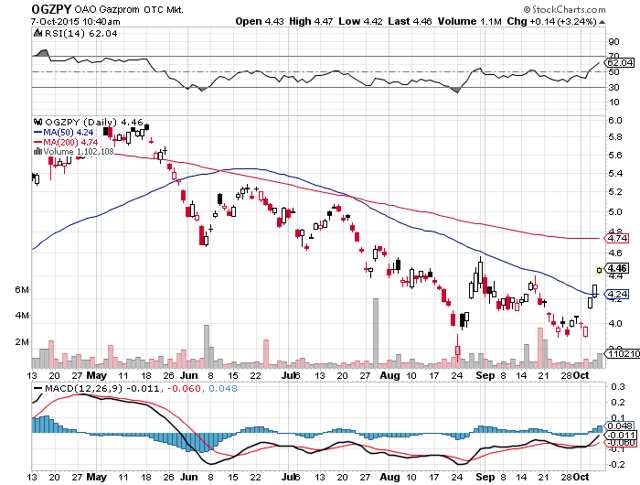 Turkish and EU gas demand
Turkey's demand for natural gas continues to rise, with estimates of it climbing above 50 Bcm in 2015. For that reason it wants to expand its capacity for imports.
Russia is the most likely candidate for that expansion because of the amount resource at its disposal. It doesn't look like Turkey wants to risk committing to smaller trading partners that may not be able to supply its growing needs over the long term, as well as those of the E.U..
Other countries it imports natural gas from are Azerbaijan and Iran. On the LNG side, it imports from Qatar, Nigeria and Algeria.
It's highly improbable it will attempt to work out major deals with countries outside of Russia, which already provides about 30 percent of the natural gas used in Turkey.
Combined with natural gas imports to all of Europe from Gazprom, the total for 2015 is expected to reach 158 Bcm for the year, above a prior estimate of 153-155 Bcm. The latter number was based upon results reported in the second quarter and extrapolated out.
According to Gazprom CEO Alexei Miller, in the third quarter European exports jumped 23 percent year-over-year, led by Germany, which imported 21.5 Bcm in the first six months of 2015, a record level for the country.
Blue Stream deal
With the growing demand from Turkey and the EU, Gazprom and Turkey have been negotiating over increasing the capacity of the pipeline from 16 Bcm per year to 19 Bcm per year. Now it looks like the expansion will be on the lower side, increasing by 1 percent Bcm per year as the proposed deal now stands.
This is the line that supplies Turkey directly, accounting for the approximate one third of supply for the nation.
Gazprom also delivers gas to Turkey by the Transbalkan pipeline through Ukraine, but it has a goal of eliminating its exposure there because of unrest. That pipeline delivers as much as 14 Bcm per year to Turkey.
Under terms of the original deal, Blue Stream or TurkStream was to deliver up to 63 Bcm per year of Gazprom gas through four parallel lines, each of which would send 15.75 Bcm per year to Turkey.
Under terms of the new deal, there would be two lines built, with capacity of 32 Bcm per year. One line will deliver gas to meet Turkey's demand, represented by the 16 Bcm mentioned above, and the other would be sent to central Europe.
Turkish risks
While there are some risks in Turkey, they are far less than exist in the Ukraine, which is why Gazprom is wisely working to totally eliminate exposure there.
For the region, Turkey is fairly stable, and it represents a much better climate than Gazprom is exposed to in Ukraine. It'll be a much stronger company as a result, and less risky.
With the growing turmoil in the Middle East, the threat from ISIS, and migrant and refugee issues, Turkey does face some potential for disruption. I don't think Europe would allow it to be overwhelmed because of its reliance on pipelines in Turkey delivering gas to it.
There is potential for disruption, but it is far more manageable than it is in Ukraine. Short-term problems could arise, but Europe won't allow Turkey to be invaded by ISIS or other factions without coming to its aid if it asks.
That's also true over the longer term, which means Gazprom will emerge a much stronger and predictable company once this deal is in place.
Even though it's not the subject of this article, Gazprom is also working on pipeline deals with China which will diversify its portfolio, and help mitigate geopolitical risk in Europe.
Conclusion
I'm not too concerned with the proposed reduction of the Blue Stream expansion deal with Turkey, assuming that's how it plays out after the November elections.
Gazprom needs much more stable pipeline partners than Ukraine, and in Turkey it has found that. It's more important to have slower growth accompanied by consistency, than it is to continue to deliver by the Ukraine route with the accompanying risks.
It will also be able to offset the loss of planned delivery via TurkStream with the addition of two more lines for its Nord Stream pipelines, which will double its capacity to 110 Bcm per year by 2019.
Gazprom is reducing risk while increasing capacity. I don't think it has been rewarded for that effort yet, with Ukraine still weighing on the minds of investors.
That will change as the news of these deals and the strategy of Gazprom is appreciated. It's share price will jump as a result, and reward those with some risk tolerance and for getting in at a good entry point.
Disclosure: I/we have no positions in any stocks mentioned, and no plans to initiate any positions within the next 72 hours.
I wrote this article myself, and it expresses my own opinions. I am not receiving compensation for it (other than from Seeking Alpha). I have no business relationship with any company whose stock is mentioned in this article.
Editor's Note: This article discusses one or more securities that do not trade on a major U.S. exchange. Please be aware of the risks associated with these stocks.