Have you ever had the feeling the economy is just not as good as some of the statistics may indicate? We have a growing GDP, an unemployment rate at 5.1%, no real signs of inflation, but yet something doesn't feel right about it. The FED seems to have confirm that with their hesitation towards beginning the normalization process of the Federal Funds Rate. Have you ever wondered what they just might be looking at that no one else is? We have spoken about some reason why in the past. I thought it would be interesting to look at the M2 Velocity of Money Rate. It is essentially a measure of how quickly money is changing hands. You can see from the chart M2 Velocity has been decreasing at pretty steady pace since 2000.
The FED since around 2008 has been increasing the monetary base, so why should pace at which money changes hand continue to slow?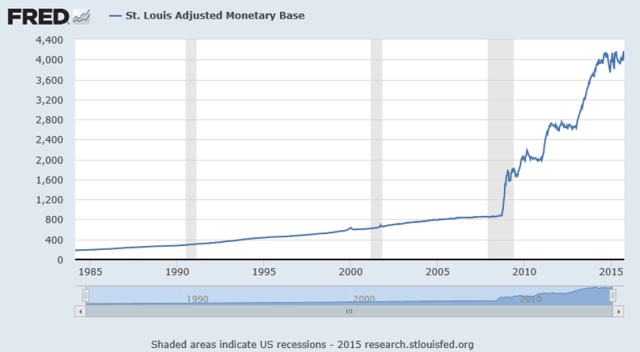 Part of that is due to the fact the banks are not lending any money; they are just sitting on it. Which you can see from the chart below.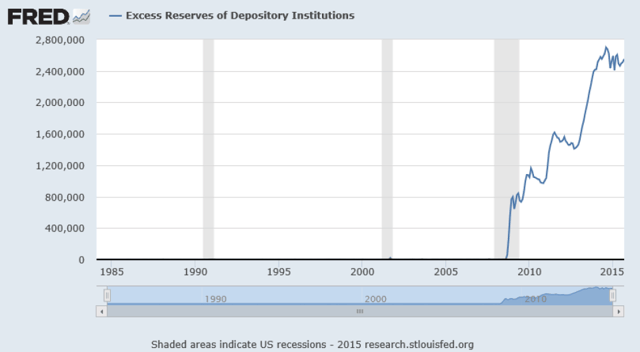 There must be something else going on? Why would the velocity of money be at nearly 50 year lows? Why would people just stop essentially transferring money, or another way of saying spending it?
After some deep thought I came up with this chart below.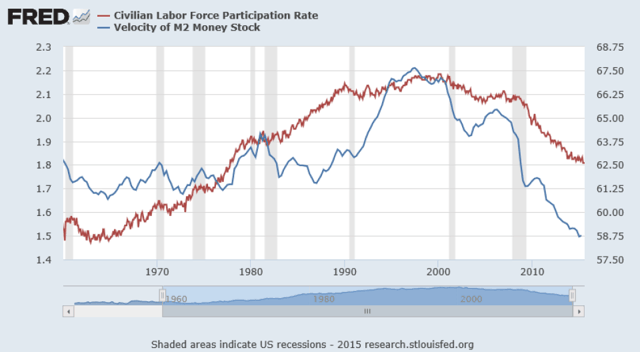 Now, I'm not really one to believe in coincidences, so I find this extremely interesting. People have essentially stopped the rate at which they transact, because quite frankly they are not working.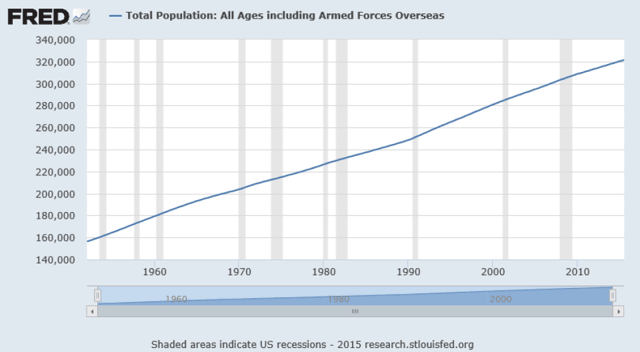 Has the population of the country just stopped growing? Are we like Japan? The chart below shows that our population has essentially doubled since 1952, going from 152 million to 321 million in 2015. One would think that labor participation would be increasing too.
People can argue it is that the baby boomers are starting to retire, look at the chart below.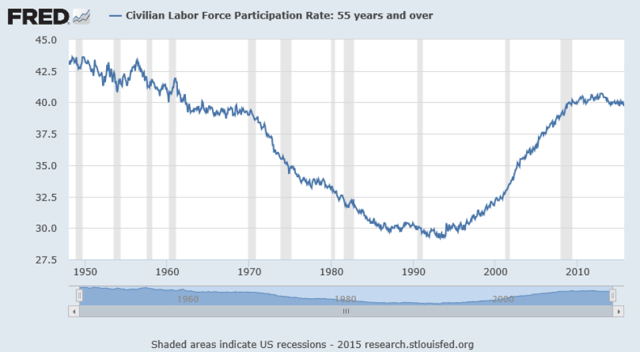 My conclusion is that people who have jobs have no confidence in keeping them. If they don't have a job, then in some instances have given up looking.
Disclosure: I/we have no positions in any stocks mentioned, and no plans to initiate any positions within the next 72 hours.
I wrote this article myself, and it expresses my own opinions. I am not receiving compensation for it. I have no business relationship with any company whose stock is mentioned in this article.
Additional disclosure: Disclosure: Mott Capital Management, LLC is a registered investment adviser. Information presented is for educational purposes only and does not intend to make an offer or solicitation for the sale or purchase of any specific securities, investments, or investment strategies. Investments involve risk and unless otherwise stated, are not guaranteed. Be sure to first consult with a qualified financial adviser and/or tax professional before implementing any strategy discussed herein. Upon request the advisor will provide a list of all recommendation made during the past twelve months. Past performance is not indicative of future performance.