Erickson Inc. (NASDAQ: EAC) is an aerial services provider that operates in three segments:
Commercial Aviation Services: firefighting (mostly wildfires), timber harvesting, energy construction, HVAC and specialty, oil and gas
Government Aviation Services: defense, global security, MEDEVAC, emergency response
Manufacturing and MRO: full-service legacy operator support comprising design engineering, component repairs, avionics, and blade development, including the composite main rotor blade
The revenue portfolio breaks down to 30% O&G; 20% firefighting; 20% commercial and 30% defense.
Erickson's eighty-four unit fleet consists of fifteen types/capabilities of rotor and fixed-wing aircraft. What began as a logging business in 1971, expanded into construction and firefighting. The company went public as Erickson Air-Crane in April, 2012. At the time they specialized in the operation and manufacture of the Erickson S-64 Aircrane, a brute of a helicopter with a heavy-lift capacity of 25,000 pounds, yet capable of some dramatically difficult and precise operations. The original prospectus can be viewed here.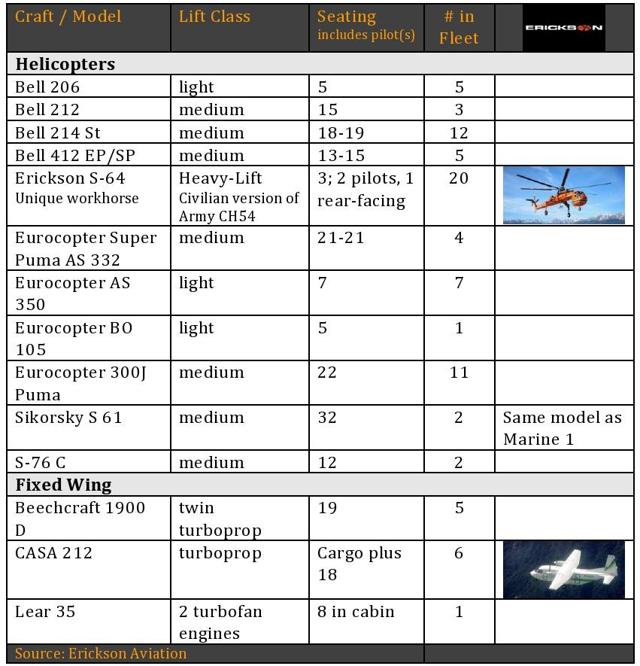 Source: Erickson For further details and fleet images click on the table above.
As the attached video demonstrates, Erickson truly operates in a unique market, providing a host of specialized services in critical domains, often in extremely dangerous conditions. It's fun to watch them in action, but investing in the equity side is another matter.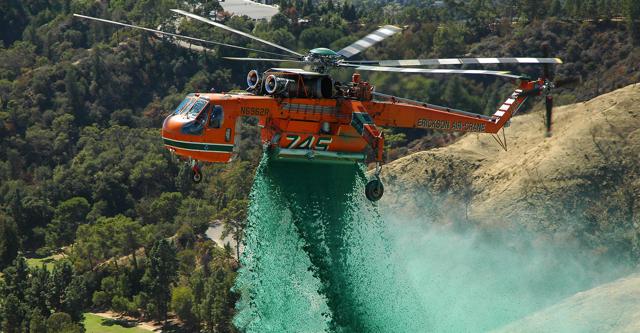 Image: S64 - Erickson. Click image for video
Erickson went public at eight bucks a share, then enjoyed a nice run up to the twenty-eight dollar range in mid 2013. Since that time the company has struggled through a series of setbacks, with the stock tumbling to the present levels at just over three dollars.
The Fall
In May of 2013, then CEO, Mr. Udo Rieder, appeared on CNBC. The host referred to the business as "really cool" and went on to say Erickson (Erickson Air-Crane then) was the most fascinating company they've featured in the eight years the show had been on the air. That certainly caught my attention. It all sounded so good, so what happened?
The company made two moves to expand their global footprint and diversify operations to offset the seasonality of firefighting and logging. Erickson made two acquisitions Evergreen Helicopters Inc. (NYSE:EHI) and Air Amazonia, which gave them access to defense work and Brazilian oil.
EHI: In May of 2013, Erickson acquired Evergreen Helicopters Inc, from Evergreen Aviation. According to the filing, "we purchased from EIA 100% of the outstanding share capital of EHI for $250.0 million, consisting of $185.0 million in cash, $17.5 million in our subordinated notes, and 4,008,439 shares of the Preferred Stock valued at $47.5 million (based on an agreed upon value of $11.85 per share)."
Contributors to SA wrote antithetical pieces regarding this transaction with opinions ranging from dire to overly optimistic (one gave it a $43.59 per share valuation).
On the short side Erickson was presented as conducting a shady inside deal to acquire Evergreen in order to protect a private equity investor and majority shareholder ZM EAC. The author expressed fear that ZM would sell off its shares, noting the PE firm had filed to sell its entire stake. ZM still holds ~62% of outstanding shares.
On the bull side, some argued it was Evergreen Helicopter's parent company, Evergreen International Aviation (NYSEMKT:EIA), that had the debt problems and sold off the helicopter assets to recapitalize and in fact, the acquisition was accretive to Erickson. Form your own opinion by reading a sampling of the bear and bull cases. Remember these were written two years ago; much has changed, much has not.
An investor filed a class-action suit, alleging the $250M purchase of the "highly leveraged" helicopter operator was engineered to protect a majority stakeholder. For the Joe Friday angle, I refer you to this Law360 article.
EIA filed for Chapter 7 bankruptcy on December 31, 2013. The demise of EIA left much of the fleet acquired in the EHI deal in disrepair and the cost to make the fleet airworthy was a drag on profitability.
Conceptually, these were good moves, but they were soon hobbled by the decline in oil prices, a wide-ranging Brazilian corruption scandal and the downsizing of the American presence in Afghanistan, where much of Evergreen's defense work originates, through Fluor Co. (NYSE:FLR). In Q2, the company reported revenue decreases in Government Aviation Services from $41.9M in the prior year period to $28.4M due to the "reduction of operational tempo" in Afghanistan and other US DoD activity. Erickson is subcontracted through Fluor, a carry-over from the Evergreen days. In Erickson's latest report, Fluor accounted for roughly 15.9% of receivables. Losing this contract would be crushing, but there is no reason to believe it will happen. In fact, Fluor has a ~$40B backlog, including this recently announced $5B contract with the US Airforce.
With this disaster of the air strike of a hospital in Kunduz, we can expect pressure on Washington to pull out of that country completely.
Change
Mr. Rieder announced his retirement from the company effective March 31, 2015. He was replaced by Jeff Roberts as President and CEO on April 01.
In the last conference call, Mr. Roberts stated he had been focusing on short-term inefficiencies and building out a sales pipeline. What I found interesting was Mr. Roberts stated the decline in revenue from the Government Services side was dues in large part to what he termed the "operational de-scope" such as that experienced in Afghanistan. In the interview I referenced, Mr. Rieder said the drawdown in Afghanistan would not affect Erickson because the company was providing essential services. The numbers have not supported his assertion. That's not to say Evergreen won't pay off in the long run.
Moving forward, the company will focus less on the crowded offshore market and more on the rugged terrain challenges of the onshore segment, where air-lifting heavy pipe and equipment over obstacles is smack in the Erickson wheelhouse. The company announced a contract with Repsol to support activity on the north slope of Alaska. The withdrawal from Afghanistan is concerning, but the company is aggressively pursuing customers in other regions, particularly Africa, where they anticipate demand for their unique expertise to potentially generate $5-600M in aggregate revenue. The company has not yet determined the exact size and capability range of the fleet, in terms of the future 'look' of the company. It seems Mr. Roberts has all but written off 2015, but remains optimistic about 2016. He talks about building out the front end of the company, seeking out a more robust customer base and sales backlog.
HeavyLift Challenges
Several challenges face the heavy-lift/seasonal segments of Erickson:
Timber harvesting is correlated directly to housing starts in the US.
Seismic surveys for oil E&P will increase once capex in that industry picks up. When this will happen is guesswork.
Fire season is unpredictable. The CFO cited a slow start to the fire seasons in North America and Greece as contributing to lower Q2 revenues. However, "we're hoping things start burning soon" is not a positive sentiment for a company to express. Erickson has a contract with the Forestry Service. The CEO offered a detailed, if complicated, metric for determining the scope, scale, immediacy and duration of fighting wildfires.
Wildfires are most likely to occur in the warmer, dryer summer months. This means that during the second quarter the company eats up cash as they prepare for firefighting season. Wildfires are physically and emotionally devastating, causing billions in damages. But they are a fact of life. The company prospectus highlighted two factor contributing to the long-term inevitability of wildfires, which are "growing more intense and lasting longer."
Climate change, supported by studies conducted by the US Fire Executive Council.
Wildland Urban Interface (WUI), which means the decentralization or de-concentration of the populace, with people moving within or in close proximity to wild lands, thus increasing the immediacy of firefighting services to protect life and property. Q3 is generally their strongest quarter and the company hopes to have a strong season to help offset the slide in the O&G and defense work.
Debt Quandry
In Q2 the company paid out $9.4M in interest payments. Though debt is high at $482.7M, the company only has 13.8M shares outstanding. They could do an offering to pay down debt, but at these prices, it's unlikely. The company has several alternative strategies in place to reduce expenses, including the consolidation of facilities and sale of aircraft, along with other programs designed to streamline operations. The CFO stated, "As we refine our fleet strategy, we will operate fewer aircraft platforms," which means they will continue to sell off fixed-wing assets and focus on helicopters. He also reiterated the company goal of becoming free-cash-flow breakeven to positive, and said they were on their way to achieving that goal.
The company is in a rebuilding year. They are cleaning out the clutter and focusing on their core strength as a helicopter services provider. They have a solid future in MRO and are working on expanding product-support with Bell.
Investor Caveat
Mr. Roberts is on a good path, but it will take several quarters to demonstrate profitability and growth. A portion of Q2 revenue came from the sale of aircraft; that can't go on much longer. They need to get that fleet as fully contracted as possible. As of June, one-third of the fleet was not under contract. When investors see utilization rates topping 75%, it's a good sign the front end fix is working. Erickson is the type of stock that can be hampered by seasonality, which is why the O&G and defense work is crucial to attracting more investment dollars. This is currently a thinly traded stock, languishing at all-time lows. I'd revisit this after the year ends and attend to the guidance offered by the CEO before investing any money here. If the CEO revises down the 2015 guidance at the next quarterly call, this will dip even lower. If they hit their goals, it won't be too late to start a position.
Disclosure: I/we have no positions in any stocks mentioned, and no plans to initiate any positions within the next 72 hours.
I wrote this article myself, and it expresses my own opinions. I am not receiving compensation for it (other than from Seeking Alpha). I have no business relationship with any company whose stock is mentioned in this article.
Editor's Note: This article covers one or more stocks trading at less than $1 per share and/or with less than a $100 million market cap. Please be aware of the risks associated with these stocks.