About The Company
Texas Instruments (NYSE:TXN) is a technology company, which provides semiconductor solutions to OEMs, ODMs and other electronic equipment developers. The company designs and manufactures analog ICs, embedded processors and other semiconductor products. TXN's diverse product portfolio is helping the company to penetrate in numerous markets such as industrial, automotive, personal electronics, communications equipment and enterprise systems etc. The company has more than 100,000 customers worldwide. Texas Instruments was established in 1930 and is based in Dallas, Texas.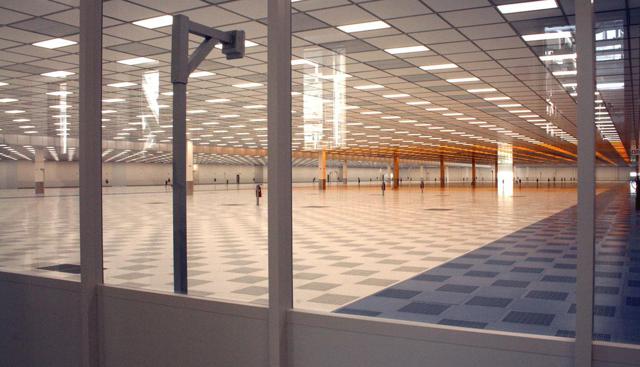 745,000 square ft. Texas Instruments wafer FAB in Richardson, TX.
Credit: Walker Engineering
Revenue Insights
TXN generates majority of its revenue from the sale of its analog ICs. For the past couple of years, the company has been producing more than 50% of its total revenue from this particular segment. This indicates that the company relies significantly on its analog operations for the majority of its sales. In 2014, TXN was the leading supplier of analog ICs with a market share of 18%. Analog operations contributed 62% towards total revenue while embedded processors and other products contributed 21% and 17%, respectively.

Source: SEC Filings
Over the last five years, besides analog ICs and embedded processors, revenue from others segment declined significantly. These other products include DLP products, custom ASIC products, calculators, royalties and legacy wireless products. This falling trend implies that Texas Instruments has been focusing more on analog and embedded operations as compared to its other products.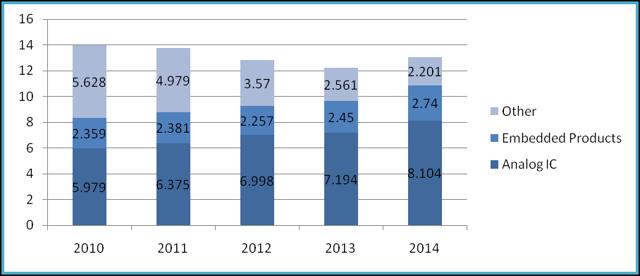 Source: SEC Filings, Revenue
Geographically, Asian electronics companies have been a major customer of Texas Instruments. They have been bringing in 60% of the company's total revenue for the past three years. In 2014, $5.7 billion worth of revenue was generated from China alone.
TXN's heavy reliance on Asian companies, especially those located in China, has made it vulnerable to economic and political developments in that region. Among other regions, the U.S. and Japan have contributed 12% and 8% to TXN's revenue in 2014.

Industry Prospects
Since a majority of TXN's revenue comes from its analog IC products, this market will have a major impact on the company's performance going forward. According to IC Insights, it is forecasted that analog segment will not only outpace the total IC market, but also its growth rate will be faster than other major IC products. The firm predicts a CAGR of 8.9% for analog ICs during 2013-2018. IC Insights further states that, by 2018, 57% of the total IC shipments will consist of analog ICs as compared to 52% in 2013.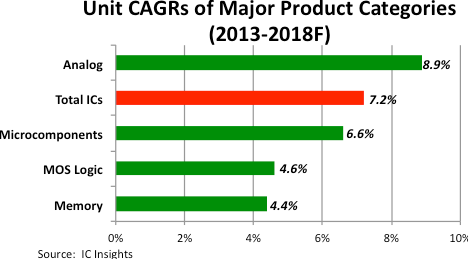 In another IC Insights report, it's mentioned that automotive market will grow the fastest at a CAGR of 10.8% followed by communications at 6.8% during 2013-2018. Analog ICs and MCUs will dominate the automotive IC market in the coming years.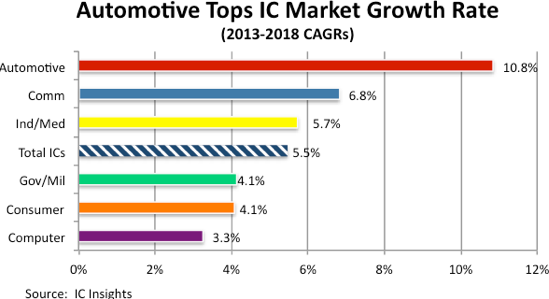 IHS believes that the industrial chip market will experience a CAGR of almost 10% to reach $55.2 billion by 2018. Analog IC revenue will grow at a CAGR of 8.12% during that period.
"The robust growth in demand for industrial semiconductors over the next three years will be driven by a wide range of products and segments. These products include 3D printers, factory automation products, commercial aircraft, LED lighting, digital IP cameras, climate control devices, renewable energy products, medical electronics and wireless application-specific testers."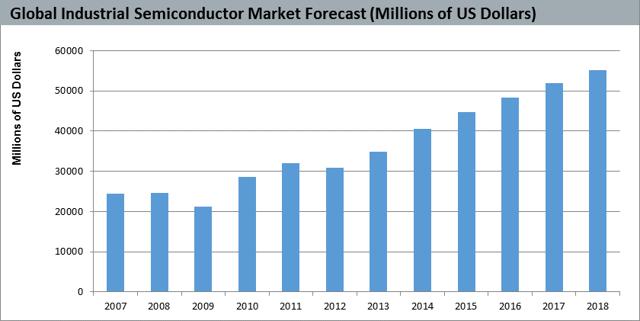 Source: "Industrial Semi Market Report" IHS, Inc.
TechNavio expects the demand for embedded microprocessors to grow at a CAGR of 5.7% during 2013-2018. The key drivers of this growth will be the expanding market for mobile devices and automobiles manufacturers' emphasis towards electrification and automation processes in the forecasted period.
To review, the analog IC market is set to grow in high-single digits during the next few years amid automotive and communication opportunity. TXN will benefit from the trend as it takes a large share of revenue from analog ICs.
Thesis
Differentiated and innovative products will lead to design wins: Texas Instruments recently announced LMX257 radio frequency synthesizer. The management claims that it's the most power efficient, wide bandwidth RF in the industry. With power consumption ranging from 9-39 mA and low phase noise, -145 dbc/hz at 1MHz, the LMX257 outperforms STMicroelectronics' (NYSE:STM) RF PLL synthesizers in terms of power consumption and noise.
The company has also added TUSB320 and TUSB321 to its USB type-C connector family. Power delivery of 28V is supported for these connectors. TUSB321's super-speed feature allows it to transfer data at up to 20Gbps. NXP semiconductors' (NASDAQ:NXPI) type-C USB connectors are currently in development. According to NXP's management, these connectors will provide power delivery of maximum 20V and can transfer data up to 10 Gbps. Comparing the power supply and data transfer rate of the two competitors' products, TXN's type-C USB connectors will allow a more efficient power supply and a quicker data transfer than its competitors' products. Overall, new differentiated products will result in design wins for the company in near future.
300mm wafer fabrication plan will sprout cost efficiencies: Wafer fabrication involves fabricating a number of semiconductors on a silicon wafer. After being tested, each unit of semiconductor is separated from the other and then packaged. TXN owns and operates many wafer fabrication and assembly testing facilities around the world. In order to increase the cost efficiency, the company has planned to switch from producing on 200mm silicon wafer to 300mm. This will allow the company to produce semiconductors at a 40% reduced cost resulting in an 8% boost to the gross profit margin. Due to the larger size of the wafer, the company will be able to produce 2.3 additional units of chips per 300mm of wafer.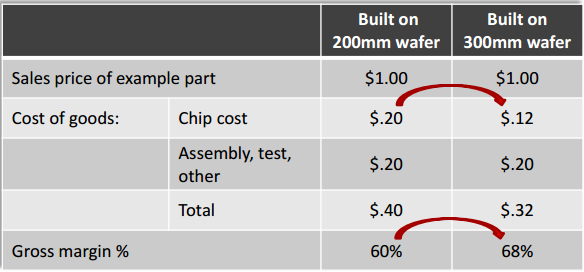 TXN has already implemented, partially, the 300mm plan in its RFAB facility while its efforts are underway to implement the plan in its DMOS6 facility. 100% utilization of thee facilities for larger wafer fabrication will result in immense cost savings for the company.
Increased chip count in Apple's (NASDAQ:AAPL) products will boost revenue: Teardown of iPhone 6s uncovered four unique TI chips while the last model, iPhone 6, only used touch transmitter IC from the company. Also, the teardowns of Apple Watch revealed the usage of TI's op amp IC.
TXN will witness operational efficiencies through its resource reallocation and renovation strategy: TXN has put its 84-acre Spring Creek Plano facility up for sale. The management concluded the facility was in excess of the requirements of the organization and is re-evaluating its space needs.
"We've evolved and some of the needs of the properties have shifted. It's a good time to take a look at all the uses of our North Texas campus sites."
The sale allows the company to reallocate its resources to areas where it can achieve optimal operational productivity. Also, the company is undertaking a large scale renovation of its Dallas headquarters, which will improve work environment for its employees, thus lowering its staff turnover and improving employee efficiency.
Improving CSR position will open growth opportunities: The company recently introduced the world's first talking scientific calculator for students, who are visually impaired, in order to help them tackle technical subjects. Also, the company funds its non-profit organization called "Texas Instruments Foundation" through which it aims to improve students' success in STEM education. We believe that such actions will significantly improve the company's CSR position. By acting as a responsible organization, TXN's social image will improve in the eyes of its stakeholders including customers that can result in new growth opportunities especially from government sectors. Further, the company will be able to recruit new talented individuals through its STEM education program thereby reducing recruitment costs.
Valuation And Final Thoughts
Our valuation assessment is based on the discounted EVA computation. The calculation assumes a constant p.a. growth rate of 10% in earnings during 2016-2020 and a 0% growth rate in perpetuity. Note that 10% growth is plausible as the analog IC industry is set to grow in high0single digits during the next few years. Combine this with the cost efficiencies from the 300mm fab, earnings growth may surpass 10%. CAPM is used for calculating the discount rate. No dilution is assumed in outstanding shares and the S&P 500 is used as a proxy in the CAPM model.
The EVA valuation above reveals a price target of $64.7, indicating that the stock has an upside potential of around 25%. The computation also displays a growth rate of 2.3% in residual earnings of the company. Implied growth stands at 2.26%; see the chart below: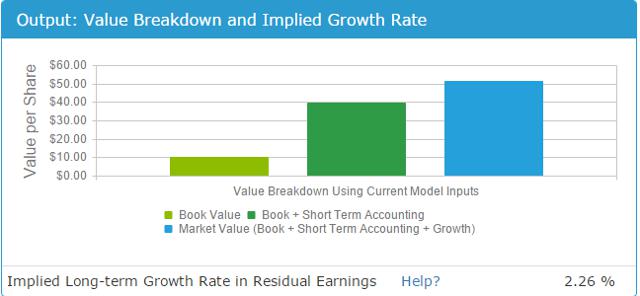 Source: Prudena
Implied growth is lower than the residual growth assuming an earnings increase of 10% p.a. during the next five years. This indicates that the stock is underpriced. Further, Monte Carlo simulation reveals a very interesting point. See the chart below: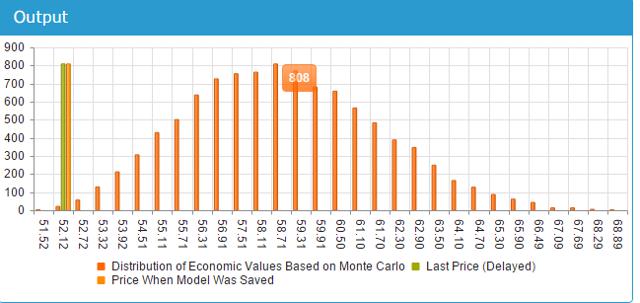 Source: Prudena, Soid's model
The chart shows that the highly likely valuation for TXN is around $58, but the stock has the ability to touch $65. On the other hand, TXN's decline below $51 is unlikely. In effect, the chart depicts asymmetric risk-reward attached to the company.
Based on the current price, we believe that TXN adds considerable value to investors' portfolios given the introduction of its new differentiated products, 200mm to 300mm wafer fabrication transition plan, improving CSR position, reallocation of resources and increased chip count in Apple's products. Our valuation model also demonstrates significant upside potential. Overall, Texas Instruments is a decent buy.
Disclosure: I/we have no positions in any stocks mentioned, and no plans to initiate any positions within the next 72 hours.
I wrote this article myself, and it expresses my own opinions. I am not receiving compensation for it (other than from Seeking Alpha). I have no business relationship with any company whose stock is mentioned in this article.
Additional disclosure: his publication is for informational purpose only and reflects the opinion of Focus Equity's analysts. The opinion doesn't constitute a professional investment advice. Focus Equity is a team of analysts that strives to provide investment ideas to the U.S equity investors.