Let's get this over with - all energy-related stocks are not the same, Mr. Market. In fact, some of them are poised to take advantage of an upcoming change in US energy markets, namely the emergence of liquid natural gas exporting and the development of natural gas trading with Mexico.
Energy Transfer Partners (ETP) is a master limited partnership owning and operating one of the largest and most diversified portfolios of energy assets in the US.
ETP's subsidiaries include Panhandle Eastern Pipe Line Company, LP (the successor of Southern Union Company) and Lone Star NGL LLC, which owns and operates natural gas liquids storage, fractionation and transportation assets. In total, ETP currently owns and operates more than 62,000 miles of natural gas and natural gas liquids pipelines. ETP also owns the general partner, 100% of the incentive distribution rights, and approximately 67.1 million common units in Sunoco Logistics Partners L.P. (SXL), which operates a geographically diverse portfolio of crude oil and refined products pipelines, terminalling and crude oil acquisition and marketing assets. ETP owns 100% of Sunoco, Inc. and 100% of Susser Holdings Corporation. Additionally, ETP owns the general partner, 100% of the incentive distribution rights and approximately 44% of the limited partner interests in Sunoco LP (formerly Susser Petroleum Partners LP) (SUN), a wholesale fuel distributor and convenience store operator. ETP's general partner is owned by Energy Transfer Equity (ETE).
(Source: ETP website)
The problem with ETP, is that, like most energy-related stocks, it has been beaten down quite a bit. But, then again, this actually presents long-term income investors with an opportunity to buy it on the cheap.
Actually, the market has started to support many of the high dividend paying energy stocks which we cover in our articles, and ETP is up over 7% in the past week.

Distributions: ETP's most recent distribution was raised to $1.035, which gives it a 9.10% dividend yield.
Our High Dividend Stocks By Sectors Tables track ETP's current payout and yield. It's listed in the energy table, along with many other high-yield stocks.

Since Q3 2013, ETP has had eight straight dividend hikes. Its long-term distributable cash flow growth also is impressive:
(Source: ETP website)
Options: If you have a shorter time horizon, here are some option-selling ideas which will generate added income.

The January 2016 $47.50 call strike is $2.02 above ETP's price/share, so there's also room for potential price gains in this trade.
Our Covered Calls Table lists more info for this and over 25 other call option trades:

Selling Put Options For Income: If you're leery of the market's lack of affection for energy stocks, you might consider selling cash secured puts below ETP's price/share.
This January $45.00 put is just below ETP's price/share, pays $3.10 and offers you a $41.90 breakeven.
Our Cash Secured Puts Table lists more info for this and over 25 other put selling trades:

Earnings: As you can see, ETP's earnings have been a bit lumpy over the past 4 quarters - Q1 2015 saw declines in operating income, EBITDA and DCF, but it did manage to slightly improve its distribution coverage and its growth bounced back in Q2 2015.
ETP merged with Regency Energy Partners on 4/30/15 and issued 172.15 million shares to Regency shareholders as part of the merger deal, which greatly contributed to its 162% share count rise from Q3 2014 to Q2 2015: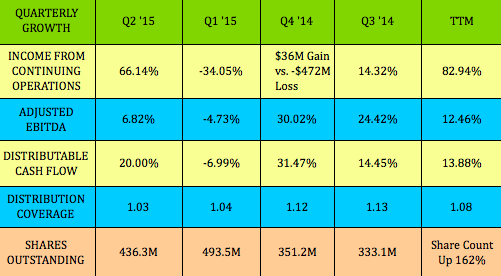 ETP had good growth across the board in 2014 and lowered it share count by 3%: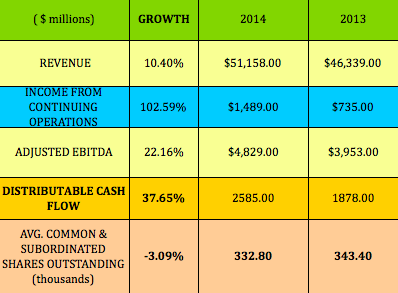 Looking forward, ETP has $10B worth of projects in the works, which should enable it to keep growing its distributions.
Asset Profiles: ETP has an extensive network of assets, which capitalize on US energy markets.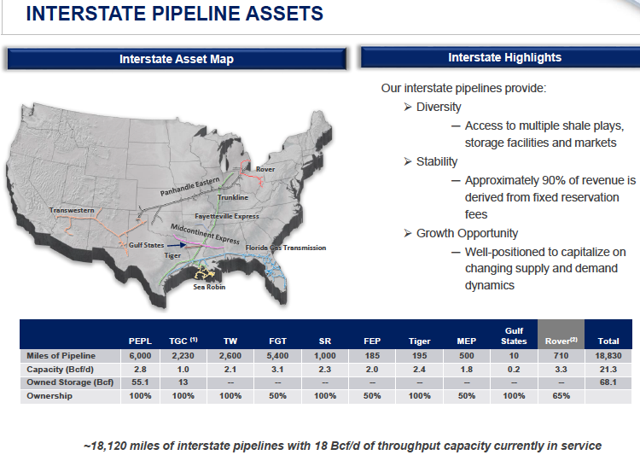 Its assets in the Texas area give it access to oncoming LNG export projects, which will start ramping up over the coming quarters and years.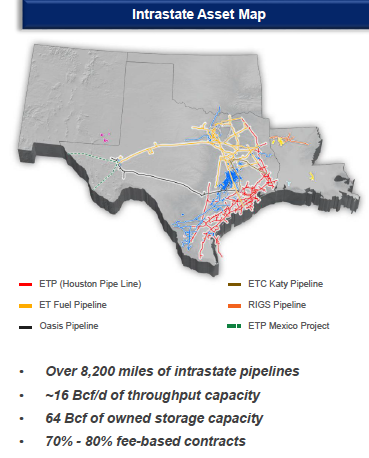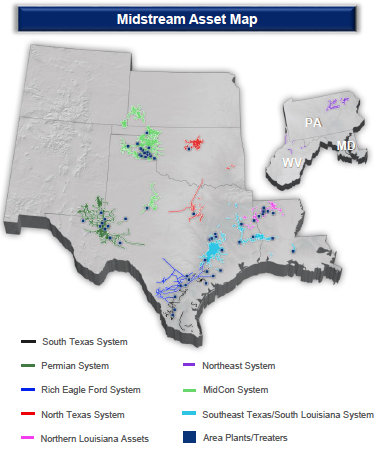 (Source: ETP website)
Valuations: Thanks to its low price/share valuation and its good DCF generation, ETP has one of the lower Price/DCG ratios we've seen in awhile.

Insider Buying: Two of ETP's directors bought shares in August and September. It's good to see them put some of their cash on the line along with regular unit-holders.

(Source: finviz.com)
All tables furnished by DoubleDividendStocks.com, unless otherwise noted.
Disclaimer: This article was written for informational purposes only.