I only went long on Qualcomm (NASDAQ:QCOM) last month because I realized that Intel (NASDAQ:INTC) was not going to successfully persuade Microsoft (NASDAQ:MSFT) and Xiaomi to abandon Snapdragon mobile processors. My long-term bet on Intel was due to its almost-monopoly hold on desktop and server processors.
However, Qualcomm's recent announcement that is sampling out its first 24-core ARM=based server processor definitely made some Intel investors nervous. Last Friday's trading saw INTC dropped by more than 1%, which I believe was an adverse reaction to Qualcomm's bold plan to slug it out with Intel on data center server processors.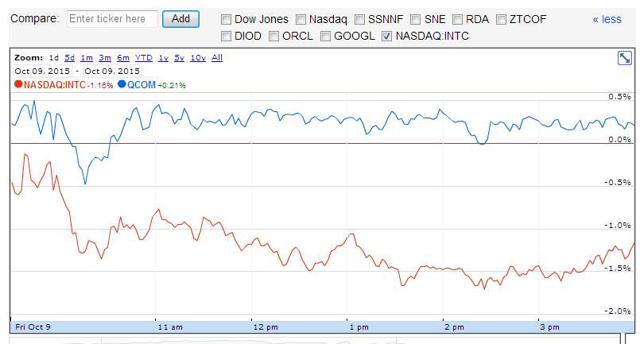 (Source: Google Finance)
Qualcomm previously announced last November 2014 that it was indeed building server-centric ARM-based processors. The pre-production 24-core server chip that is now being handed out for testing is a loud warning that Qualcomm is very eager to go for the jugular of Intel's most lucrative x86 chip division.
Qualcomm, facing stiff competition from low-cost mobile chip producers like MediaTek and Rockchip, is now expanding toward the territory of the Intel Data Center Group. The margins on server chips are definitely higher than on entry-level Snapdragon 210 and Snapdragon 410 chips for mobile phones.
The chart below illustrates the reason why Qualcomm is betting big on server-centric ARM-based processors. Intel's server processors generate billions of dollars in quarterly and tout 40%-50% operating profit margins.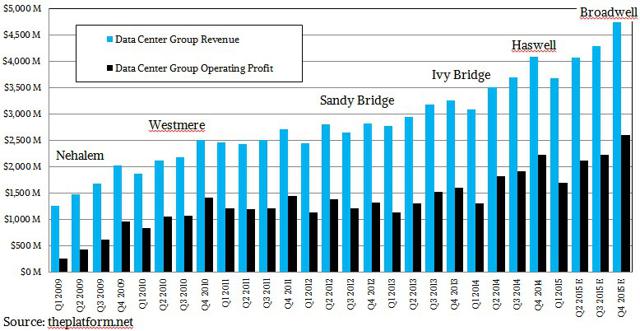 Willingness To Fight An Uphill Battle
Intel's Xeon processors now dominate the lucrative server market. Non-x86 server chips like PowerPC and MIPS are the big losers from Intel's successful campaign toward dominating the server processor industry. Aside from the pricey Xeon/itanium, Intel deftly addressed the threat of low-power ARM server processors with its energy-efficient Avoton x86 Atom chips in 2013.
Intel's quick action to create and sell the cheap Avoton server processors helped the x86 architecture maintain its upward sales momentum. The chart below illustrates that in spite of the presence of ARM-based server products from Cavium (NASDAQ:CAVM) and others, 2014 and 2015 are again banner years for Intel's highly-profitable Data Center Group.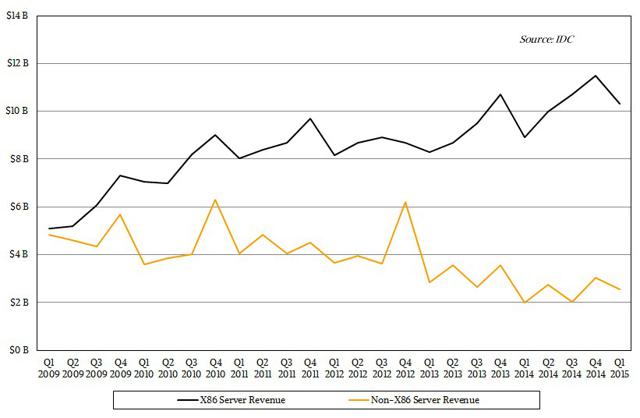 (Source: IDC)
Qualcomm is ready and willing to fight an uphill battle again Intel. Qualcomm, unlike Cavium, Applied Micro (NASDAQ:AMCC) and Advanced Micro Devices (NASDAQ:AMD), has tons of cash for R&D and marketing purposes. Qualcomm is smart and rich enough to deliver a quality server-class Snapdragon that could match the cost/compute/efficiency advantage of an Intel Xeon. AMD keeps delaying its ARM-based processor product precisely because it doesn't have the cash to develop/market it properly.
Qualcomm's initial success came from creating ARM-based processors that were more energy-efficient than Intel's x86 mobile chips. In the same manner, the energy efficient 24-core server chip (based on the 64-bit ARMv8-A architecture) is perfect for large-scale microserver deployments.
The razor-thin margins of many cloud computing operators could force them to embrace the small savings from an economy of scale deployment of cheap ARM-based microservers. Budget-limited firms would obviously prefer the better compute advantage of expensive x86 server solutions but they could not afford them.
The potential savings from hyperdense microservers full of very energy-efficient Qualcomm server chips could outweigh the advantage of a traditional server rack full of Intel Xeons.
Qualcomm recruited Xilinx (XNLX) to help it create a custom FPGA (Field Programmable Gate Array) for its 24-core processor. Xilinx will help Qualcomm-powered microservers offer the best performance/watt deal while also delivering a flexible, configurable design. The operating expense of server farm operators is not limited to the purchase price of servers. The total cost of owning and maintaining servers will eventually benefit from a lower electricity bill.
It is true that massive server farm operators like Facebook (NASDAQ:FB) and Google (NASDAQ:GOOGL) might not be willing to risk porting their critical networks from x86 to ARM architecture. However, I opine that new server farm operators are likely not going to mind playing test guinea pigs for a 100% ARM-based data center.
My Takeaway
The future of Qualcomm as a server chip supplier would likely be in catering to new and smaller firms. This is the more believable scenario rather than Qualcomm being able to steal major clients away from Intel's Data Center Group.
New data center operators on a tight start-up budget would consider going for ARM-based microservers if it helps improve their operating margins.
Focusing on low-cost microserver solutions is the easier path for Qualcomm. Annual sales of microservers is estimated to enjoy a CAGR of 53.4% until 2019. Four years from now, the nascent microserver industry could be worth $16.31 billion/year. Qualcomm is the best firm that could lead the ARM-based server processor group get a huge chunk of the fast-growing microserver market.
I admit that Intel's overwhelming dominance in server processors is currently unhealthy for the entire cloud computing/data center industry. Qualcomm's entry as a server chip provider will therefore benefit the smaller players. Competition from Qualcomm could lead to Intel lowering the price tags of its powerful but pricey Xeon processors.
Intel might also be forced to spend more money for R&D to improve its low-power Avoton Atom chips so it will remain competitive with Qualcomm's ARM-based processors.
In the long run, the ultimate winners will be ordinary consumers. Cheaper and more energy-efficient processors will lead to lower operating costs for server farm operators. A data center provider that is profitable could provide optimal service to its customers without the dark cloud of higher per-user fees.
QCOM is a Buy. INTC is also Buy.
Disclosure: I am/we are long QCOM, INTC, MSFT, FB.
I wrote this article myself, and it expresses my own opinions. I am not receiving compensation for it (other than from Seeking Alpha). I have no business relationship with any company whose stock is mentioned in this article.