One of the worst stocks in the market this year has been action camera maker GoPro (NASDAQ:GPRO). Concerns over future growth have led to a number of negative notes from analysts. With this panic spreading like wildfire lately, short interest in the stock has soared. However, I think the street has gotten too bearish on this stock, which could lead to a sizable short squeeze.
Short interest continues to soar
As you can see in the chart below, short interest for the stock has hit a new post-IPO high. At the end of September, almost 22.5 million shares were short, up from roughly 9.5 million just two months earlier. This dramatic increase in short interest has really pressured shares, which hit a 52-week low this past week.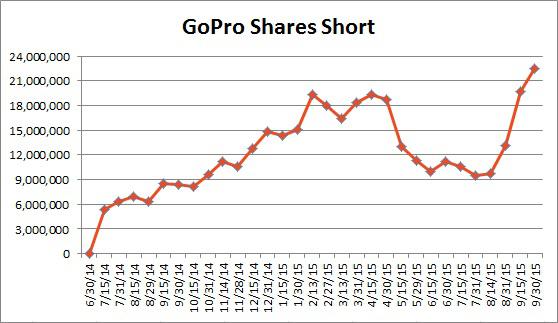 (Source: NASDAQ GoPro short interest page)
According to float data provided by Yahoo, more than 36.6% of the stock's float is now short. That means that GoPro is in the upper echelon of shorted names on the street, which makes it ripe for a short squeeze. Earlier this year, when we saw a major drop in short interest, the stock had a very impressive run.
Estimates on the decline
So why do I think we could see a short squeeze? Well, I think the recent panic has gotten to an unreasonable level. In the past month, we've gotten several negative reports, with these from Morgan Stanley and Barron's being examples. Throughout most of 2015, analysts were scrambling to raise their revenue and earnings estimates. But as you can see in the table below, that process has quickly reversed since the start of September.

*non-GAAP.
**2016 growth rates based on 2015 estimates on that specific date.
The biggest cut has been to Q4 2015 estimates. Since September 2nd, the average revenue forecast has dropped from $728.68 million to $699.43 million, with the average non-GAAP EPS figure declining from $0.94 to $0.84. It will only take one more estimate cut to put the Q4 revenue growth forecast in the single digits. That would be quite unusual for GoPro, as seen in the chart below.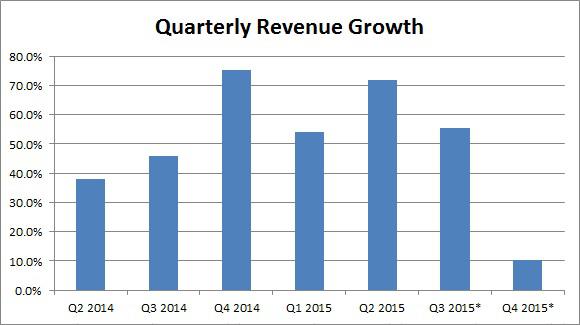 *Current analyst estimates.
Why Q4 could surprise
Q4 will likely have a lower growth rate than some of its predecessors due to a larger base number, especially since it is the company's largest sales quarter of the year. However, I think analysts have gotten too crazy with their cuts. As the company pointed out in its Q2 earnings release, its products are sold in more than 40,000 locations worldwide. Just about a year earlier, that number was around 25,000. Additionally, the international business is booming for GoPro, with EMEA and APAC revenues up 126% in Q2. China has only just become a top ten revenue generating country for GoPro, and that market likely represents the biggest opportunity.
Assuming Q3 doesn't come in with a massive miss, GoPro will have five straight quarters of 45% plus revenue growth. While that won't happen in Q4, it doesn't need to. Analysts are only expecting 10.3% growth in the final quarter of the year. If management guides to even 15% or 20% revenue growth, it will be well above expectations. I don't think that's unreasonable given how strong the company's international business has been. Plus, if the pattern continues, we could see analyst estimates even lower by the time the company reports on October 28th.
The impact on Ambarella (AMBA)
Since I've covered the GoPro supplier, I must also detail the fate of Ambarella. The chip name has also seen a dramatic fall in its shares thanks to concern's over its sales to GoPro, which represent about a third of its business. Ambarella has also become a short seller favorite, as detailed in the table below.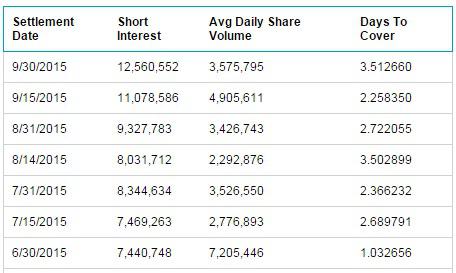 (Source: NASDAQ Ambarella short interest page)
If you are looking for another candidate for a short squeeze, Ambarella fits the bill. In fact, nearly 44% of the stock's reported float was short at the end of September. With Ambarella shares more than 50% off their yearly high, I think the small chip company may be an attractive takeover target as we continue to see a lot of consolidation in the semiconductor space.
Final thoughts
After the recent fall in shares of GoPro, I think the name is ready for a short squeeze with more than a third of shares short. In my opinion, analysts are vastly underestimating the potential of the company's international business, which is showing tremendous growth currently. With GoPro's retail footprint soaring in the past year, I find it hard to believe that Q4 revenue growth will barely come in above the single digits, even with a hard comparison period from 2014. There seemed to be some relief that GoPro did not warn when it announced its Q3 earnings date, and I think that bodes well for the upcoming report. Management doesn't even need to give guidance that compares to the 30%, 50%, or more quarterly revenue growth we've seen in prior periods. A number in the low to mid teens will more than satisfy a worried crowd, and that should be enough to send shorts scrambling.