ClearOne Inc. (NASDAQ:CLRO) provides video conferencing solutions for most Fortune 500 companies as well as government agencies internationally. My first article on this stock concentrated on how the company is leveraging its position as the market leader in installed audio (with a 50% market share) to gain market share in the growing video conferencing market. The second article focused on how the new product rollout would improve margins.
The stock price hit a new 52-week high in June and sold off due to flat revenue growth reported in August.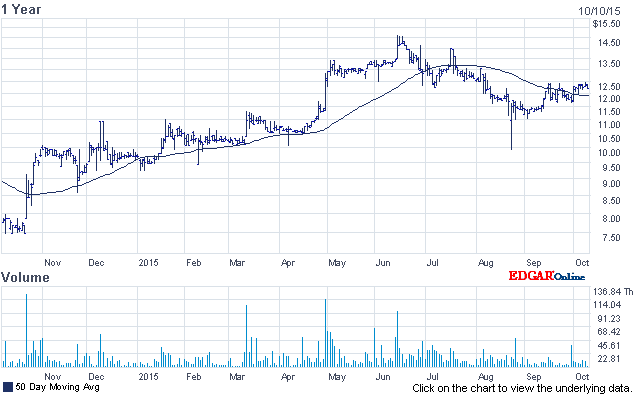 The lack of revenue growth was explained by CEO Zee Hakimoglu in the conference call as caused by a delay in a large international shipment. "The good news is the project has shipped, and that we will recognize that revenue in Q3," stated the CEO, so no big deal. But what's important to note is that the video products are bringing in better margins than the audio products. CLRO reported that gross margins improved from 57% to 64% and the company expects that margins will remain above 60% for the foreseeable future.
In videoconferencing, Cisco (CSCO) is the dominant player and Polycom (PLCM) is number two. Last week, Elliott Management announced that they had taken a position in Mitel (MITL) because of their belief that the Unified Communications industry is due for consolidation. I like the prospects for the UC industry and have contributed several articles to SA on SHOR, another UC player that Elliott Management has invested in. But for this article, I'm citing Elliott's reasoning why it would be beneficial for PLCM to focus on UC. Elliott Management cited that "Polycom faces tough videoconferencing competition. The smaller, newer players continue to take share with cheaper and simpler products while the larger, diversified vendors use their marketing power and bundling to squeeze out companies like Polycom." Go CLRO! By the way, SHOR hit a new 52-week high on the news and broke out of a tight trading range. Thank you Elliott Management!
CLRO now has about $4/share in cash. The company has been buying back shares, initiated a dividend, raised the dividend and made some key acquisitions that I discussed in my earlier articles. Now, it has become a cash flow machine and it looks like free cash flow will improve even more as expenses incurred in rolling out the new products will not occur in the coming quarters. The stock is still cheap looking at the valuation. It's trading at a PEG of just above 1 and a forward PE of 13 while free cash flow exceeds 10% of revenues. That is phenomenal.
I'm looking forward to the next earnings report. Management has previously been reluctant to provide guidance, but they did provide color on expected margin and that the third quarter will include a large contract that was expected in the second quarter.
I would not be surprised to see this company scooped up by a larger player such as PLCM or CSCO due to its strong balance sheet and increasing market share. If there is no buyout, I believe that CLRO management will continue its capable steering. They have made solid decisions on key acquisitions that have been complimentary to their product line and enabled the company to transition into higher margin products. Management also has been extremely tight on cost cutting measures to keep expenses down and has been shareholder friendly with share buybacks and dividend payments. This is a small cap and carries higher risk than higher cap stocks so do your due diligence prior to investing.