It was a huge day in the market for Apple (NASDAQ:AAPL) options on Thursday as the stock roared another 16 points to close above $493 for a gain of almost 3.5%.
Remember, it was only about two weeks ago that the stock closed near $420.
Volume in the stock itself was high, yet not exactly record setting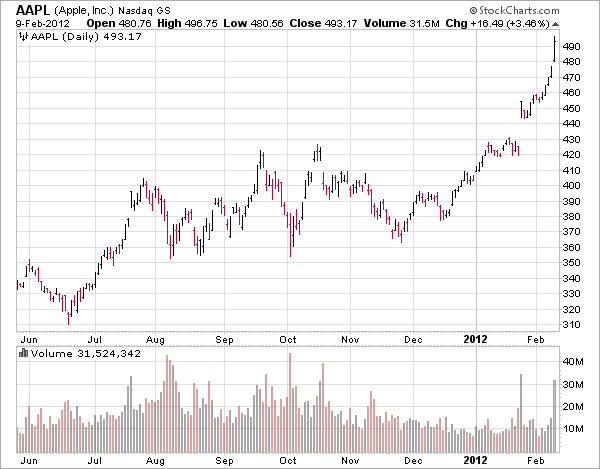 But the options volume was enormous with more than 1.3 million contracts changing hands. Yes, it was a Thursday, which usually means higher volumes, but that's an awful lot of volume as you can see here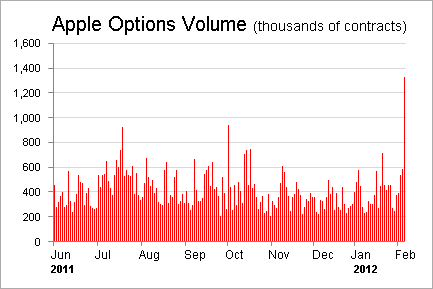 Of course, February (weekly and monthly series) and March options were the most widely traded, but I took a look at the data to see how much volume there was for later expirations.
Here's what I found. The volume for call options expiring in April or later with strike prices at or above $550 totaled 51,000 contracts. For strike prices at or above $600, the total was 20,000 contracts.
That may seem like a drop in the bucket, but on any "normal" day that would represent a fairly healthy chunk of overall options volume. And remember, we're talking about longer dated contracts that are way out of the money -- at least as of Thursday evening.
Implied volatility is low, of course, but a $700 call that expires in July will still set you back $100. A bargain? Maybe. But if you're long, a better bargain might be puts. Then you can relax and watch other traders toss this stock around - up, down, or sideways in the near term.
Disclosure: I am long AAPL.